Rihanna and Beyonce on the same single can only mean one thing, EPIC.
Details of Beyonce's highly anticipated fight album has landed online.
Although the title and release date is not yet known, the tracklisting has everyone excited for the arrival of the disc.
The small but important piece of info came from a photo someone tweet out on Twitter yesterday.
Among the guest features on the alleged tracklisting includes Jay-Z, Sia, Justin Timberlake, Solange Knowles, Ne-Yo, Lady Gaga, Azealia Banks, and non other than Rihanna.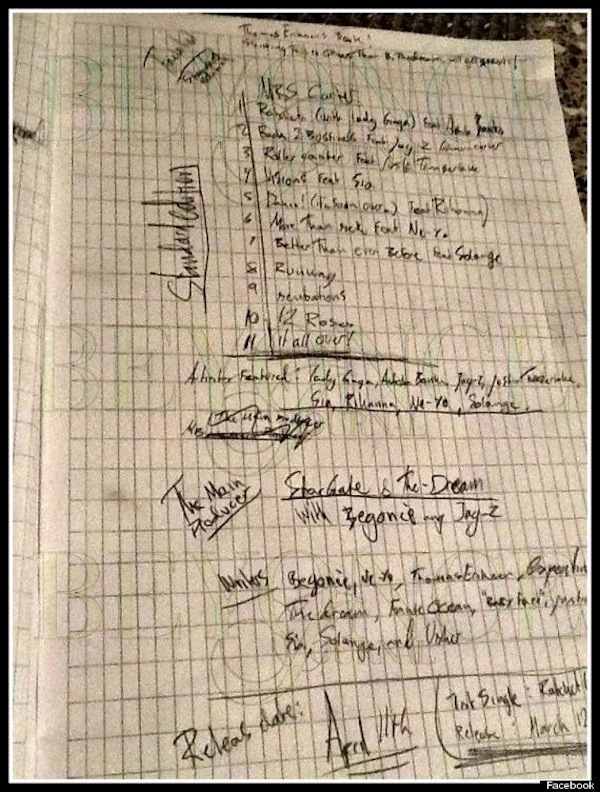 During her recent interview with Vogue, Beyonce says she invites producers and artists such as Justin Timberlake and Timbaland out to the Homptons for a recording lock down.
"We had dinners with the producers every day, like a family," she said. "It was like a camp — weekends off. You could go and jump in the pool and ride bikes … the ocean and grass and sunshine. … It was really a safe place."
See Beyonce new album tracklisting below:
1. "Ratchet" (feat. Lady Gaga & Azealia Banks)
2. "Back 2 Business" (feat. Jay-Z)
3. "Roller Coaster" (feat. Justin Timberlake)
4. "Visions" (feat. Sia)
5. "Dance (I'm Soon Over)" (feat. Rihanna)
6. "More Than Sex" (feat. Ne-Yo)
7. "Better Than Ever Before" (feat. Solange Knowles)
8. "Runway"
9. "Sensations"
10. "12 Roses"
11. "It's All Over"