Mr. Vegas is fuming on Konshens on Twitter right now.
During an interview earlier this week with Hot 97 Radio hosts Cipha Sound, Rosenberg, and K. Foxx, Konshens weighed in on Mr. Vegas cheating baby mama drama.
When asked about Vegas crying during his interview with the New York radio station, Konshens says he think it was a fake cry.
"We all know it was a lie… well I thought it was a lie," Konshens said.
New Music: Mr. Vegas "Bare Tingz" About Baby Mama Drama
That statement made Mr. Vegas very angry. The "Bruk It Down" deejay quickly run to Twitter to blast Konshens over the statement.
"I was just begging the same station u trying to destroy my credibility on, to play your record. Don't u have a daughter? If this is a joke and a lie for u, u are a sick MF! What do u have to gain from this? What kinda hype can you get from this? You think if a n***a violate ur daughter, it would be a joke for me?" Mr. Vegas wrote on Twitter.
Konshens responded to Vegas' tweet in a very mature way.
"@MrVegasMusic With all due respect Re the f*k lax, how credibility an song playing drop in? ITS A COMEDY SHOW!!!"

"@MrVegasMusic u went public with ur sh*t so if its true or not ppl are gonna discuss it…u a vet so u know dat…

"relax man, if a real ting u will get past it. I think it's not real, if it is, I'm glad u didn't kill the ni**a an a dat mi say"

"@MrVegasMusic as artiste, we too touchy for the career WE CHOSE dats why unnu always kick off every second … RELAX an drop some more hits." Konshens Twitter.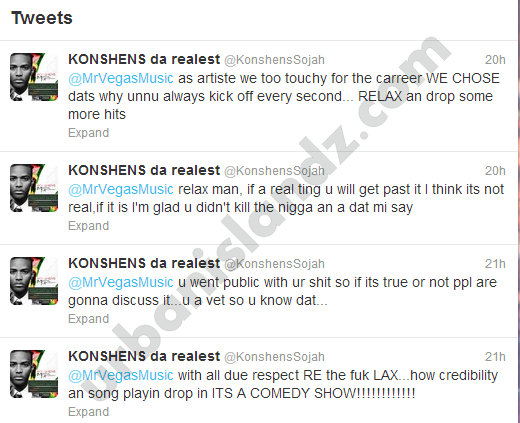 Mr. Vegas has since delete his Twitter account.
Mr. Vegas is obviously still emotional about the touchy topic of his baby mother Shellian McBayne cheating.
Do you think other artists should leave the topic alone?
Sound off below.