Lady Saw joined the ranks of Mr. Vegas and Vybz Kartel with cheating spouse drama.
This would not be the first time news surfaced alleging that the dancehall queen boyfriend of 17 years, John John, cheated on her. But this time he got one of Lady Saw's neighbours pregnant.
Last week Lady Saw dropped a few hints on Twitter.
"Looking out from my balcony thinking to myself NO NOT AGAIN"

"Its been a sad day for me but we all have a story only problem is when will I tell mine."

"I knew it but was only waiting to confirm now it now it is confirm so where do I go from here."

"I was lied to by both party so who do I blame him or her or should I blame both."

"I have a bad feeling something gonna happen to me but can't put my finger on it what els could after what I just discover." (Lady Saw Twitter)
There are some speculations that the female in question is a dancehall artist that John John do some producing work for.
Lady Saw told Mr. Vegas on Twitter that the two should do a song together and grieve together.
"Vagas mi have di baddest tune fi mi and u do but if we do it now it and heels on a go be # 1 N2 so maybe we should wait." Saw tweeted.
But unlike Vegas, Lady Saw seems to get over her hurt very quickly.
"Some gal get mi man d–k fi a few minuets but mi get him heart forever ask him," Saw wrote on Twitter.
"THINK DEM COULDA CHANGE MI MIND DWL 17 YEARS 17 YEARS MORE TO GO," she added.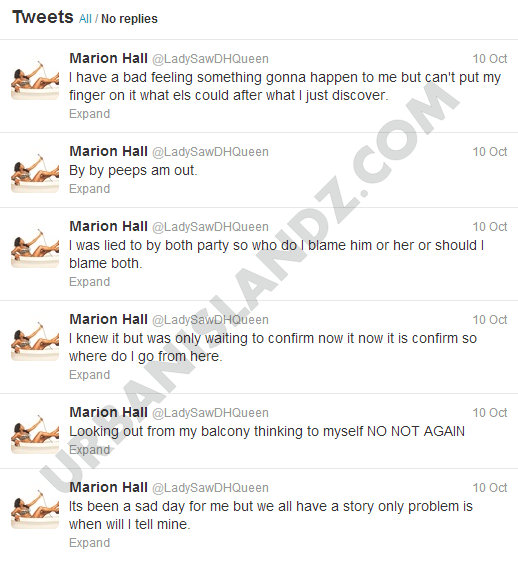 Lady Saw and producer John John have been dating for 17 years now. While the two have endured some rough times in their relationship they always seems to pull through.
The dancehall diva has also had a rough time trying to conceive.
Do you think that's why John John impregnate another woman?
Sound off below.
gallery"40783″]