Reggae singer Jah Cure and wife Kamila McDonald already have their hands full with their beautiful daughter Kailani Belle Alcock.
Cure and Kamila welcomed their first child earlier this year. It has been a remarkable journey for the couple since getting married last year in Hanover where Jah Cure grew up.
Not only has the singer overcomes some stigma of the past, but has also seen his and Kamila love and career blossomed.
Kamila graduated last month from the UC Berkeley in California with Master's in journalism. She released a statement gushing about motherhood and the love of her life.
This May 14, 2012 I stand tall, strong, accomplished and proud. Today I am celebrating 28 wonderful, healthy years of being on this earth. In less than 12 months I got married to my best friend, gave birth to our beautiful daughter and graduated with my passion—a Master's in journalism from the distinguished UC Berkeley in California," Kamila wrote.
As I sat up on the platform with my fellow graduates and daughter in my arms, I experienced a moment that will certainly change my life forever. During Ted Trautman's speech, the student graduation speaker mentioned how proud he was that I had survived such an intense program, while birthing and rearing a child simultaneously.
Everyone turned to me and cheered and my daughter looked me straight in the eyes—at exactly 3 months old—and gave me the biggest smile I've seen since her birth. It was as if she acknowledged this huge achievement and was congratulating me and letting me know how proud she was. Can we say I immediately cried a river.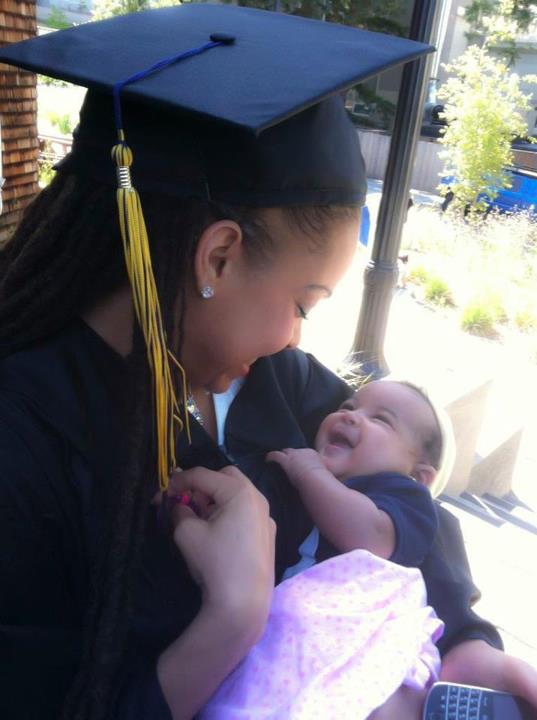 gallery