Nicki Minaj covers the spring issue of Wonderland magazine, showing some cleavage in a car themed Prada outfit.
In the spread, she reveals her concert rider, obsession with Barbies and Love for London.
On what she has listed on her rider
2 dozen pink or white roses and 3 large Baked Goods scented candles
Hot Tea setup with lemon wedges, sugar and honey. Must include teacups, saucers, spoons and napkins and decaffeinated Lipton Tea bags
2 packs Halls lemon honey drops and 3 packs of Thayers Slippery Elm lozenges (three different flavors)
Contact lenses solution with case, 2 Space Heaters – VERY IMPORTANT – and a cool mist humidifier
3 twelve piece buckets of fried chicken spicy – no thighs, lots of wings
3 packs of gum in 3 different flavors
24 bottles of Dasani Water (12 room temperature,12 on ice)
12 cans of Red Bull (6 room temp, 6 iced)
12 bottles of Martinelli's Apple Juice (6 room temp, 6 iced)
24 bottles of Snapple, 12 must be Lemon Ice Tea, 12 other assorted flavours
Saving Grace throat spray
2 large bottles of assorted fruit juices and one gallon of Simply Lemonade – please supply one small tub of clean ice and cups for drinks.
Egg Whites (scrambled hard), Turkey Bacon (fried hard), white toast (grape and strawberry jelly/jam). Belgian Waffles (syrup, powdered sugar, whipped cream, butter and strawberries on side) Enough to serve 4 people
1 Large Fruit platter with side of mango and 1 Large Cheese platter
A deli tray with turkey breast meat, grilled chicken breast, whole Wheat bread or rolls, yellow mustard and other condiments (seasoned salt, hot sauce), plates, forks, spooks, knives, napkins and straws (enough for six people)
Salad – Iceberg lettuce, sliced tomatoes, sliced cucumbers, green olives, Wishbone Light Italian dressing, Bumble Bee tuna in water, wheat or low Fat crackers
Carrots and Dip
Cranberries (dried), almonds (raw- not roasted)
One set of fine silverware/stainless steel silverware
Her rider definitely could have been worse. Marilyn Manson use to require a 'bald hooker with no teeth', Madonna a new toilet seat and Mariah Carey has requested kittens and white doves in the past.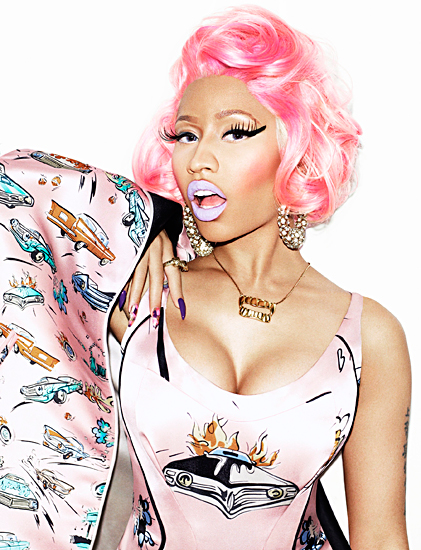 Nicki also dished on why she has an obsession with Barbie, her stage persona and love for London:
I feel like Barbie is great because it doesn't only focus on beauty – you have Barbies that work, they have tons of different jobs now. And they come in different shades, which I love, and different hairstyles. So I think that they've gotten to the point where they're making girls feel like it's OK not to look like or be like the traditional Barbie. Now in terms of a body image, even male action figure dolls are cut up more than the average man – it's just how people make dolls!
On the difference between her stage persona and her real life
Oh they're definitely two completely different people. Obviously what I would wear at home is not what I would wear up on stage and I think, when I'm at home it's a way more introspective character and I think the person people see on stage is anything but. I watch a lot of Judge Judy. And I watch a lot of Forensic Files. And I cook – I cook spaghetti really, really good; I cook macaroni and cheese really, really good; I cook chicken really, really good.
On her love of London:
I was born in London in my past life, no one can tell me different. I probably was like a queen in London, I was probably the people's queen that fought for lives … and I probably started off as a maid and then was just, like, really revolutionary and moved all my [Barbies] into the big queen mansion.