Jamaican-American rap legend Heavy D passed away yesterday of an illness believed to be related to Pneumonia or a possible heart attack.
The rapper/actor was 44 years old at the time of his untimely death. But who was Heavy D really? Read a short biography of his work and legacy below.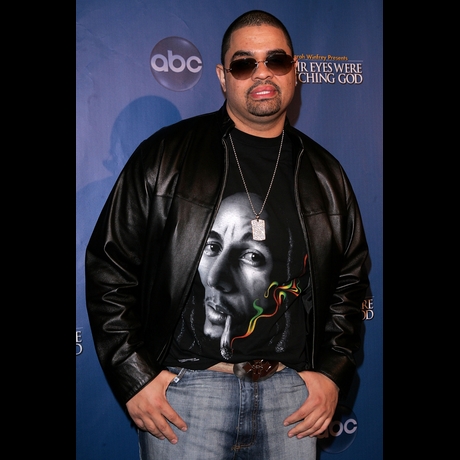 Heavy D was born Dwight Errington Myers in Jamaica in 1967 and moved with his family to Mt. Vernon, NY, as a young child. He discovered rap music at age eight and by junior high was making his own demo tapes. He later formed the Boyz with high-school friends DJ Eddie F (born Eddie Ferrell), Trouble T-Roy (born Troy Dixon), and G-Wiz (born Glen Parrish). Their demo tape found its way to Def Jam executive Andre Harrell, who was in the process of forming his own label, Uptown. Harrell made Heavy D & the Boyz the first artists signed to Uptown in 1986, and they released their debut album, Living Large, in 1987. The singles "Mr. Big Stuff" and "The Overweight Lover's in the House" established Heavy D's image among rap fans, and "Don't You Know" was a crossover hit on the R&B charts, narrowly missing the Top Ten. All told, Living Large was a gold-selling hit.
The follow-up album, 1989's Big Tyme, was the group's real breakthrough, however. Like its predecessor, it featured production from both Marley Marl and new jack swing guru Teddy Riley. By this time, though, there was a bit more depth to Heavy D's persona, and he was also hitting a peak of consistency as a songwriter. "Somebody for Me," "We Got Our Own Thang," and "Gyrlz, They Love Me" were all significant R&B hits, with the former two reaching the Top Ten; plus, "We Got Our Own Thang" attracted some attention from MTV. Big Tyme went all the way to number one on the R&B album charts and made the Top 20 on the pop side; it was also certified platinum. Unfortunately, tragedy struck on the supporting tour: Trouble T-Roy was killed in an accident on July 15, 1990. He became the subject of Pete Rock & C.L. Smooth's elegiac hit "They Reminisce Over You (T.R.O.Y.)" as well as a tribute cut on the next Heavy D & the Boyz album, 1991's Peaceful Journey.
Peaceful Journey was another platinum-selling hit, thanks to the single "Now That We Found Love," which made Heavy D a full-fledged mainstream success; it reached the R&B Top Five and just missed the pop Top Ten. "Is It Good to You" and the posse cut "Don't Curse" were also popular with hip-hop fans, and he was also a weekly television presence via his theme song for the sketch comedy series In Living Color. 1992's Blue Funk was a tougher effort that broke somewhat with Heavy D's well-established image, and perhaps as a result it suffered from underexposure; nonetheless, it managed to go gold, and the singles "Truthful" and "Who's the Man?" scored with rap audiences. In the meantime, Heavy D had been working on establishing a concurrent acting career and landed his biggest role yet as a recurring supporting character on the Fox sitcom Roc in 1993; around the same time, he became the vice president of A&R at Uptown. Over the next few years, he would also appear as a recurring character on another Fox sitcom, Living Single.
Heavy D & the Boyz returned to platinum status with 1994's Nuttin' but Love, which spawned hits in "Black Coffee," the R&B Top Five "Got Me Waiting," and the title track; it also became their second album to top the R&B charts. 1996 was a big non-musical year for Heavy D; he briefly served as president of Uptown Records and made his off-Broadway theatrical debut starring in the one-act play +Riff Raff, which was written and directed by Laurence Fishburne. In 1997, he returned to music as a solo act, releasing Waterbed Hev to surprising commercial response; it made the Top Ten on both the pop and R&B charts and produced a Top Five R&B hit in "Big Daddy." His seventh album, 1999's Heavy, became his seventh straight to reach the R&B Top Ten. In the meantime, he appeared in the 1999 Eddie Murphy/Martin Lawrence comedy Life and landed a prominent supporting role in the Oscar-nominated drama The Cider House Rules. In 2000, he landed a recurring role as a counselor on the Fox high-school drama Boston Public, which lasted for the next several years. Steve Huey, Rovi.
His final appearance was brief, but memorable: Heavy D had a cameo appearance in this past weekend's "Tower Heist" as a courthouse guard. Nothing too fancy, but he was surrounded by fantastic actors and previous collaborators in his final cinematic effort.
R.I.P Heavy D… Your left us with a huge legacy.
gallery