ZipFM radio disc jock ZJ Wah-Wa was reportedly assaulted by Aidonia and his entourage, resulting in him having to get 12 stitches to close a wound to his head.
According to reports reaching Urban Islandz, the incident unfold at the Quad night club in New Kingston as the deejay exited the club and about to go in his car.
A source who was at the club told Urban Islandz that the incident may be the result of the disc jock not playing Aidonia music.
"From wha mi hear, di man dem tell him fi play Aidonia song dem and him tell dem no, him play who hot inna dancehall, so dem attack him when him come out di club an buss up him head wid waan bottle, mi neva si Aidonia but mi hear seh him did de de a si wha a gwaan," the source said in Jamaican patois.
See Wah Wa and Aidonia response on next page.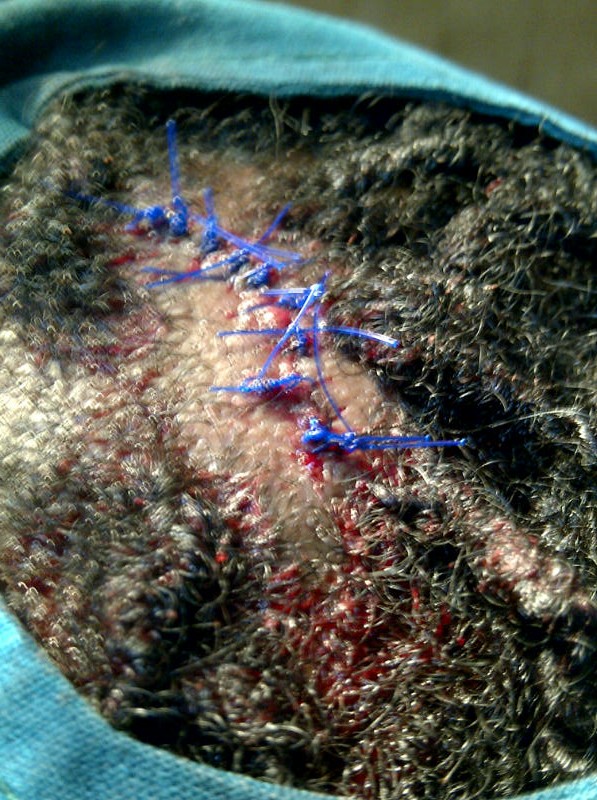 Wah-Wa said he has also been getting death threats from Aidonia entourage.
"I have been getting threats from Aidonia and him entourage man dem, and a Aidonia and him entourage man dem a attack mi, and beat mi wid a Guinness bottle on the side of my head," Wah Wa said.
Aidonia's road manager 'Lav' denied that the deejay and his entourage had any involvement in the incident.
"We don't know anything about that nor have we heard anything about that," he said.
See Aidonia response on next page
The J.O.P boss have since denied the claim, suggesting that the Darkcide International sound system disc jock is the one who instigated the ensuing events by cursing out the men.
"How me fi do that when him start the almshouse, mi come see him inna tings wid people … mi couldn't save Wah Wa. Ah him throw the fire, start with the yutes dem and mi cannot get involved inna something like that. Right now, no negativity towards my career, ah straight positivity," Aidonia explained in a statement.
Wah Wa's management team, however, said Aidonia is a "liar" since he knew more about the incident.
"Wah Wa did not start the altercation as before he even left the DJ booth he was being pulled by men associated with Aidonia to the back of the club in the presence of the entertainer," stated Wah Wa's manager, Raymond "Shadow" Small.
Small also added that Aidonia & J.O.P had nothing to do with building Wah Wa's career.
"Neither Aidonia nor any member of his J.O.P. camp had nothing to do with the career of the selector/radio jock as it was Shadow, Managing director of Darkcide International after being introduced to Wah Wa by a former member of the sound system during his high school tenure, that took him under his wings and signed him as a selector guiding his career from then till present," the statement read.
Aidonia says that he indeed helped to build Wah Wa into a reputable selector & that Wah Wa is a key factor towards the success of J.O.P artistes.
"We tek DJ Wah Wa outta Georges and mek him into a selector, ah mi real friend dem Tull and Ablo mek me know him. So we ah work wid him for six years and we bring the yute, we build him, so why we woulda waan tear him down?" the deejay asked. "When him get the work at ZIP, mi say 'Dog, play everybody' because mi waan him build him career. So why would we want to do anything to him or try program him? Me and Wah Wa good, him help build up J.O.P and mi respect that, but him get hype, is not everybody can handle fame and him mek the hype get to him," Aidonia said.
gallery