Just over a decade ago, reggae singer Jah Cure career almost ended even before his journey began. The lovers rock reggae singer, who hails from Hanover, was sentence to 13 years in prison after being convicted on rape charge. He served 7 years before he was released in 2007 with the help of public outcry for his freedom.
Today the Cure is as loved and he is as hated by many. There are some fans that can't stand to hear the word rape being associated with the singer, while others blast his critics, calling them haters and jealous. But for one person, it's not a choice, but a real nightmare she relives everyday of her life since the unfortunate incident.
A relative of one of the rape victim send Urban Islandz an interview originally done by the Jamaica Gleaner, with the message below.
"We are happy to see that he is married and getting his life together," he told Urban Islandz in an email. "My family is still living those nightmares and can't find no piece. He needs to come out an speak the truth. The truth shall set you free and I know he is lying to that poor girl about it."
In the interview, the victim vividly relays how she and her aunt was robbed and raped at gunpoint in a upscale community called Ironshore in Montego Bay in late 1998. She said several high profile entertainers have since offered her money and begged her to drop the case, however, she said money cannot give her back her dignity. 'I JUST WANT HIM TO ADMIT,' she said.
Read the full interview on next page.
"IT WAS a Sunday night, November 8, 1998 when it happened. My two male cousins, my aunt and myself were walking down to the Flamingo Nightclub to play a game of pool. This was something that we did frequently," Suzanneexplained.
As they walked down the street, she observed a tinted, two-door Turbo Starlet motor car, passing them, going in the opposite direction. Within minutes, the group noticed the same car coming slowly back down the road.
"I don't know, but for some reason I took a mental note of the number of the licence plate," said Suzanne.
The group went to the club and after spending about two hours there, decided to head back home. But they did not get very far. On reaching Windsor Road, the car which they had noticed earlier, drove up and blocked their path. Two men were inside. The occupant of the passenger seat jumped out with a gun in his hand and immediately gun-butted one of Suzanne's male cousins. The gunman then ordered the other cousin to walk over to him. Both cousins were robbed and verbally abused.
More of the story on next page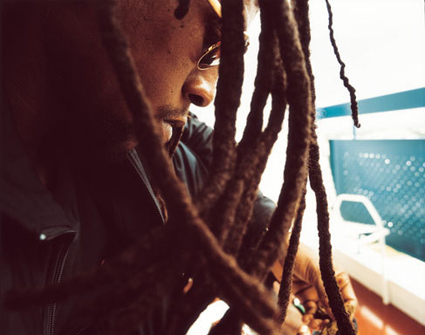 'NO, DO, DON'T KILL THEM!'
"I then heard a voice from inside the car say 'Kill them!' and I shouted "No, do, don't kill them!" recalled an emotional Suzanne as she knitted her brows as if to block the memory.
Her cousins were told to run for their lives. They did. The gunmen then ordered Suzanne and her aunt into the back of the vehicle. The driver of the car put it in reverse and then headed down Sugar Mill Road. The females were questioned about their cousins, then asked to identifiy themselves.
Their jewellery was taken and the man with the gun sat on top of them, so that they were unable to see where they were being taken. The men then drove on to a bushy, dirt track in the Spring Farm area. It was there that the men viciously raped the women.
"Jah Cure raped me at gunpoint, while the other man raped my aunt outside on the dirt track, in a pile of gravel. While begging for my life in the car and with the gun pointed at my head, I began resisting and begging him," Suzanne recalled.
"I then said to him, if you are going to rape me please, me a beg you to use a condom. He stopped and searched the glove compartment of the vehicle, then said he couldn't find any. He pulled my underwear off and began to rape me.
"I continued to resist and begged him to stop and I remember him saying 'Hey gal, do wey me tell yuh fe do and you wi live'. That was how it happened," said a tearful Suzanne.
After the ordeal, the men took them to the Rose Hall main road, where they were ordered to get out of the vehicle. The men threw $100 on the ground and told them that it was for their bus fare. Suzanne said when the vehicle drove off, she looked up and saw that it was the same licence plate that she had memorised earlier.
"I was able to identifiy him (Jah Cure) because his voice was distinct. They kept talking in the vehicle. Anywhere I hear that voice, I will always remember it. During the incident he tried to kiss me and I could smell the ganja scent on his breath," said Suzanne.
more on next page
Prior to the incident, she said she had never seen, met or spoken with Jah Cure. She noted that she did not even know who he was until after he was arrested.
"When I had to go over the whole ordeal in court, it was devastating. He (Jah Cure) tried talking to me, trying to say it was not him. He introduced a pregnant woman to me at the courthouse, saying that she was his expectant baby mother. He was trying to get me to become sympathetic toward him. But afterwards, his mother (who was at the court house) told me that the woman was neither pregnant for him, nor was she his girlfriend."
According to Suzanne, the trial was very difficult, but the psychological effect of the rape was worse.
"He tried to contact me while he was in prison, I don't know how he got my telephone number, or how they got my address. I had to go away for a while in order to get away from it all, and during that time, he was still sending messages to my house." She said a lot of effort was made by entertainers and other friends to get her to make statements which would get the offender out of prison.
It was eight months before Suzanne managed to build up enough courage to go out in public again. She said the stigma and embarrassment of being raped was too much for her.
She said that several top entertainers have since called and visited her home, offering her large sums of cash if she would help Jah Cure to get an early release from prison.
more on next page
'I JUST WANT HIM TO ADMIT'
"We don't want any money. I just want him to admit to his wrong and apologise publicly. I cannot take their money and go to the supermarket and buy a pound of respect, dignity and self esteem. All that was taken from me. I have to be walking on the streets and looking behind me. My relatives are getting threats," she said.
According to Suzanne, the ordeal has remained with her every moment of each day. At nights she tosses and turns, and sleep is as elusive as her peace of mind. The pain and anguish of the incident has imprisoned her for life. The incident has had an adverse impact on her relatives and has also affected her relationships with men.
"I don't trust anyone. If they try to come close, I react very violently and if they try to get intimate, I have flashbacks and it is very difficult," Suzanne spoke freely.
"Everytime there is a lot of publicity about Jah Cure, I have even more flashbacks. Sometimes I am so afraid to leave my house. When I go out in the public and hear people say, 'Free Jah Cure', I have serious flashbacks and it becomes very difficult. It seems to me that entertainers are more valued than everybody else in Jamaica and as a woman, I feel seriously undervalued."
While she has not undergone formal counselling, says her current church congregation helps her in the very hard times through prayer and fellowship. Much of her support also comes from good friends and the residents of her community, especially the young people who are very protective of her.
Your thoughts or comments with facebook below