Snoop Dogg says he is giving up smoking after having a conversation with his family.
When it comes to smoking, Snoop Dogg is probably the most famous name that comes to mind. The West Coast rapper is as famous for smoking marijuana as he is famous for being a legendary rapper. Perhaps that era of Snoop is now over as he announced he is kicking the habit.
"After much consideration and conversation with my family, I've decided to give up smoke," the rapper wrote on IG. "Please respect my privacy at this time [sign Snoop Dogg]."
He captioned the message, "I'm giving up smoke." Some folks who are not convinced pointed out that he used the word "smoke" as opposed to "smoking," which left a lot of room for interpretation of his message, especially in an era where marijuana consumption expanded greatly into edibles like brownies and other treats.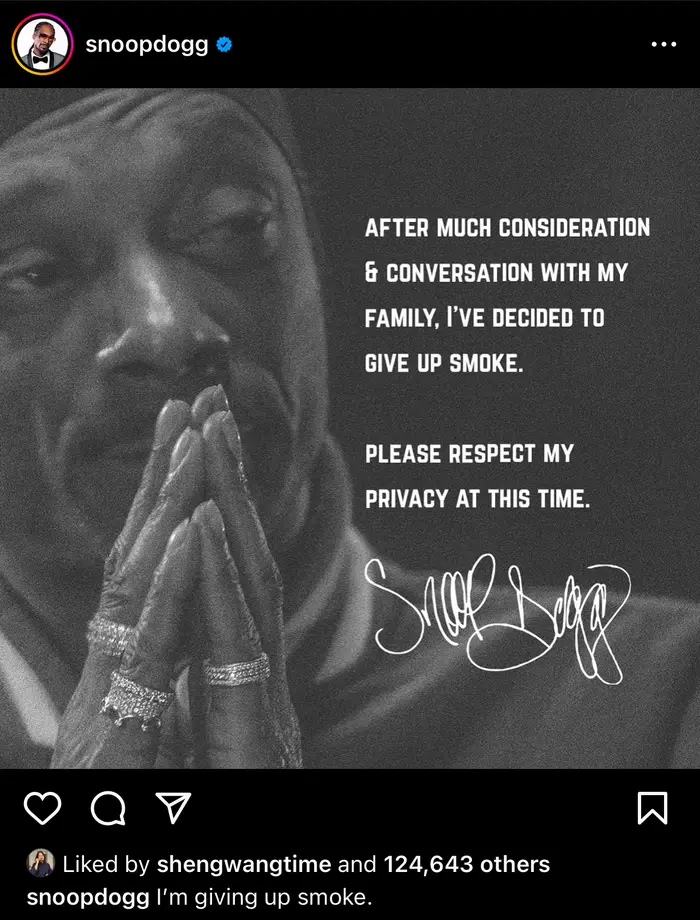 Snoop Dogg has not clarified the small nuance in his message, but a lot of his supporters are congratulating him on his decision to kick his smoking habit. Some folks are even suggesting that his protege Wiz Khalifa should consider kicking his smoking habit as well.
Last year, Snoop responded to rumors that he smokes roughly 75-100 blunts per day after a revelation made by one of his personal blunt rollers. The "Drop It Like It's Hot" rapper disputes the claim while sharing a number that he says is more like the truth, which was around eight.
"F*** I'm a smoke all that weed in one day," he said in a clip shared on his Instagram. "What am I, a f***in' machine? B**ch, this is the roaches. See… roaches."
In 2021, Snoop was also asked during an interview with 360 with Speedy how many blunts he think he smoked over his lifetime, and his response was in the ballpark of 650,000 blunts at that point in his life. That's an astonishing number, considering he disputed claims he smoked up to 100 blunts per day.