Blueface and his mother are back to beefing as the rapper called his mother out over her recent Jason Lee interview where she alleges she dated Shaquille O'Neal in the past.
It seems that the Jason Lee show has a long stream of guests thanks to Blueface and his many relationships. The rapper and his baby mother appeared on the show last month, and then his baby momma Chrisean Rock followed suit, and now his mother, Karlissa Saffold, was featured.
While Karlissa was on the show, she reminisced about her time as a young actress when several big-name celebrities tried to holla' at her. However, it seems that the "Thotiana" rapper is not here for the stories as he called her out for her life choices, including the men she's been with. The two went back and forth on social media in what blogs are calling a "d*** size contest."
"Karlissa why is you telling this sad a$$ story I like being disliked," Blueface wrote in a tweet before adding, "Yo husband di*ck is not bigger then mine on sY stop saying that."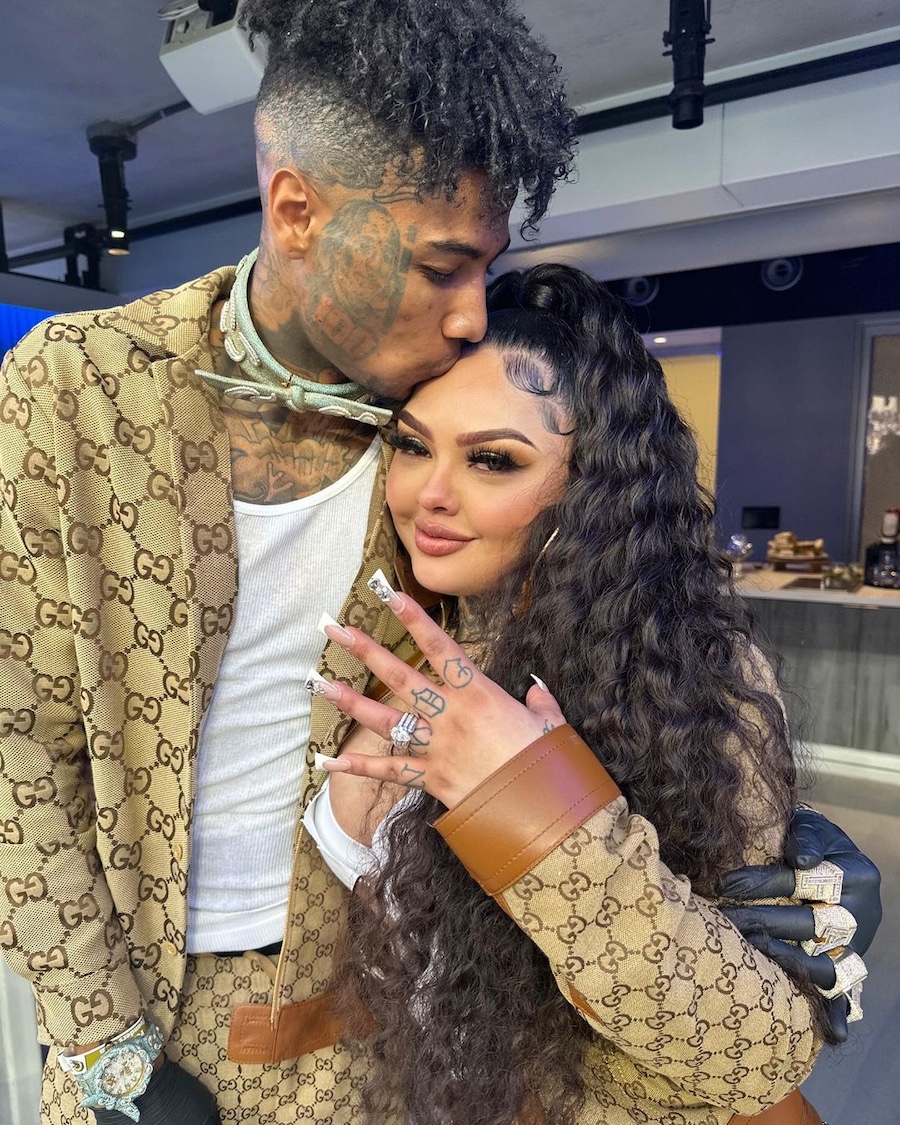 Karlissa also replied on Instagram stories to his initial tweets telling him to post his penis so it can be compared with that of her husband's. "Call me Karlissa again and you will be dislike MF," one story read while another said, "Put yo sh*t up or shut up because we ready."
In the comments of her post, she also added, "He can't handle the truth [laughing emoji] Rock going to find a new big one too. Just like I replaced yo daddy." Blueface appears upset that his mother said her husband's penis was larger than Blueface's.
"I just know my man's dick bigger than his. That was like a joke to be funny. I don't know. He probably like 8-9 last time that I know, I don't know but that's it it runs in the family. You know if it runs in the family I was just assuming," Karlissa said.
Blueface appeared upset at the remarks as he compared her to his fiancée, Jaidyn Alexis.
"Karlissa chooses men by their penis size and wonders why she ended up with a bum after all the co*cks she had my "WIFE" could never," the Milf Music label owner said.
He added, "That's why I have so much respect for Jaidyn as much as she could have had my kids around other men tryna find new d***…JUST TO GET OVER THE LAST DICK she sacrificed her desires to do what was best for our children instead of herself."
"Jaidyn is a better mother better wife better women idk why karlissa keep down talking my wife for not being a c*ck chaser," another tweet read.
Blueface brother don't know his father
Another tweet said, "She ain't Know who my big bro dad was so instead of having both men take a DNA test an facing her problems so her child didn't suffer fatherlessly for her being a wh*re she ran selfishly an decided he didn't need a father an he did 12 years in prison because of it."
"My dad was great btw all that shit was cap he the one had me playing football fr," the rapper added.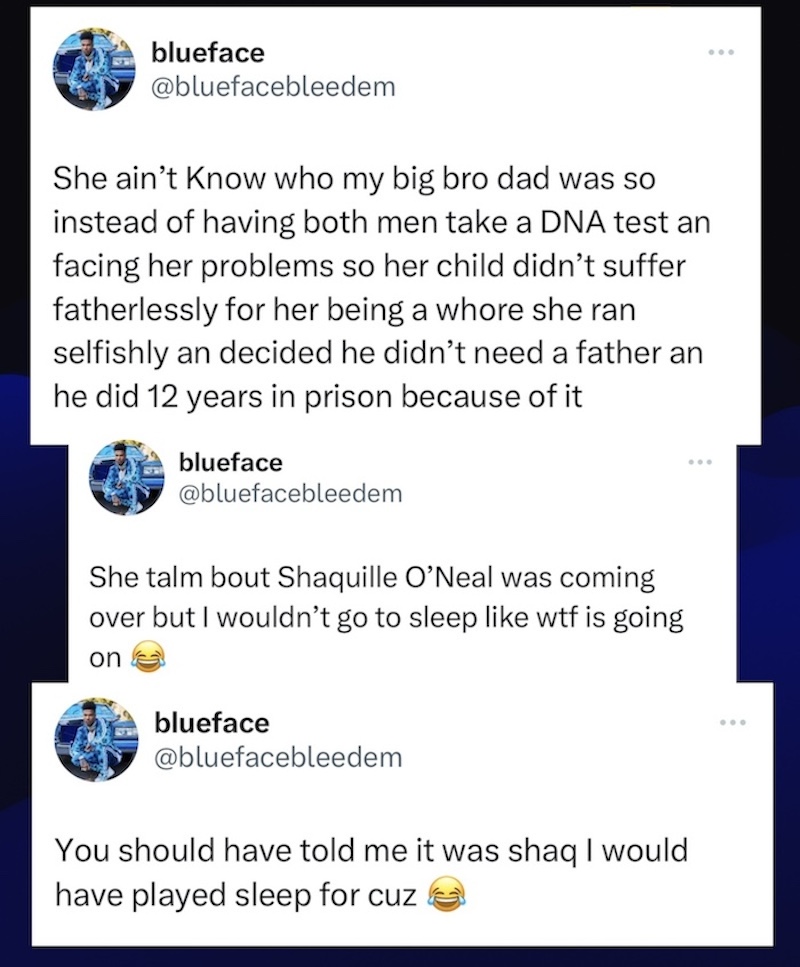 The rapper also mocked his mother for mentioning that rappers like 50 Cent, Shaquille O'Neal, and others tried to get with her when she was younger.
"You should have spoke more on your acting career an maybe acknowledged the celebrities an people that got you these roles so they would recognize you an we all would respect you but no you wan get on here an explain a c*** fest."
"She talm bout Shaquille O'Neal was coming over but I wouldn't go to sleep like wtf is going on," he added.
Blueface and his mother Karlissa Saffold have been at odds for a while now with no signs of reconciliation. Saffold recently met his son with Chrisean Rock for the first time and later told Rock that she means good in her heart. The rapper's fiancée, Jaidyn Alexis, also expressed her dislike for Saffold, who called her out for her music.