Fans are speculating that Nicki Minaj will reconcile with Remy Ma on her upcoming album.
In the unpredictable world of hip-hop, you never know who might end up beefing and who might end up burying the hatchet. One longstanding feud that for a long time seemed to have no foreseeable end has now been thrust into the limelight again after Nicki Minaj called major attention to it. In an obvious sub, Nicki took to social media to share some lyrics from Remy Ma's verse on the Big Pun-assisted track "Ms. Martin" this week.
"Look over your shoulder / I'm in da Rover / It's OVER b!ch," Nicki wrote on her Instagram Story, adding her album release date at the end. The emphasis on the word "over" has many fans theorizing that the Barbz Queen and Remy Ma have ended their longstanding feud.
While this is the most obvious theory, some fans are still half-hoping that it will be a diss track rather than a reconciliation. The majority are hopeful that the two will, in fact, surprise fans with a collab following their fallout years ago, which severely diminished that possibility.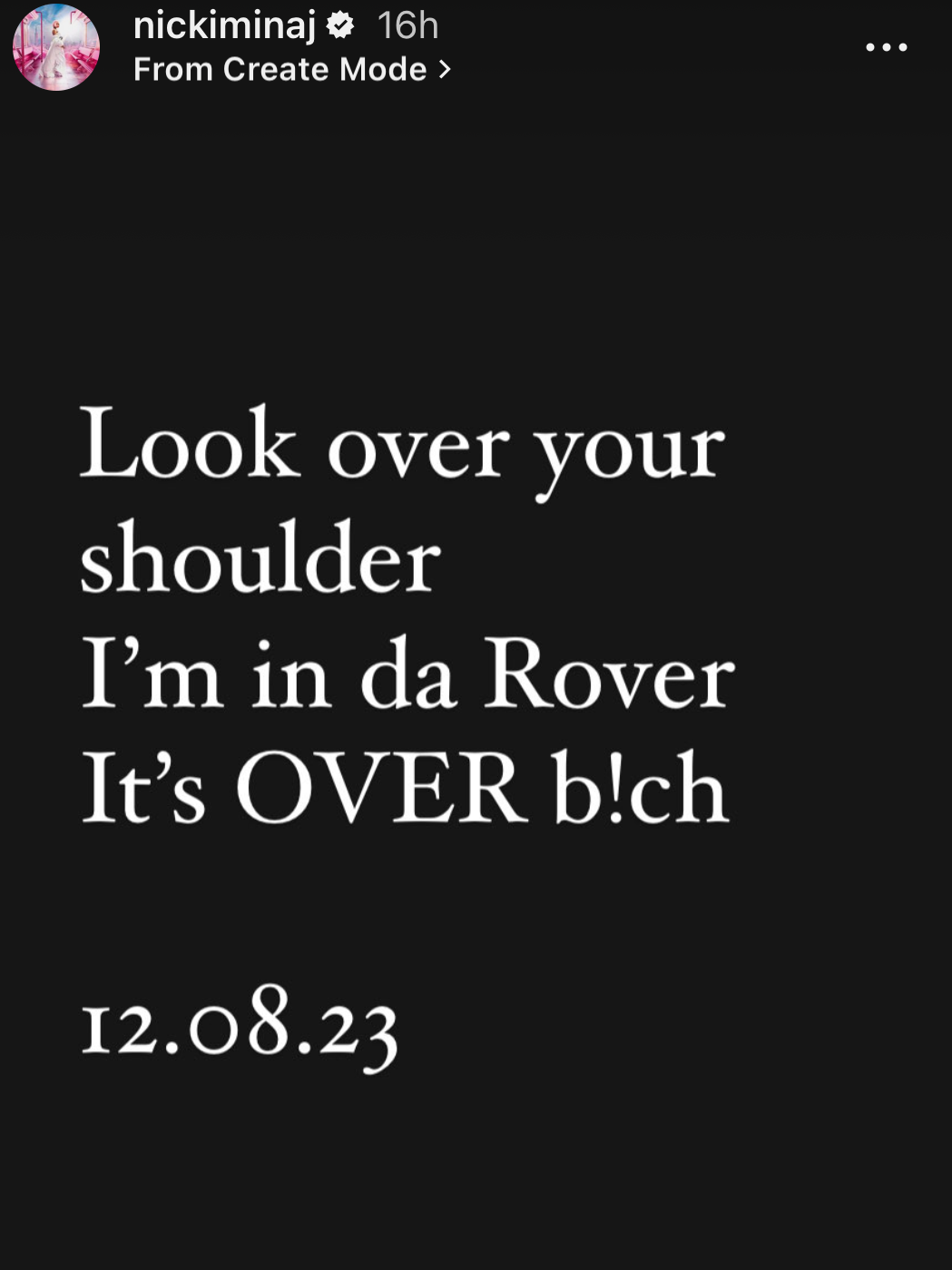 Nicki has promised to shock the world completely with what she has in store, citing Pink Friday 2 as "the biggest gift [she] has ever given humanity thus far." One fan, in response to the rapper's cryptic post referencing Remy Ma's lyrics, wrote, "Nicki did say she might be forgiving one of the duds on TikTok live a while ago?"
In another comment, one fan gave a complete rundown, scribing, "Let's not [forget] Nicki wanted Remy on The Pinkprint. If they squashed the beef and collaborated that would be dope. Nicki said the tracklist is going to break the internet."
To that end, it looks like Nicki wasn't wrong. Even devoid of an official announcement, the internet is abuzz with excitement, speculation, and palpable anticipation. In recognition of how hip-hop as a whole would be moved by such a revelation, one fan commented, "If Remy is a feature it will CHANGE THE GAME."
Meanwhile, another fan says there are other beefs that are yet to be squashed that would be more worthy of a revolution. "Now all she gotta do is let that Cardi and Meg beef go, that would really break the internet," she wrote.
Nicki has fans on high alert to expect the unexpected. On November 17, the New York rapper plans to announce yet another surprise in addition to the routing for her upcoming Pink Friday 2 Tour. Could the Queen be so kind as to unveil the highly anticipated tracklist as well?