DJ Akademiks says he is genuinely afraid of Saucy Santana since the two started going at it on social media, prompting Queen Latifah to criticize the podcaster.
Urban Islandz reported last week that DJ Akademiks broke down in tears on his Livestream after the Florida rapper told him that he would clap his cheeks. The back and forth between the two stirred a debate on social media, with some prominent figures like Dr. Umar and Queen Latifah speaking out.
Despite being criticized for some of his past issues with women in the industry, like Yung Miami and Nicki Minaj, Akademiks says Saucy Santana really scares him. "Hey, I want to say this for the record, I'm scared," he said before calling Santana a "monster" for his statement about clapping his cheeks.
AK also admitted that he wasn't trying to get canceled by beefing with someone from the LGBT community but felt it necessary to defend himself. That didn't shield him from harsh criticism from Queen Latifah, who especially called out the hip-hop pundit for saying harsh things about black women.
"It's crazy to me how DJ Akademiks is crying scared to say anything to Saucy Santana because he's a gay man and he's scared of getting 'canceled,' but has said some of the most outlandish, vile, disrespectful, and demeaning things to Black women with absolutely no fear whatsoever," Latifah statement reads. "[It] brings me back to Malcolm X's quote, 'The most disrespected, unprotected, and neglected person [in] America is the Black woman!'"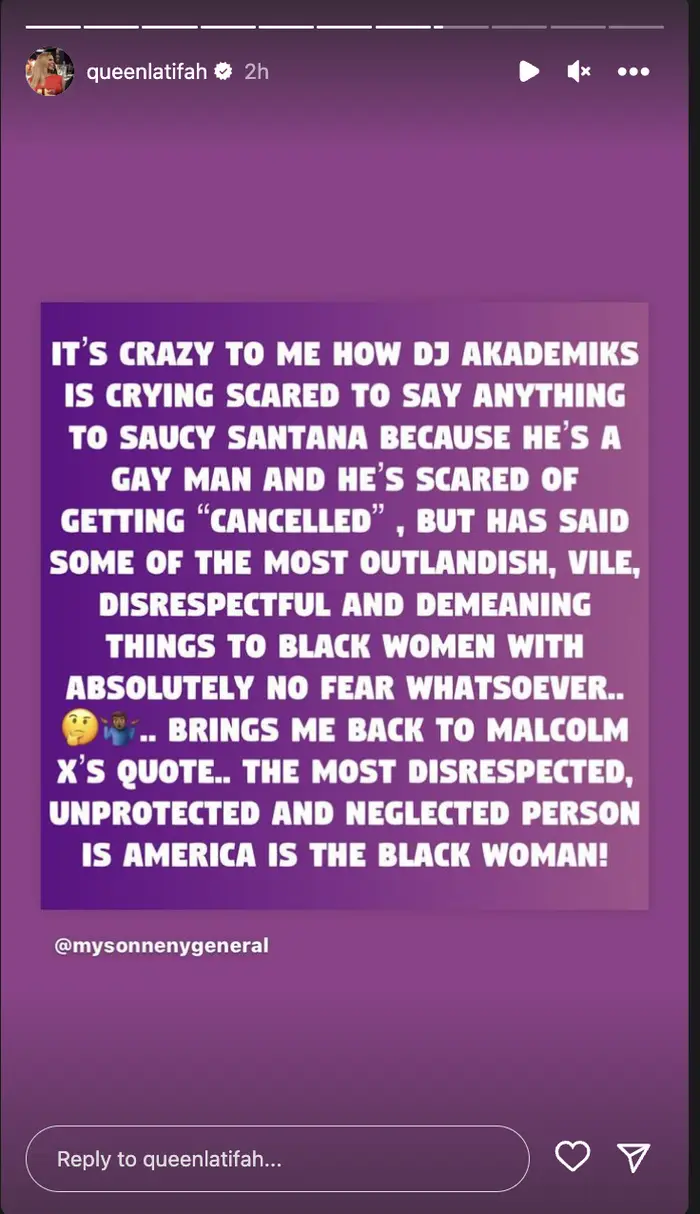 Saucy Santana confronted DJ Akademiks for his criticism of City Girls rapper Yung Miami and JT's new album, RAW, amid lackluster performance on the chart. Yung Miami is a close friend of Santana. AKA says that Miami is more into dating Diddy and podcasts than rapping and suggests that JT go solo to save her career. JT never responded, but Santana took the initiative to defend Yung Miami.