Chrisean Rock reveals a list of rappers, including Drake and Diddy, who she says Blueface got mad at for talking to her.
The ongoing saga between the on-again-off-again couple continues to play out on X as they show no signs of calling a truce, at least not on Chrisean Rock's part. The Baddies reality star went on another tweet storm on Saturday as she continued to expose her baby father's deeds, much to the astonishment of some rappers who suddenly found their names in the mix.
When you think Rock can't surprise you with anything new regarding her relationship with Blueface, she does. In a since-deleted tweet, she revealed that Blueface got mad at her after rappers like Drake, Diddy, Boosie Badazz, Kevin Gates, Lil Baby, No Cap, Rick Ross, Wiz Khalifa, The Game, Fivio Foreign, Trippie Redd, and more a showed interest in her.
She shared that Blueface got made when Drake suddenly started following her on Instagram. She previously revealed that the West Coast rapper was angry because she took a photo with Rick Ross, which the Maybach Music Group rapper shared on his Instagram Story.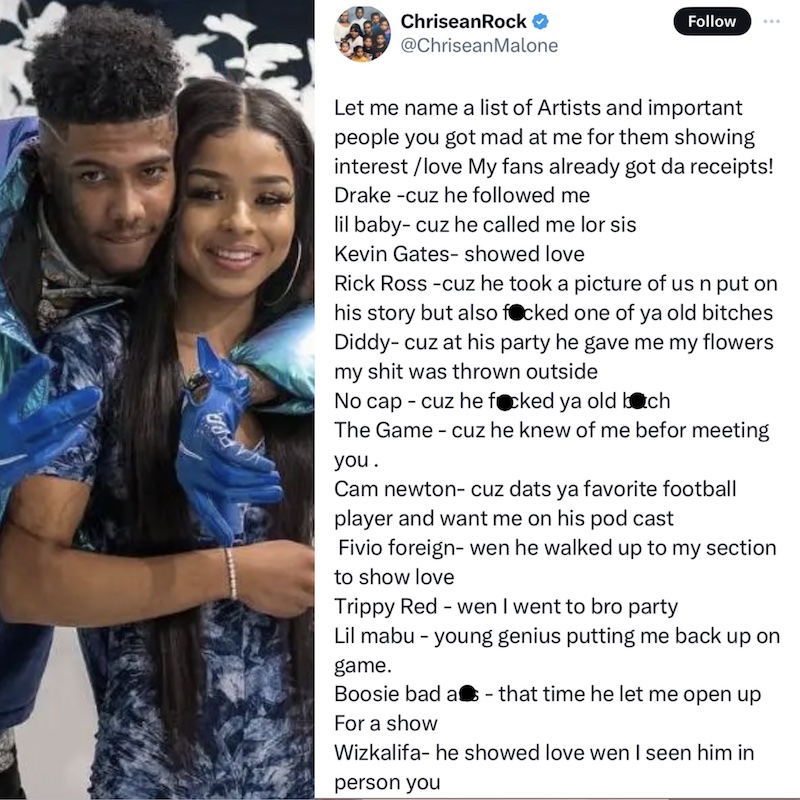 As for Diddy, Chrisean Rock says her ex-boyfriend got made because the rap mogul gave her flowers at his party. "Cuz at his [Diddy] party he gave me my flowers my sh*t was thrown out," she wrote.
She also revealed that Fivio Foreign came under scrutiny from Blueface because the New York rapper came to her section in the club to show her love. Boosie got on the list because he let Rock open for him at one of his shows.
"Any ni*** that wanted to show love or support you purposely took ya insecurities out on me knowing at the end of the day you wasn't a ni*** of mine but trynna represent me but didn't help me grow individually I literally got punished every time someone was cool with me but you go do you when [people] want," Rock said.
Blueface respond to Chrisean Rock tweet
Blueface has seemingly responded to Chrisean Rock's claims by tweeting a list of celebrities he says are playing his fiancée, Jaidyn Alexis' music. "Name all the Celebs you've notice playing Jaidyn music…. I'll go first," he wrote before naming celebrities like Jayda Cheaves, Natalie Nunn, Chloe Bailey, Bia, Yung Miami, Ari Fletcher, Saucy Santana, and Wiz Khalifa.
Blueface also took a parting shot at Rock, saying that a lie will always go further than the truth. The "Thotiana" rapper has been getting hammered by Chrisean and her fans for the past few days following her interview with Jason Lee, where she spilled a lot of tea.