DDG says he is a very "rich bum" in response to haters.
Halle Bailey might be pregnant for her boyfriend DDG after photos surfaced this week showing her appearing heavily pregnant. Bailey has not addressed comments and speculations about her pregnancy, but her choice of oversized garments has caused fans and followers to believe that she is carrying the child of DDG, whose real name is Darryl Dwayne Granberry Jr.
Neither has confirmed or denied the rumors, but Halle has been subjected to much criticism from her fans because of her age and the fact that she is unmarried. Others have expressed displeasure that her acting career has taken off with the recent release of the Disney blockbuster, The Little Mermaid. Some have also expressed disdain for DDG being the man who got her pregnant.
On Tuesday night, DDG seemingly confirmed that Halle might be pregnant as he reacted to critics who called him a "bum. Many have expressed disappointment with him being the father of Bailey's child.
"Halle Bailey pregnant at the height of her young career by a BUM. im so tired," one commenter said on the platform X formerly called Twitter.
The rapper, whose career as a YouTuber has been more successful than his rap career, joins Halle, who is far more successful. However, both parties appear happy and content in their relationship and continue to ignore the critics.
While reacting to the crass tweets, DDG posted a photo of him and Halle, hinting he was unbothered. "Worried about me so much they forgot to live their own lives FOCUS," he tweeted. He also shared another tweet telling fans, "updated my bio to clear up confusion." A look at his bio had the tagline, "Rich Bum."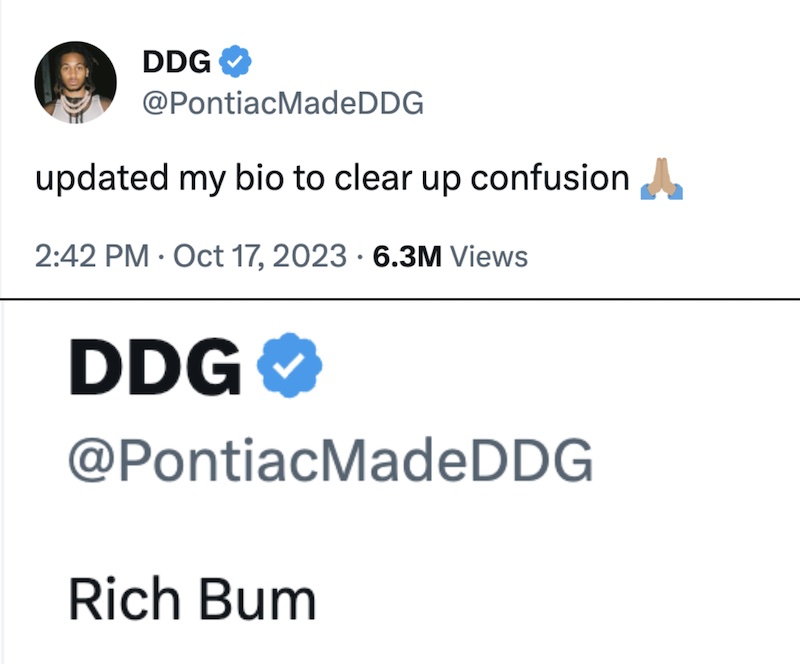 Some fans also defended DDG. "Not even riding or nun but calling DDG (a multi-millionaire young man) a bum is just insane do y'all even know what that word means," one fan said. Another added, "DDG became a self made millionaire and moved his family out the trenches just for lame women behind cartoon pfps call him….a bum?? Lmaoo."
"I hate talking about other people business but y'all saying DDG is a bum is actually crazy," another said.
Halle, 23, and DDG, 26, began dating in 2022.