50 Cent praised Ari Fletcher for her Jigsaw Halloween costume, saying nobody can top it this year.
Ari Fletcher was extra creative this Halloween season by dressing as the character that some of her social media trolls often call her, Jigsaw. After all, if you can't beat them, then join them. Celebrities have been busy showcasing their Halloween fit for the 2023 spooky season, but 50 Cent says it's already over for everyone else after Ari popped out.
"Welp there go's Halloween ain't nobody gone top this LOL @therealkylesister got it with this one, we don't want to see ya naked nurse, and naked cop sh*t you gotta come better," Fifty wrote while sharing a photo of Ari on his Instagram.
Seems 50 Cent isn't the only one who thinks she nailed it, as fans shared their approval in the comments. "She dress the part they often called her but she does kinda look like Jigsaw so why not she nailed it ma'am," one fan wrote, while another fan asked Fif where is his Halloween fit. "Round of applause to Ari for this one but where is your Halloween costume 50? and you better not dress as no chicken hanging from the ceiling lol," one fan said.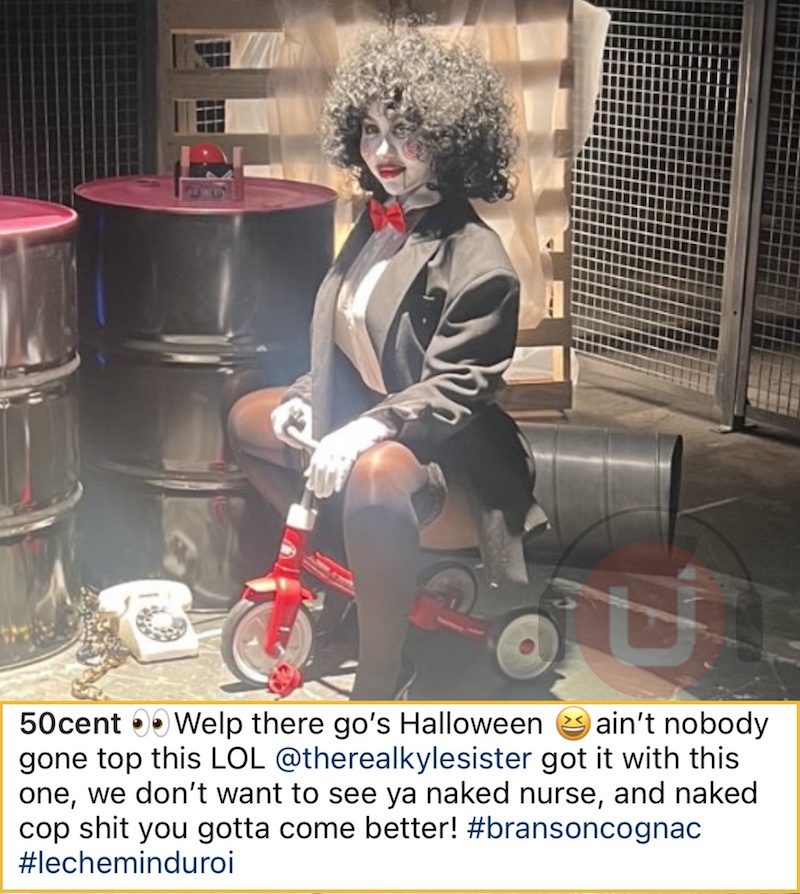 50 Cent has been busy touring on the European leg of his "The Final Lap" tour. This week, he performed to a sold-out crowd at his second show in Latvia. When he is not performing, he is taking time out his business schedule to take aim at his usual target, Diddy.
The G-Unit head made headlines earlier this week when he called out Diddy for allegedly being responsible for Tupac Shakur's 1997 murder and telling the Bad Boy Records founder to get a lawyer. 50 Cent's allegations come following the arrest of Duane "Keefe D" Davis, who has been indicted on murder charges as authorities hope to crack the 25-year-old case.
Ari Fletcher recently celebrated her boyfriend Moneybagg Yo's 32nd birthday. The couple set sail on the ocean surrounded by friends to make another trip around the sun for the Memphis-bred rapper.