Mom and Dad Rihanna and A$AP Rocky have been spotted for the first time in public since their second baby came as they celebrated the latter's birthday while out in New York.
Rihanna and Rocky were a sight for sore eyes as they were spotted leaving the fancy Carbone restaurant in New York. Both were dressed stylishly and making their respective fashion statements as paparazzi and fans waited outside of the restaurant to get a glance at them.
A$AP Rocky is seen wearing a taupe plaid blazer over a white shirt inside of a wool sweater and loose pants while carrying her boo's oversized pink purse, while Rihanna is seen wearing black leather leggings, a tulle peplum top under a soft hoodie. Rihanna also has her hair tossed up as she sports what seems to be a dusty blonde color.
Rocky is the ultimate gentleman as he guides Rihanna after security directs them to their ride. He also walks around to Rihanna's side of the car to let her in.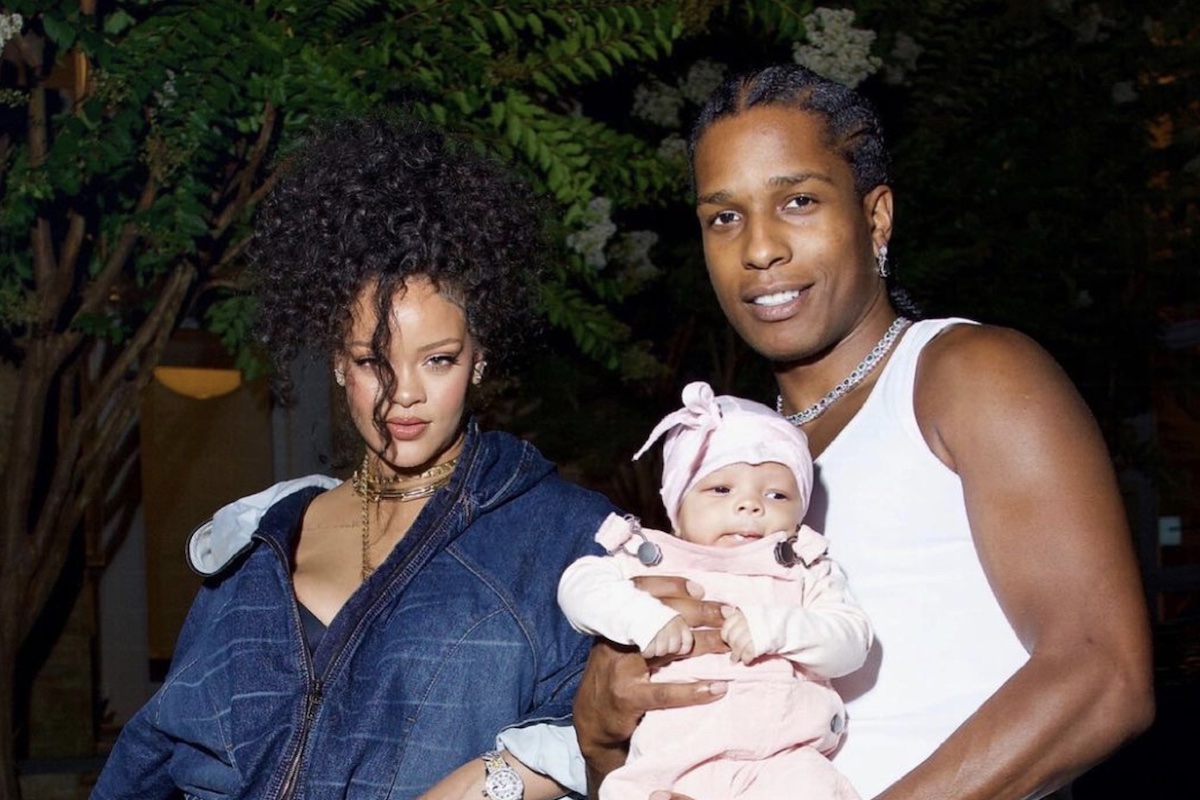 There is a video of the couple also arriving at the Carbone, where it appears that Rihanna planned a surprise birthday party for him. A$AP Rocky, whose head is lined with cockle clips, smiles after walking in.
Videos of the birthday decore quickly went viral online, showing the birthday cake decorated in green fondant in the letters 35 and lined on top with all kinds of photos of Rocky with Rihanna along with their babies RZA Athelston and Riot Rose Mayers.
Staff also stand outside with several different cakes – one large round cake and one cake having what looks like a fancy flan cake. Staff are seen lighting the candles and sparkles before going back into the restaurant.
Rihanna also stops to give autographs to a fan and even poses for a selfie and photo with several fans, including a young boy whose parent is heard telling her he is a big fan.
A$AP Rocky also gets a birthday present from a fan whom he stops to give a hug. This is the first public sighting of the couple following the birth of their second child. The pair recently unveiled updated family snaps that show them holding their youngest baby. Both children resemble each other.
Our favorite parents! Rihanna and ASAP spotted out for his birthday dinner at Carbone in NY last night?#asaprocky #rihanna #birthdaydinneer pic.twitter.com/AQozq53ejq

— BOUNCE (@bouncenetworks) October 5, 2023
Rihanna throws ASAP Rocky a surprise 35th Birthday Party from 3am-5am at Carbone
?:@HollywoodFix pic.twitter.com/6C6ABpijOI

— Glock Topickz (@Glock_Topickz) October 4, 2023