Halle Bailey is happy and healthy as she doubles down on her decision to keep her personal life private.
Hollywood actress and singer Halle Bailey has seemingly been thrust into the global spotlight following her leading role in Disney's live-action film The Little Mermaid. While the movie was five years in the making, it was finally released in 2023, which saw a lot of fast developments in Halle's career. The singer seems to be working overtime between music and acting, starring in another feature film this year, the remake of The Color Purple, which is slated to hit theaters on Christmas Day.
Halle Bailey, who is also a songwriter, even had the opportunity to compose an original song for the movie soundtrack. According to the Hollywood star, she was more than elated to work on the movie, which is a musical adaptation of the original story. This way, Halle had the opportunity to combine all the things she loves, from writing music to singing and acting, all in one film.
There is no doubt that 2023 is one for the books for this "Angel," who also released her first solo single ahead of her first solo album last month. The debut single reached No. 1 on the US R&B Songs iTunes chart and entered at No. 2 on the Billboard R&B Digital Song Sales chart. So far, it is Halle's highest charting single as an individual or duo (one half of Chloe x Halle). Moreover, the official music video has already garnered over 11 million views on YouTube and nearly 8 million streams on Spotify since its August 4 premiere.
In a recent interview with Cosmopolitan, Halle assured fans that her debut solo album will "definitely" be coming before 2023 ends – talk about a whirlwind year. On her whirlwind romance with rapper and longtime YouTuber DDG, Halle says, "this is my first deep, deep, real love" and that it has inspired her creatively, which seems to be a mutual effect as DDG told The Breakfast Club something similar last year.
To top it all off, the young it couple is rumored to be starting a family together. While neither of the couple is yet to confirm the speculation, all signs point to a growing baby being carried by the famous singer and actress. In her recent appearances, fans have noticed that Halle has opted for a wardrobe more antithetical to her usual style. Baggy shirts, oversized blazers, and sweaters have become her go-to, and while she pulls off these looks effortlessly, fans can't help but scan each photo and video for a baby bump.
Halle Bailey hush on pregnancy rumors
As Halle and her beau, DDG, remain tight-lipped about the pregnancy rumor, fans and critics have inundated headlines, weighing in on the growing speculation. The unofficial news was met with mixed reactions as some detractors were quick to denounce it while others could not be happier for the beautiful and successful young black couple. Before we analyze the depth of that potential reality, let's look at what Halle had to say about people being in her business all the time.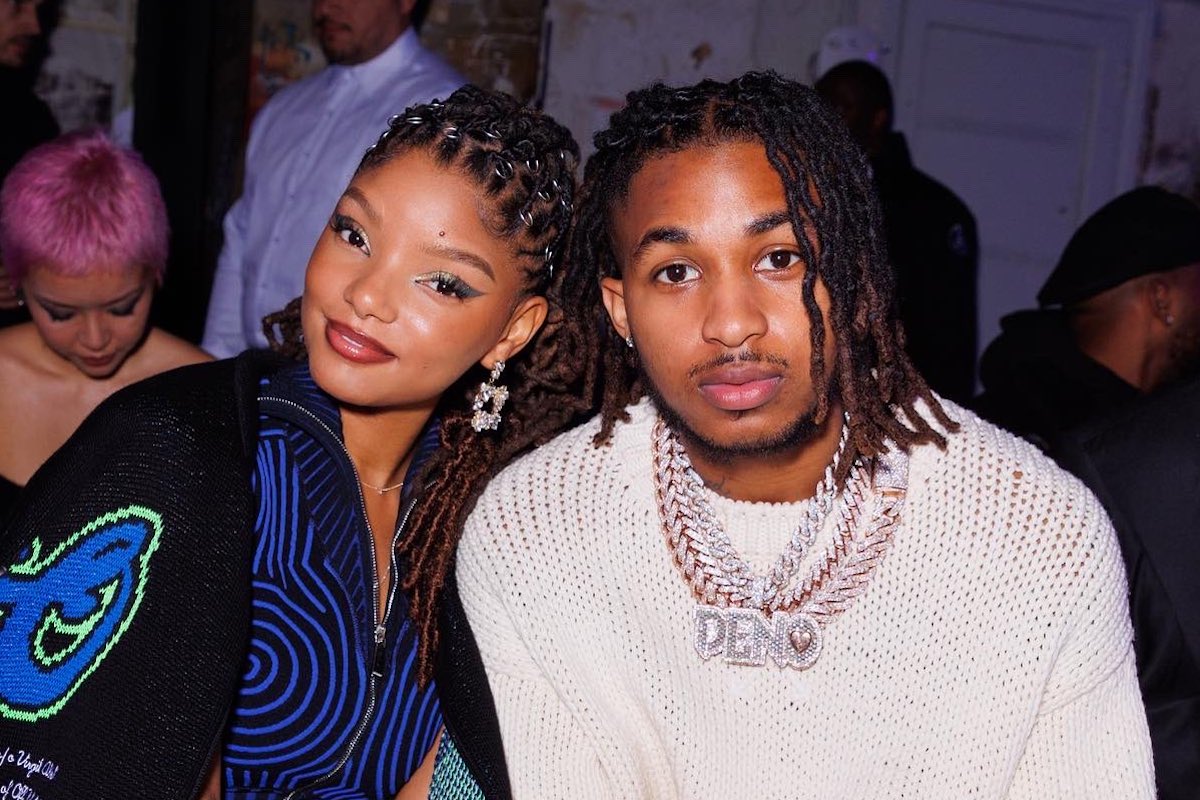 "There will always be a conversation because I started so young," Halle told Cosmo about the public watching her grow up. "There's a sort of protectiveness or ownership that people feel they have over your story because they've known you for so long. Part of me thinks that's a beautiful thing, to know that you have that support from people and they just want to see good things happen to you. But it's also really easy for us to comment on what other people are doing…to say a lot of stuff. I think the transition will continue to happen naturally. It's on people to figure it out, not necessarily on me."
Her sentiment was beautifully articulated and with much tact. The singer could not be more correct that it's not on her to "figure it out." People will always be entitled to their opinions, but Halle's only responsibility should be to protect her mental health at all costs and not let the negativity take a toll. "My main goal has always been to stay true to myself," Halle said about her perceived identity. "There's so much more to being a young woman than this fairy-tale character. I think other people have a hard time separating who Halle is and who a princess is—and that's natural when you're a fan of an artist. But it's a beautiful thing to be a layered individual and not fit into one certain image."
At a Pandora event over the weekend, the Hollywood star stopped for an interview with ET, where she doubled down on her decision not to talk about her personal life. "I think what's really cool about love and being young is you can just live and have a great time, but my personal life is something I really keep sacred," she opined.
Some critics have been harsher than others, claiming that the singer and actress is playing the public for a fool by not speaking on her rumored pregnancy. However, it is quite clear that if the singer is expecting, the fact that she is not hiding indicates that it would certainly not be a secret—at least not to those who know. It would merely be a private matter, and it would be her prerogative to keep it that way if she so chooses and enjoys her first pregnancy with the family and loved ones who are actually supportive and happy for her. She owes naysayers absolutely nothing.
Loyal fans have lamented finding it especially perplexing that those who claim to care about Halle have not been more supportive. Putting someone down when they are believed to be expecting seems rather counter-intuitive as that undoubtedly cannot be conducive to a healthy pregnancy. The widespread disapproval should sooner be replaced by congratulatory messages and best wishes.
Many who have chimed in, even from the singer's own community, have publicly voiced their discontent but have failed to wish her health and a safe delivery based on the same supposition. It is evident that in the face of their consternation, many have lost sight of what really matters, which is a healthy mom and baby.
People seem to forget that Halle Bailey and DDG not only care about each other deeply, fit into each other's families super well, and believe they will eventually get married, but they are also each wealthy and successful in their own right. Far be it from us to celebrate a new bundle of joy or the happiness of a 23-year-old millionaire and a 25-year-old millionaire couple starting a family, but it just doesn't seem as disappointing as some have made it out to be. Thankfully, Halle and DDG, whose real name is Darryl Dwayne Granberry Jr., have a ton of support from their family.
The DDG family, whom fans have come to know and love on YouTube, are certainly a tight bunch that would no doubt band together and support the young couple, and the Bailey family is no different, starting with Halle's sister and best friend, singer/actress, Chlöe. The older half of Chloe x Halle seemed ready to pounce in a recent Instagram Live session where she told commenters to "keep [her] sister's name out [their] mouths, thank you."
The fact is, if Halle is really expecting, the negative comments will not age well. The looming theory that a woman's career is essentially over after having a baby is no longer valid in sports and certainly has no place in music and film. Isn't that the mystical power of everything a woman is anyway? A woman can play the lead in a movie that grossed $569 million worldwide, star in a second feature film with collaborators like Oprah, Steven Spielberg, and Quincy Jones, release a debut solo album, and carry a baby, all in the same year.
Those who would regard it as untimely or dear use 'indolence' in the same sentence as Halle's name would be remiss. Lest we forget, the woman has been working her whole life, and moreover, she filmed two movies back-to-back and still managed to create her debut solo album to be delivered in the same year as those premieres.
If anything, hypothetically speaking, carrying a baby while watching the success from years of hard work unfold is excellent timing. It means that by the time fans are done reeling from her back-to-back movies and her solo album, she will be back on set or in the studio, making even more magic. It's hard to imagine a more perfect alignment.
Somewhere in there, the lesson is to be mindful of making other people's blessings out to look like a curse. More and more women in the public eye are choosing to enjoy their pregnancies privately because of unwarranted negativity, biased opinions, and unsubstantiated claims. If Halle Bailey is, in fact, pregnant, heartfelt congratulations should be in order, not condemnation because there really is no good reason why a young, respectable, successful black woman shouldn't be happily basking in such a sacred moment.