Child Protective Services was called by concerned members of the public after Blueface shared videos online showing him having a party with strippers at his home while his 5-year-old son, Javaughn, hung around the pantry.
In recent days, there has been much talk about good parenting as Blueface attacked his baby's mother, Chrisean Rock, over her parenting skills and even threatened to get full custody of the baby for him and his first baby's mother, Jaidyn Alexis, to raise.
However, it seems that Blueface, whose real name is Johnathan Porter, is not the model parent he claims to be, as according to reports, the rapper and his baby's mother were investigated by the police and the Department of Children and Family Services after complaints were made about the condition his son and daughter were in.
According to TMZ, sheriff's deputies have gone to Blueface's home nine (9) times since May. Those calls involved neighbors complaining about noise, fighting, and loud music, and one also involved a complaint about strippers being at the home where they resided with two young kids.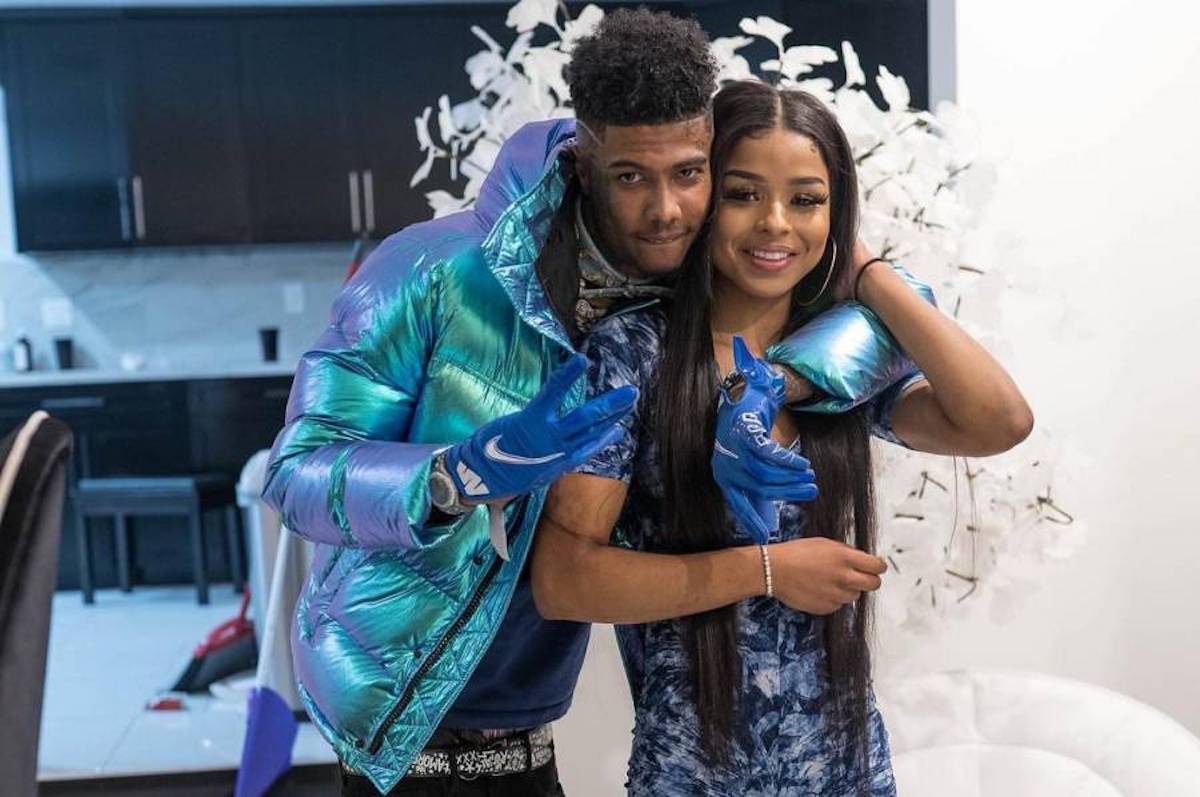 That incident involving the strippers was shared via a live video by Blueface, showing the women in varying stages of nakedness dancing in his living room area, where his baby's mom, Jaidyn Alexis, was also present. In the video, Blueface tells his son that he is busy searching for snacks when there are naked women outside. As the boy peruses the dry pantry devoid of snacks, he finds some Slim Jims and eats. His father then asks him if he is gay, which is why he is in the pantry, hiding from the party.
Cops have since launched an investigation into the incident, but the investigation was unsuccessful because "no one answered the door or picked up the phone when deputies were called to the house." The publication said that DCFC did not comment on whether there is an ongoing investigation.
Blueface's parenting is on the radar after he said he wanted full custody of his son, Chrisean Jr., from his mother, Chrisean Rock.
The baby was born a week ago, and Rock has been in Baltimore with family after having the baby. Blueface has not made any effort to be at the birth of the child, nor has he gone to meet the baby for the first time.
However, he has continued to go on the internet and bash Rock's parenting, including her decision to go to her little brother's football match and leave the baby with a babysitter.
"Tried to tell y'all smh she can't sit down for 1 week wit my son smh," Blueface wrote on IG stories. "Don't worry about it me an Jaidyn finna get his room ready my child not finna be neglected on sY," he added.
Blueface also said his first baby's mother has "plenty of time to watch him." He added, "Long as that baby got my blood running thru his vains (sic) ima be on her a$$ big ain't even took the hospital band off already left the baby with somebody else for Juci football game smh."
In another video, Blueface also said he was "worried" about the baby but did not address why he has made no effort to meet the child.
The rapper also said he did not want Chrisean's godparents watching the child because Rock had told him in the past that, as a teenager, her godfather had "made a move on her."
"She told me that one time around high school she had tried on a dress and that her Godfather made a move on her," he said, adding that Chrisean tells "bad stories" about people that help her.
He also said Rock doesn't have good people around her to help raise the children, so he is worried people might abuse the child.
In the meantime, Chrisean Rock has not responded to Blueface. The reality star and aspiring artist had previously spoken about continuing to work after she had her baby, especially since she stated that she would not require Blueface to contribute financially to the child.