The youngest brother of Memphis rapper Blac Youngsta was shot and killed at a gas station in Memphis last Friday, and now the CMG rapper is speaking out.
The deceased is reportedly the youngest brother of Youngsta and his last living brother, news reports said. According to reports, the victim, Tomanuel Benson, was killed in a shooting at the Valero BP gas station on South Parkway East in Memphis on Friday, August 18, around 9:30 a.m. The details released so far are that Benson was dead by the time paramedic arrived at the gas station.
There are no details about the motives behind the killing, but according to All Hip Hop, eyewitnesses claim that he was shot by men in a drive-by.
Blac Youngsta, 33, confirmed the reports on Sunday morning as he shared a message on Instagram Story.
"I love U baby brother rest up [broken-hearted emojis]," he wrote. He also made a promise to his brother to get back revenge. "I'm gone make the world pay. I swear to God [hands up emoji] Nobody safe. Standing over everybody," he wrote with sniffling and eye emojis.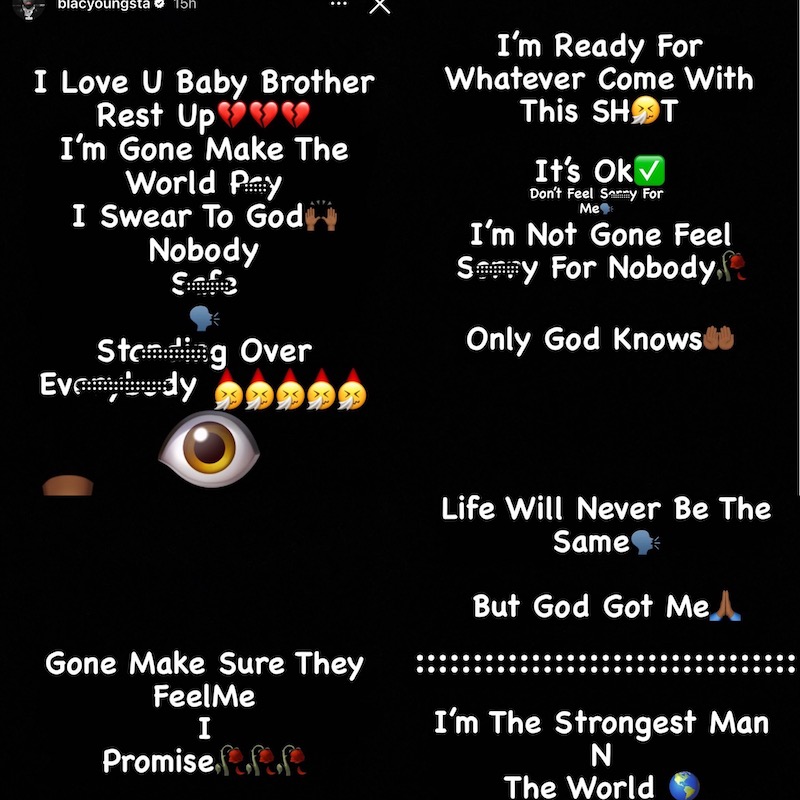 There are reports that Blac Youngsta has three brothers who are all younger than him, and Benson is the last one. All three have been killed over the last seven years. His second brother HeavyChampTD was shot and killed in Miami in 2019, while another brother was killed in 2016.
While mourning his younger brother in 2016, he wrote a heartfelt message sharing his regrets and wish for a different outcome noting that he hoped his newfound fame as a rapper would help his brothers to get out of the streets and stop doing drugs.
In recent times, Blac Youngsta has come under criticism for his behavior following the death of late rapper Young Dolph. He was previously linked to a shooting incident targeting Dolph in 2017 but was later cleared of wrongdoings.
Following Dolph's death in 2021, he angered fans of the rapper after he was seen shooting a music video and standing on the grave of the rapper in the background.