Beyoncé is paying tribute to a gay fan who died in a hate crime after dancing to her music.
As the most Grammy-awarded singer, Beyoncé has put in years of work in the industry. Her music is popular among many factions of society these days, but especially among the LGBTQ+ community. The singer often acknowledges the support of her queer fans and honors their love and dedication to her with shout-outs, off-stage interactions, and new dance music to incite exciting new Tik Tok challenges.
Unfortunately, Beyoncé isn't giving just a random shout-out to a supporter this time as one was killed in Brooklyn after he was seen vogueing to her music. 28-year-old O'shae Sibley was attacked at a gas station in the New York burrow late Saturday night (July 29) after he exited his vehicle to dance to Beyoncé's Renaissance album with friends.
The particular style of dancing that he was performing called 'vogueing' was pioneered by the Black trans and queer community in New York and has become a popular form of dance expression especially to Beyoncé's music. O'shae who was a professional dancer and choreographer was formerly a member of the prestigious Philadelphia dance company, Phildanco and was known for being a brilliant dancer in his immediate circle.
Sibley was stopped by a group that denounced him dancing in public and hurled anti-gay slurs at him and his friend Otis Pena. According to the New York Times, Pena said O'shae told the aggressors, "Stop saying that. There is nothing wrong with being gay." After the 28-year-old confronted them, one of the assailants then pulled out a knife and stabbed Sibley. Pena reportedly put pressure on the wound to try to save his friend, who was later pronounced dead at the Maimonides Medical Center.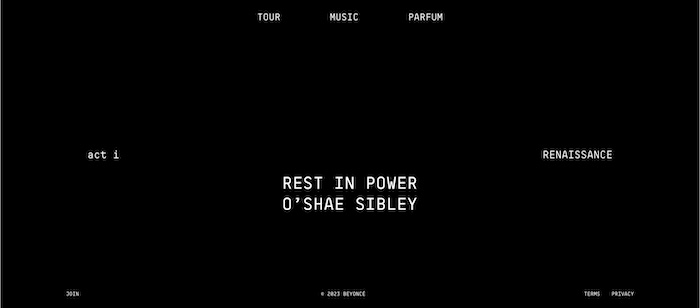 Beyoncé got wind of the gruesome attack and took to the internet to share her support and condolences. In a black-and-white post on her website, the singer wrote, "REST IN POWER O'SHAE SIBLEY." The post is the highlight of the site and the first thing you will see when you visit beyonce.com.
"They murdered him because he's gay, because he stood up for his friends," Otis Pena said in a video posted on Facebook hours after the fatal stabbing. "His name was O'Shae and you all killed him. You all murdered him right in front of me." A hate crime unit is reportedly investigating the murder that took place on Coney Island Avenue in Midwood. On Tuesday, Police said they were looking for a young male in his late teens in connection with the crime.