Gunna might be dealing with some fallout over snitching allegations, but his career is still on solid ground.
The Atlanta rapper earns his second top 5 hit on Billboard thanks to his hugely popular new single "Fukumean" off his album, Gift & a Curse. The project was released in June in response to the blowback he has been receiving from some fans and fellow rappers who accused him of snitching on Young Thug when he copped a plea deal in December and was released from behind bars.
The song is now in its sixth week on the Billboard Hot 100 chart after debuting in the top 20 after the album's release, stunning Gunna's critics who thought that he would effectively be canceled in the aftermath of his release from jail.
The track eventually climbed the chart to become Gunna's fourth career top 10 hit and now his second top 5 hit. Some of his core fans are hoping that the song will become his first No. 1 hit which would certainly silence his critics. The song is set to reach No. 4, equaling "Drip Too Hard," which also peaked at No. 4 on said chart.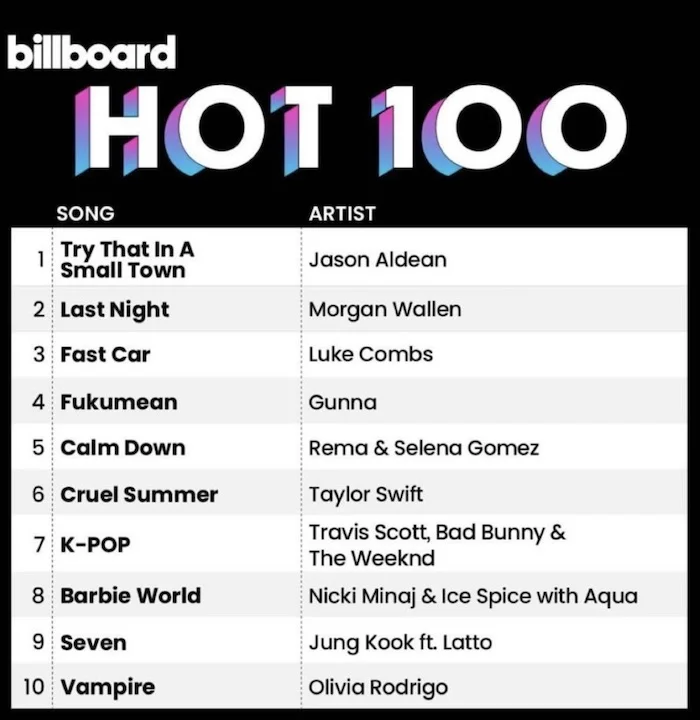 Elsewhere on the chart, Jung Kook and Latto's "Seven" fell from the No. 1 spot after debuting at the top of the chart last week. The entire top three songs are now held by country songs from Jason Aldean, Morgan Wallen, and Luke Combs, marking a historic moment for the genre on the Hot 100 chart. Nicki Minaj and Ice Spice with Aqua's "Barbie World" is at No. 8, while Rema and Selena Gomez's "Calm Down" is at No. 5, a new all-time high for the Afrobeats single.
Gunna celebrated the achievement with a post on his Instagram Story of the new chart position. His upcoming show "The Curse" in Los Angeles is sold out, and he is set to perform in New York for "The Gift" concert. The two shows are a precursor to an extensive tour he is plotting.