Shenseea is excited about following up her debut album with a new sound.
International dancehall artist Shenseea is working on her second studio album, and she says this time, she wants to make a statement. Her freshman debut Alpha was met with mixed reactions but received positive feedback overall. While that first project boasted a lot of big-name features, this time around, Shenseea has a point to prove, and she is perfecting her art before she brings in reinforcements.
During an interview on Hot97's Tap In with TT hosted by TT Torrez, ShenYeng spoke candidly about her intentions with this new album. While she hoped the release would meet the cutoff date for Grammy considerations, it looks like the project will not arrive until September. Shenseea says the project is about 80% done, and she just needs to tweak a few things to make sure that she is confident in the new sound she wants to pursue, which will subsequently introduce the new Shenseea.
Shenseea on doing features
The "Curious" singer, who recently collaborated with The Chainsmokers, says she is also excited about a joint track with American rapper Doechii. "Apart from those two right now, I'm not really so focused on the features because I feel like I have something to prove for myself," Shenseea explained. "So if I even don't have a feature on it I'm not gonna be mad – I want one actually, one – but apart from one it's not really my focus because what I'm doing right now, I have to master it before I can really see myself pulling in anybody into what I'm doing."
She continued, "I have to make sure that I'm not making a fool of myself or even making a fool of anybody else that I'm trying to bring to the table. I wanna be sure of what I'm doing. I wanna master it to the fullest, to be like 'Yes, this is Shenseea, this is the new Shenseea'. So right now I am currently rebranding myself, rebranding my sound. So say I'm at maybe 70%, I wanna be at 100 before I can say 'let's bring this person to the table now'."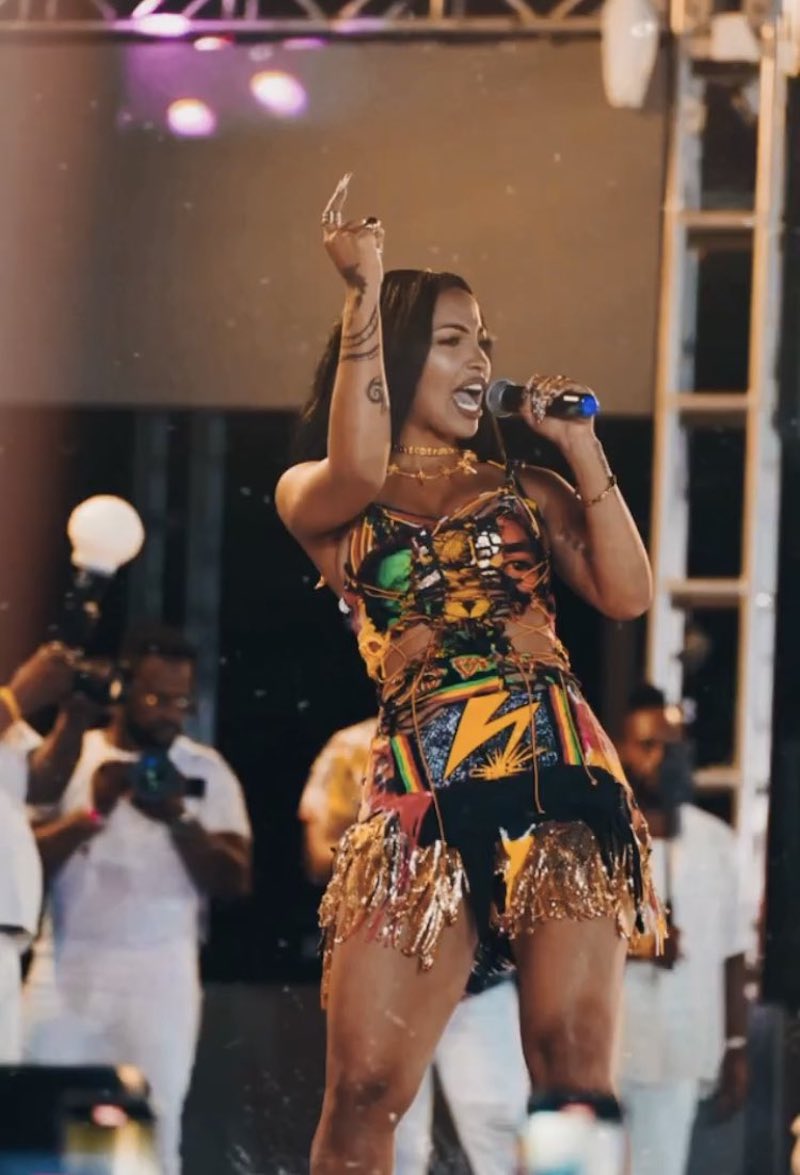 The singer hints that her song "Curious" is just the beginning of what she is planning to do. "I try not to switch it up too much. Of course, I'm trying to appeal to a wider audience but I'm still trying to keep that originality, that authentic accent, put it in a way that you guys can still understand. So that's what I'm here to bring in. 'Curious' is just the beginning of what I'm doing. That's just like the real rough drafts of where we're actually going. So, I'm really excited for people to hear what I have coming soon," Shenseea added.
Shenseea respond to fans wanting her old sound
While many dancehall fans are still pining for the pre-Alpha Shenseea to make a comeback, the singer is adamant in her onward and upward pursuit. She agreed that it takes a lot of courage to explore her musicality and that naysayers will not understand the goal. According to Shenseea, her previous sound is no longer something she is passionate about, and she is going to keep moving forward.
"That's what a vision is, not everybody have to see it but when you see it and you believe, you're gonna feel the right steps that you need to take to accomplish it," Shenseea explained. "And that's what I'm doing right now so it doesn't even matter who thinks I can't do it or who looking at me like 'what is she doing?' For me, it's like I don't expect you to see it but I see it clear as day. I see what I'm gonna do."
The singer continued, "I have core fans telling me that 'you should be doing this' but they don't understand that I can't do it 'cause I don't feel it. I have to feel it. I can't do what you expect me to do or what I've been doing all these years because I'm not motivated to do it, I'm motivated to do this, I can't force that."
Shenseea says her sophomore album was supposed to drop this month, but it will take some more time. She revealed, "I have to push it back because I have to make sure I make a statement. This time I'm really doing music on this project that I really feel, and I really love. The last project I took like three years. This year I'm in my second year and I feel like there's a lot of stuff that I'm gonna change as well and I wanna be sure and ready that this is the sound that I wanna pursue next. So, I can't even say, like maybe September. My album is really like maybe 80% done but there's just certain things that I just have to fix or else it won't sit well with my spirit."
Shenseea eyeing a Grammy nomination
"I really wanted it to make the cutoff for Grammys but honestly, I'm just moving with God's timing, so everything happens how it's supposed to happen so if I don't make the deadline then that's just what it is. I just have to make sure that this is it. I wanna be happy with what I'm about to drop. I'm happy with 'Curious'," she added.
Elsewhere in the interview, Shenseea mentioned that she does not want to be known for a feud, or a boyfriend, or someone's baby's mama but instead, just her music. To that end, she is super focused right now on work and avoiding distractions. "I feel like I just need my team. I prefer it this way because that's how you keep focused," a playful Shenseea shared. "All the partying, all the friends, all the boyfriend this.. man, I will get it after. After I hit. And I'm so close right now so it's like you wanna see relationship sh*t Shenseea? Okay, y'all will see her sometime soon, okay? This where we at for sure for sure."
Shenseea is looking ahead as she peeps new dynamic collaborations, more movie soundtracks, and Billboard-charting albums in her future. If the singer's estimation is right, we should have her sophomore album in less than two months. Are you looking forward to a new body of work from the ShenYeng boss?