Beenie Man's long-awaited album Simma is slated to be delivered in August.
While it's been seven years since Beenie Man's last album, the veteran dancehall star has not hung up the microphone. The much-anticipated follow-up to 2016's Unstoppable has a star-studded guest list and an elite lineup of producers. Beenie's upcoming studio album is titled Simma, and it is set to be released on August 31. "Simma is a diverse offering of songs with an eclectic mix of dancehall, reggae, Afrobeats, and drill," Jamaica Observer says.
Beenie Man has enlisted artists across all the featured genres, including international dancehall artists like Shaggy, Dexta Daps, Shenseea, Sean Paul, and Popcaan. Simma marks the seventeenth studio album by the dancehall giant and was produced by MD Music Group. Beenie spoke about the impending project in an Instagram post with the album cover and a heartfelt caption. The king of dancehall was a regal sight as he donned his crown and a fiery long cape over an angelic white suit. Next to him was a goat with which he overtly claimed the title of "greatest of all time" for himself.
"This album is very special to me because I created this body of work at my lowest point when I lost my mom," the dancehall star wrote in the Instagram post. "Simma will showcase my versatility as an artiste, where I have explored new genres while keeping the music authentic. Simma signifies that I am still here and doing what I love best, touring and making great music."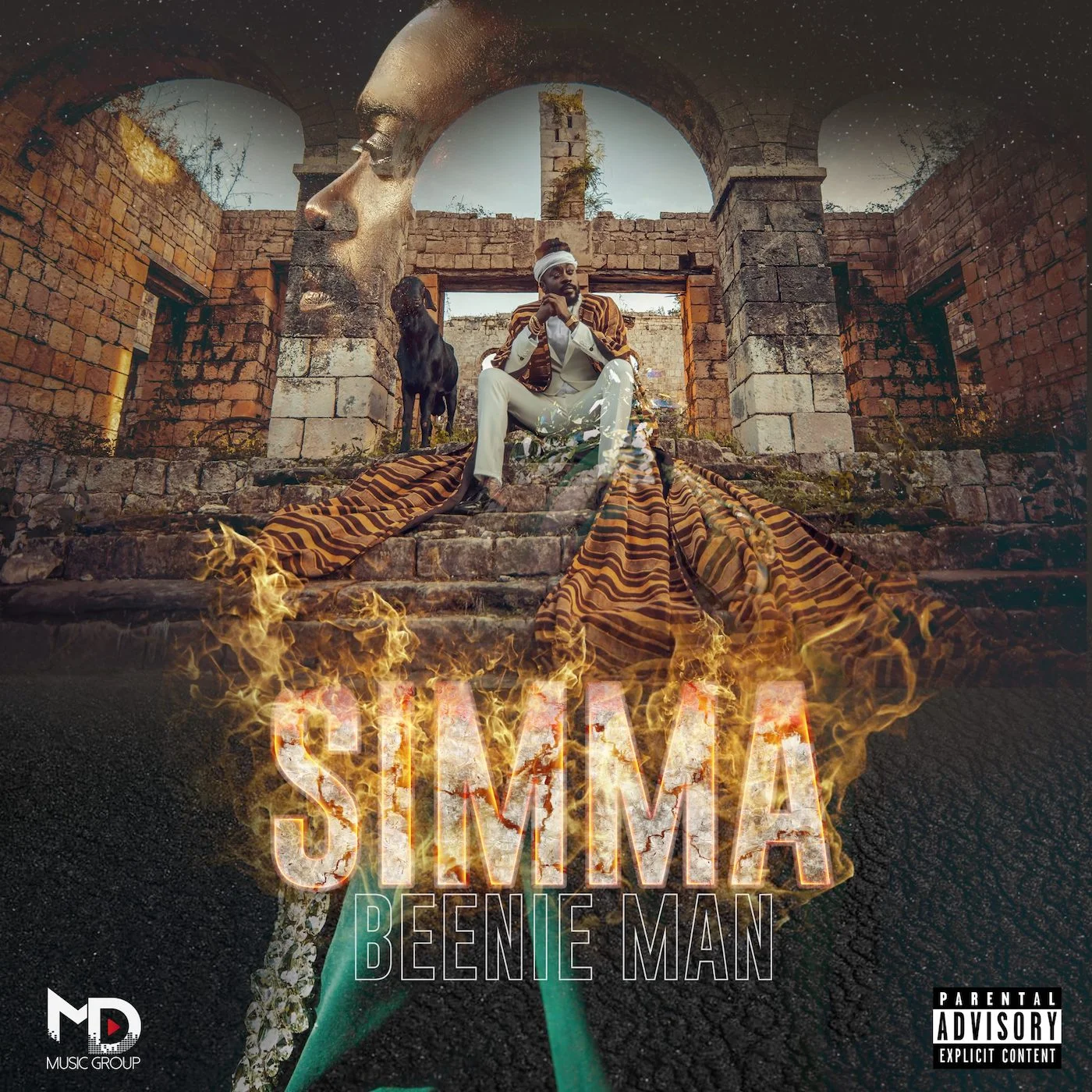 The brilliant production houses involved with the project are Dutty Rock Productions, Money Matters Entertainment, Teddy Riley and The FaNaTiX, MD Music Group, and Frankie Music Productions. Also among the top-tier producers who worked on Simma are Walshy Fire, Andre "Suku" Gray, Richie D, Rohan Smith, Tony Kelly, Jerome Wright, and Jeremy Harding.
Other featured artists on the album include Dre Island, Busy Signal, Morgan Heritage, Bunji Garlin, Charly Black, Patoranking, Anthony Red Rose, Louie Culture, Stonebwoy, Backroad Gee, Giggs, Ms Banks, Mya, and Hood Celebrityy.
SIMMA tracklist
1. Simma
2. King
3. Sharpshooter
4. Chopsuey
5. Zimm
6. Docta
7. Let Go
8. Push It On Me
9. Seriously
10. Fitness Instructor
11. Hel-Eva Bumpa
12. Up Deh
13. Heavy On The Grades
14. Fun In The Sun
15. Good Like Gold
16. Supa Star
17. Blessings
18. Dem Want More
19. Prayers
SIMMA producers
Roel Powell
MD Music Group
Rohan Smith
Teddy Riley X Fanatix
Walshie Fire
Jerome Wright
Tony Kelly
Jeremy Harding
Andre 'Suku' Gray
Frankie Music
God Flow Productions
Richie D