Drake is no stranger to cruel jokes and remarks about his music and personality, but his recent decision to paint his nails has caused fans to react differently, and the rapper feels it's homophobic.
Drake first debuted yellow nails weeks ago, something that is not unusual in the music industry as the likes of Machine Gun Kelly and Lil Yachty both sport painted nails. Both men have also maintained their masculinity as they share publicly their preferences for women partners.
However, Drake's latest pink nails are causing a stir on the internet, and fans are shaking their heads at the thought that the rapper may be gay. However, in a recent post, Drake questioned the comments he has been observing as he asked whether the world was just homophobic. The rapper shared snaps from the opening of his It's All A Blur tour in Chicago on Thursday night, which included his father's support.
"I don't mind that we don't talk, Rather be in your thoughts, Rather be on top of your list of "what ifs" and not your list of "and what nots," he captioned the carousel of photos which features his new pink nails.
In the comments section, Yachty was playful as he mentioned the rapper's huge diamond earrings, writing, "Boy got them heavy hangers in his ear."
Drake also responded to the comment mentioning the hate he has been getting over the pink nails.
"@lilyachty Get out my comments. You told me to paint my nails so I stop biting them and now. The world is being homophobic for the 1st time since rich flex," Drake wrote.
He added, "which wasn't that long ago now that I think about it… wait is the world homophobic? Smh."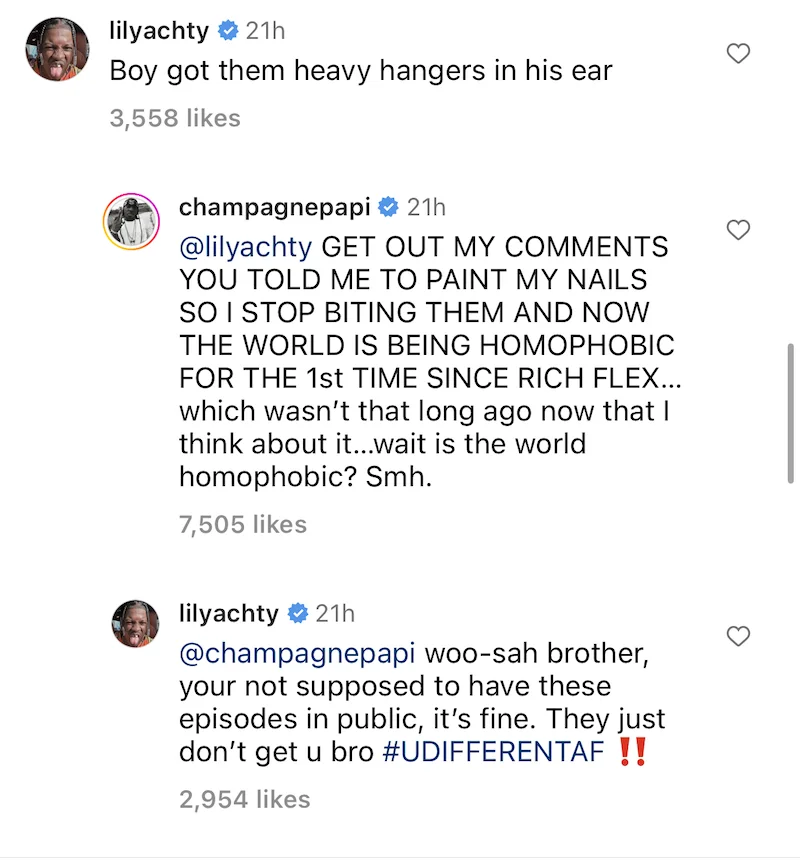 Yachty also trolled Drake adding in another comment, "woo-sah brother, your not supposed to have these episodes in public, it's fine. They just don't get u bro #UDIFFERENTAF !!"
Drake is not someone without scrutiny as he had faced criticism over his decision to braid his, purse his lips when he took photos, and even show off his abs which some have called a "BBL."
Still, despite it all, Drake is still the top-selling rapper in the hip-hop world now, and his string of heartbreak and liaisons is quite extensive.