Minister Marion Hall, known in dancehall as Lady Saw, says she is done with online preaching and blames toxic culture on social media.
Days after she revealed that she had been banned and blocklisted by members of the Christian community, Minister Marion Hall says that she is done with her online preaching and church services and fasting and praying. Hall has received much criticism for her song "I'm Doing Much Better," for which her Christian followers have bashed her for promoting material things that are contrary to what the Bible directs.
Hall gave up her title as Queen of Dancehall and the moniker Lady Saw back in 2015, and she has kept away from music mainly as she said God was moving her away from music. She has also not gone into Gospel music, but this year, after several controversial statements taking jabs at other artists, she announced she had been booked by Reggae Sumfest and will be performing her new song.
It's unclear what the rest of Saw's performance is likely to be as she does not have a catalog of music that is gospel or even non-secular since she is well known for her raunchy music. She had said she would be doing a bible giveaway and had asked fans to contribute if they wished.
However, in a recent post, the artist revealed that she is no longer going to be keeping her Sunday service, where she preaches on Facebook and Instagram live by reading bible passages and explaining.
"Blessings overflow to everyone. Please be advised that I won't be preaching, or doing prayers and fasting online anymore, because social media has become a place, where I no longer want to bring the word of God," Minister Marion Hall wrote on her Instagram post while disabling the comments. "Thanks to all of you who contributed to the Bibles. I am being called all sort of name for asking for contributions to buy them, so don't worry about the purchase of them. God will provide. He always do. I will still post, when I can, but I'm done preaching and fasting online. Peace out."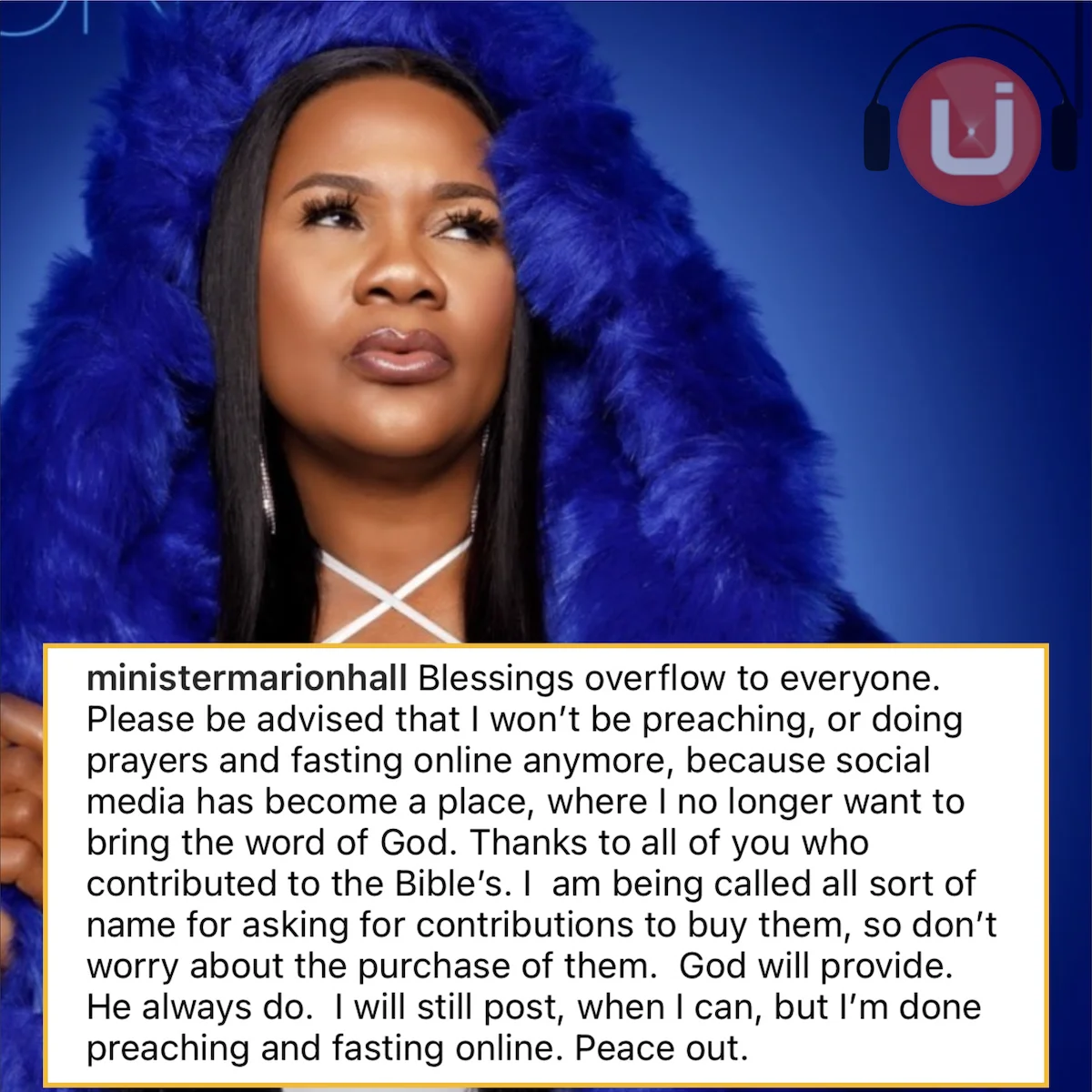 Despite her comments years ago that she would not be re-entering the dancehall space, fans are left stunned after realizing that she has been booked for a number of secular events like the Palm Beach Jerk Fest as well as Sumfest.
The bookings have caused major backlash as she revealed that she was recently dropped from a Gospel event in South Florida and is now banned from the church. She told her followers that she would get strategic and go to places and events where she felt she could make an impact and spread her teachings. Among the places include Jerk Festivals and Groove in the Park.
Minister Marion Hall likened the church backlash to when she was previously banned in Jamaica for being too raunchy.
Shortly after she made the post on Wednesday, Hall turned off her comments as many fans expressed disappointment in her decision while others seemed convinced that she was preparing to head back into dancehall music.