Rihanna and A$AP Rocky's baby boy is already standing and a young fashionista.
Baby Fenty is just about a month away from his birthday, and he's already standing and possibly walking, his mother shared on Thursday. Rihanna shared an update for everybody's favorite internet nephew showing his latest taste for fashion, but fans noticed the inadvertent change as baby Fenty is seen standing and holding onto a chair to stabilize himself.
Rihanna has graciously shared updates with her son despite nasty criticism from people who commented on the child's looks. Still, she has shared his cute milestones with the rest of her large community that loves and adores the baby.
Last week, she shared photos from his Easter celebration showing him sitting down and reading and petting rabbits. Rihanna and A$AP Rocky's baby boy seems ready to go places as he was spotted standing up and holding on.
All of the recent photos of him, including recent outings with his parents, show his dad holding him up. It's unclear if he's walking as yet, but that wouldn't be too far away as he's getting to celebrate his first birthday within a month.
The photo taken from the back shows baby Fenty wearing some cute jeans and what looks like a custom Fendi jacket with the words "Trouble" emblazoned on the back. His jeans are perfect as they end right below his ankle, showing off his little feet covered in a pair of white socks but no shoes.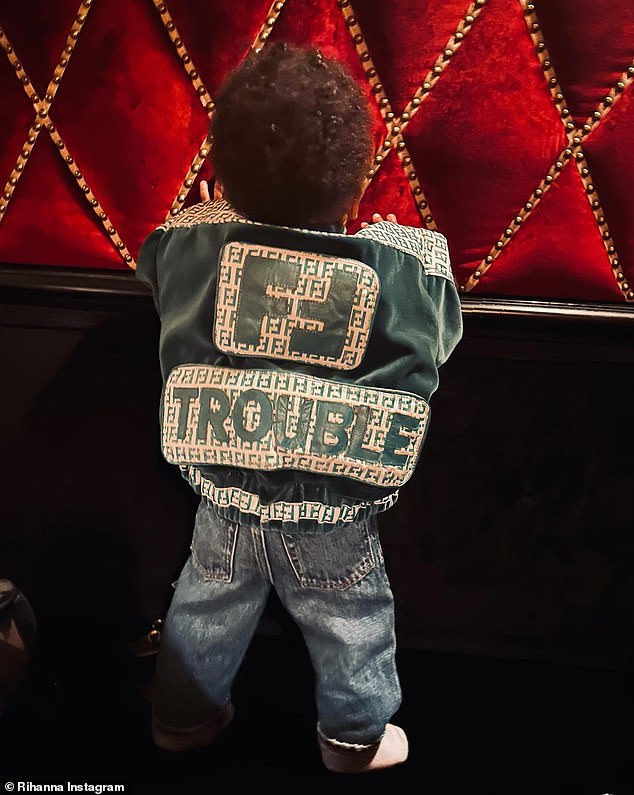 Rihanna did not caption the photo, but fans of the artist gushed about his cute little fashion gear. In another photo which fans say was taken at Cesar restaurant in Paris, Rihanna is seen holding her baby boy with his jacket details more prominent in the light.
The jacket is actually green and appears to be made of some type of felt or velvet material. Mama Bear is also fashionably dressed in an oversized jeans jacket with bead details and a waistcoat unbuttoned halfway and showing off her pregnant tummy. She wore a matching denim skirt, studded shin-high pointy-toe boots with a Dior purse, and she and the baby had big smiles as paparazzi photographed them.
Both Rihanna and Rocky were also spotted at the restaurant recently.