Marques Houston is catching heat for his recent comments that seemed to shade older women as he explained his decision to marry a woman half his age.
Houston has fallen out of favor with hip-hop fans who view him as an alleged predator who allegedly groomed his now wife. Houston had done several interviews in past weeks where he seemingly denied the allegations and said he met his wife when she was well into adulthood despite claims by fans that he was seen in her company in 2016 when she was an underaged teenager.
In his latest interview, Houston caught flack for seemingly justifying the reason he married someone younger because older women were hard to deal with.
"A red flag to me [was] always with a woman that had a kid," he said, adding that he also didn't want to date older independent women because they can't be controlled.
Houston says women his age tend to be more independent and he loves to provide for his wife which makes it difficult for him to date women his age. He added that women in his age group also have baggage like have kids. "There's a lot of women my age I've dated, they may have baggage," he said.
On Wednesday, Houston was called out by his former bandmate, Young Rome, for seemingly downing women who have no choice but to be independent, "baggage" or not.
"It's unfortunate that in the moment of mourning and grieving my brother, I would have to speak on statements that I do not agree with. But as a member of Immature, I would like to extend my sincerest apologies in regards to the insensitive statements made by my former group member Marques Houston. We were raised by a tribe of strong independent women who faced hardships we will never fully understand," Rome's extensive message read.
"Women today have enough battles to endure including the policing of their bodies, equal pay in the workplace, and beauty standards. It is never ok to degrade one group of women in order to praise another. Black women in particular are often on the receiving end of the constant negative stereotypes they fight against daily," he added.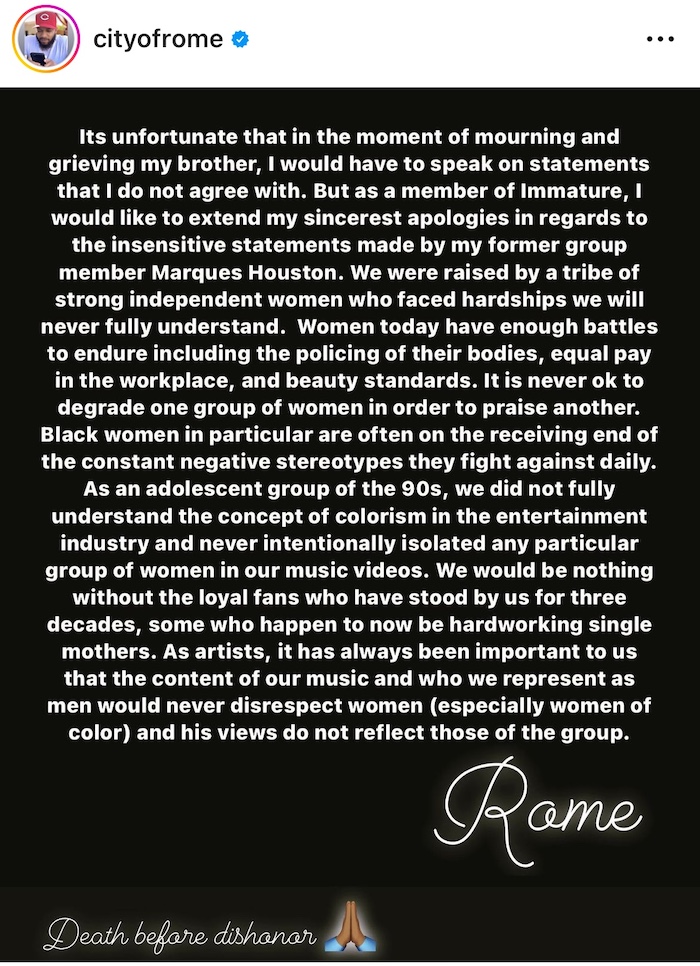 He also shared that Houston's comments were disrespectful to the very fanbase that supported their careers in the 90s, many of whom are black women who were inadvertently affected by the terrible media messages in their music videos that valued lighter-skinned women over darker women.
"As an adolescent group of the 90s, we did not fully understand the concept of colorism in the entertainment industry and never intentionally isolated any particular group of women in our music videos. We would be nothing without the loyal fans who have stood by us for three decades, some who happen to now be hardworking single mothers," he said.