Chris Brown and Ciara got a new collaboration on the way, which promises to be one for the ages.
Months after their planned Michael Jackson Tribute was pulled from the American Music Awards show, fans are getting their demands as R&B singer Chris Brown announced that he and Ciara have a collaboration coming.
Back in November, fans were disappointed when the artists' tribute was pulled by the AMA, reportedly over what the show felt would be bad publicity given Chris Brown's history where he abused Rihanna in 2007. Despite this, many felt that Brown was treated unfairly as he has taken steps to change his life and has even paid his dues for the offense, and he is also forgiven by Rihanna.
Fans will still get to see them making new music, Chris Brown revealed on Thursday. "Me and [Ciara] got some (fire emojis) coming," Brown wrote in an Instagram Story. The artist did not share any detail as to the name of the song or time for release, but his announcement has gone viral thanks to excited fans.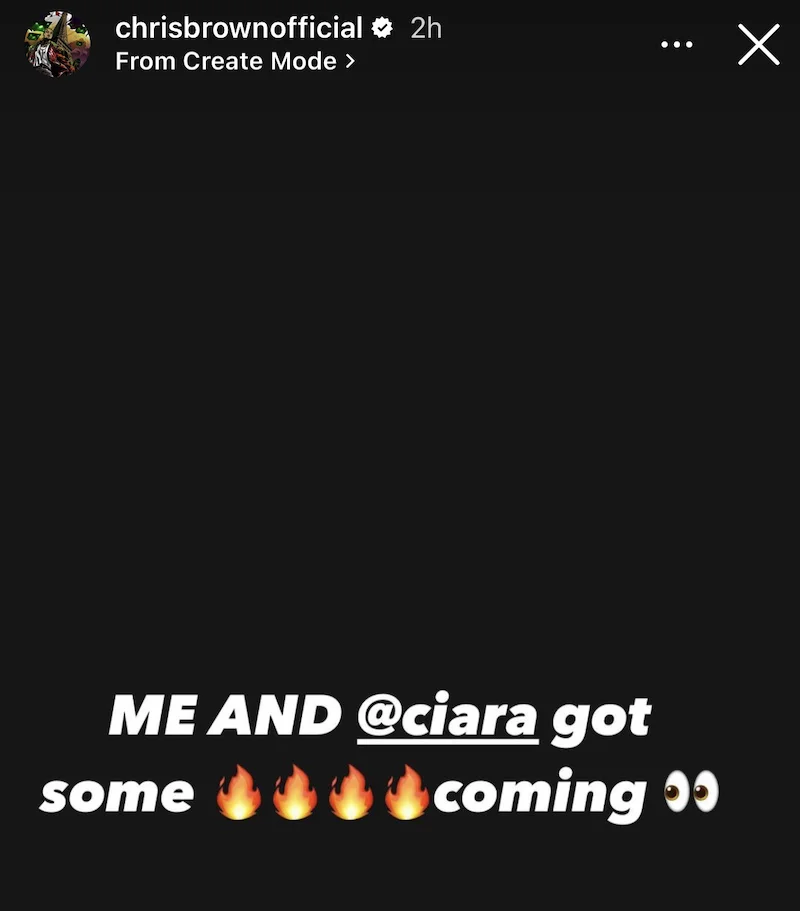 Ciara has not reacted to the announcement as yet, but she and Breezy have worked together over the years, including on a 2008 BET Awards performance of Brown's seductive track "Take You Down."
Last year, videos of their Michael Jackson tribute went viral online and sparked excitement among fans. Both expressed in the past that they were big Michael Jackson fans, and it seemed fitting that as two exceptional dancers in hip hop, the pair would be working on the tribute which paid homage to Jackson's mega album, Thriller and dancing to "Under The Influence" before transitioning to Jackson's "Beat It," then "Wanna Be Starting Somethin," and "Thriller."
After the tribute was pulled, Ciara offered words of support and praise for Brown.
"MJ thank you for the inspiration you've given us all! Thriller 40th Anniversary. @ChrisBrownOfficial you're a rare breed of this generation. Always fun to rock with you [dance emoji]," Ciara captioned a short clip of them rehearsing.