A battery of celebrities and prominent people in hip hop, including Akon and The Game, are not in support of Elon Musk's Twitter Blue subscription to keep their blue checks.
Blue checks came as a form of verification for celebrities and other major brands so they can't be imitated by scammers. The move attracted many users to the platforms mainly because it highlighted people of notoriety in a classist way. Now, Twitter has started the process to level the playing field by removing the blue check marks for everyone and allowing all users the option to pay for their verifications as a monthly subscription.
However, many are not in favor of the paid service, including rappers The Game and Akon and even the likes of LeBron James. In a lengthy post on Monday, Akon said he wasn't in favor of the new Blue subscription.
"Back in the day, Twitter was begging musicians to stay on cause they didn't have traffic. They came up with a verification process to protect accounts from fakes ones, now @elonmusk is taking that away and forcing us to pay," a since-deleted tweet from Akon's account read. "FYI, I ain't paying shit for something we helped build," Akon added.
The artist received support from many fans for his opinion, but he later claimed that his account was hacked.
"This tweet didn't come from me. Whom ever hacked my account, Please keep your personal opinions away from my profile respectfully," the artist said.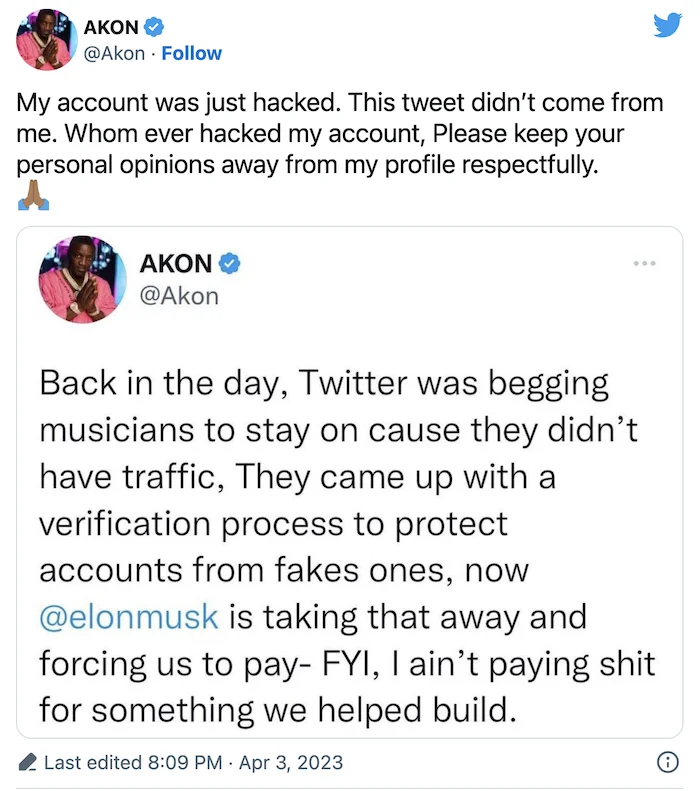 Rapper The Game also opined that he didn't like the move, which seemed to garner support from ordinary persons who are now able to verify their accounts. "If you bought your verification & I know you personally… delete my #. It tells me everything I need to know about you," The Game said, adding, "You a broke cheater, we not the same."
Twitter Blue seemed to start a trend as Instagram has also now introduced its Meta Verification program, which is also a monthly subscription.
LeBron James also was not in favor of the move to pay for his blue check. "Welp guess my blue will be gone soon cause if you know me I ain't paying the 5," he tweeted.
Welp guess my blue ?? will be gone soon cause if you know me I ain't paying the 5. ?????

— LeBron James (@KingJames) March 31, 2023