Ice Spice finally gets a major co-sign from her idol, Nicki Minaj.
Bronx rapper Ice Spice is getting an unexpected boost from the Queen of rap, Nicki Minaj, who followed her on Instagram and showed the "Bikini Bottom" rapper love. The "Munch" rapper has long revealed that she is a Barb- a member of the Barbz. She seemed to turn down compliments from Minaj's nemesis, Cardi B, shortly after her song "Munch" went viral, and in an interview, she chose Nicki over Cardi B.
On Monday, Nicki shared Ice Spice's cover of Daze magazine on her Instagram Story where she wrote, "The people's PRINCESS." She also tagged the 23-year-old rapper and added, "Catch it."
On Sunday, the rappers sparked reports of a pending collaboration after Minaj not only let Ice Spice know that she was following her music but also followed her.
"B**chs slow so I gih dem a pass. Nah. Grah! No more passes princess. Let's go," Minaj says quoting Ice Spice's track "Princess Diana" off her debut EP Like…?.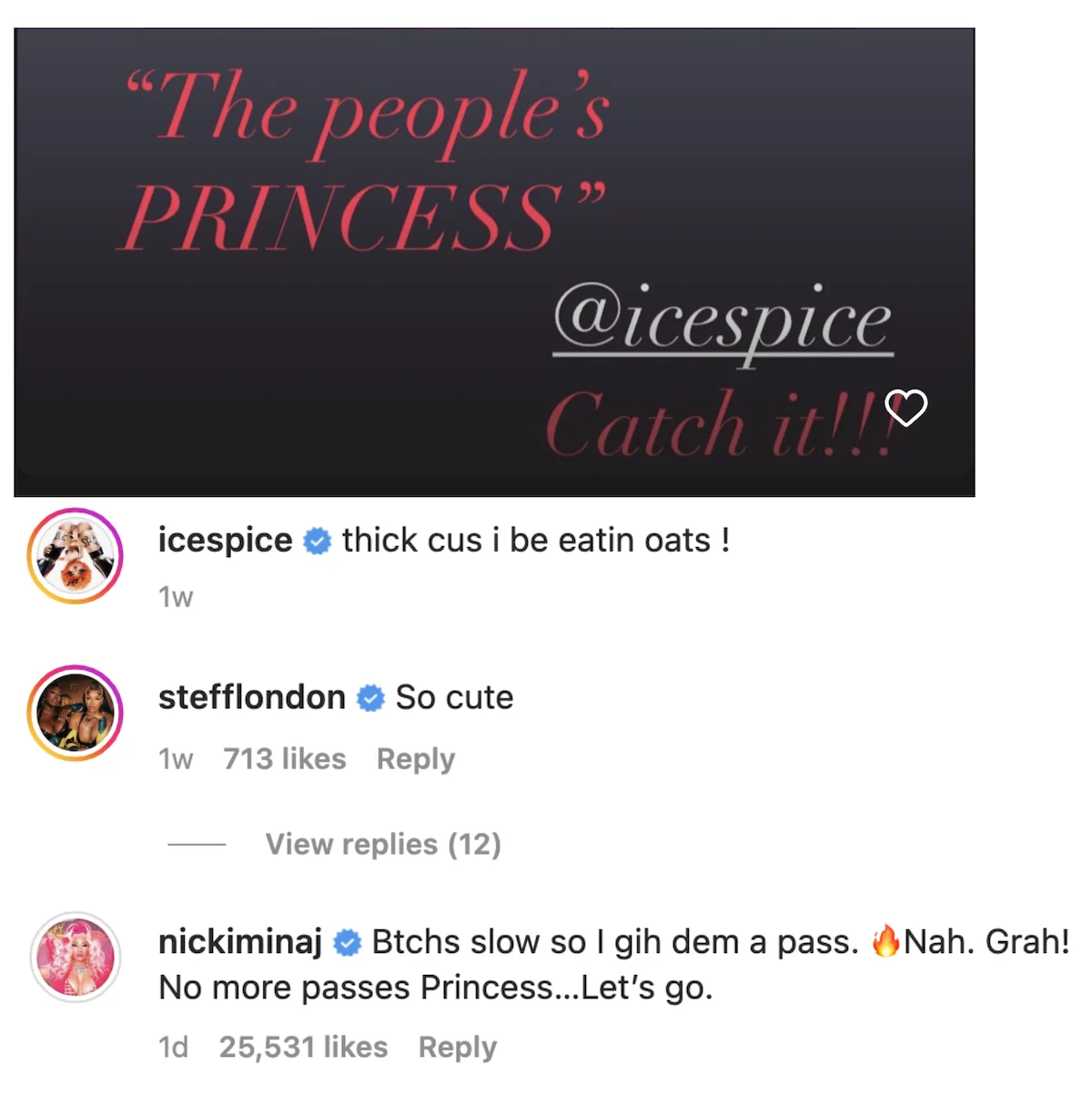 Shortly after, Minaj also followed Ice Spice on Instagram. The interaction sparked excitement among fans of the two artists that they might be on the verge of collaborating on new music.
Fans previously felt that Ice Spice would likely collaborate with fellow Bronx rapper Cardi B after she shared a video on social media rapping along to her songs. Ice Spice didn't respond to the endorsement from Cardi B and later shared that she was a huge Nicki Minaj fan in a separate interview. In an XXL mag interview, Ice Spice spoke about how New York rappers Lil Kim and Nicki Minaj are her biggest rap influences, especially Minaj, who was the first rapper she saw perform live.
"When I saw Nicki, I was so mesmerized," she said in the interview. "She's the first female rapper that I [saw]. And ever since then, I was kinda set on what I wanted to be."
Ice Spice also shared that she appreciated how Minaj has continually shown support to Bronx rappers.
Some fans, in the meantime, have been calling for Minaj to sign Ice Spice to her label. The Bronx rapper is, however, signed to 10 Projects under a $3 million deal.
There's no doubt that Ice currently has a buzz in hip hop for her catchy rhymes and being drop dead gorgeous. This co-sign from the biggest female rapper of all time will only help grow her fan base.