Reggae singer Tarrus Riley gets into heated argument with Foota Hype over the disc jockey's crude remarks about Shenseea.
Dancehall Disc Jockey turn pundit Foota Hype has accused Tarrus Riley of not being a good Rastafarian after collaborating with Shenseea. On Sunday, Foota Hype reacted to a photo of the collaborators, which the latter posted on his Instagram account following a performance in Trinidad.
Shenseea had brought Tarrus Riley on stage for a guest appearance over the weekend in Trinidad, in which they performed their hit song "Lighter" at a Carnival event. Foota aired his disapproval of Tarrus as a rasta man performing with the likes of Shenseea, whose controversial career includes her song "lick," endorsing a taboo topic in dancehall and a 2019 music video where she appeared in bed with a female costar.
Foota Hype shared that he didn't like that Tarrus, as well as other artists like Protoje and Kabaka Pyramid, worked with LGBTQ artists. To be clear Shenseea has never identified herself as an LGBTQ member.
"Everytime mi si [Tarrus Riley] mi bredren perform wid [Shenseea] mi shame when mi si [Protoje] and [Kabaka Pyramid] perform wid [Koffee] or [Lila Ike] mi shame is like rasta nah no standard or boundaries it is sooo embarrassing dem show di world say a demon life dem a live and RASTA still a work wid dem dis a bl0tcl@@@t joke," Footahype wrote on Instagram and asked the artists to explain themselves to him.
Tarrus Riley did not back away from responding to Foota Hype as he captioned two photos on Instagram with Shenseea, leading to a heated back and forth between the two.
"Endless Lovin and it Cyan Expire" and "Ah Who Sey JahJah Neva Ansa Prayer," he captioned the photos with lyrics from "Lighter."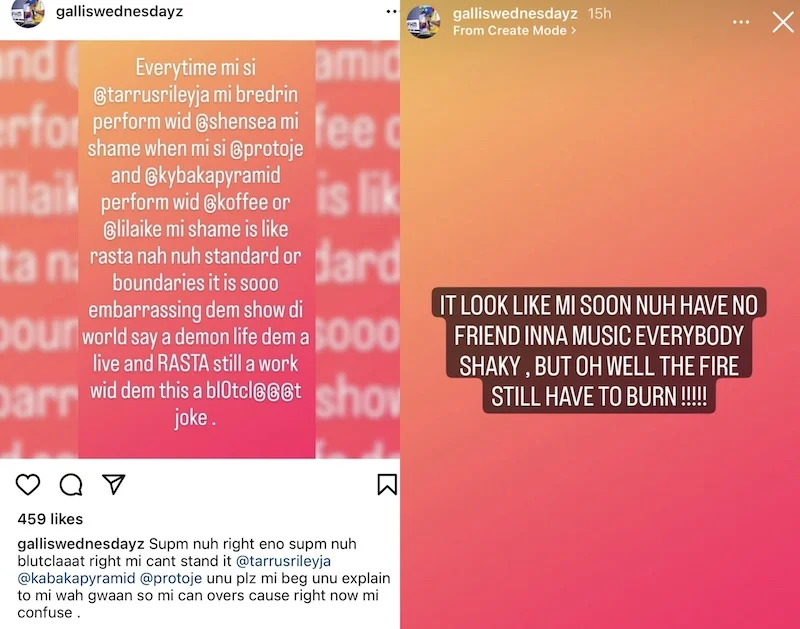 Foota Hype responded in the comments section, "The rasta and the batti girl OH GOSH!"
Some of Tarrus and Shenseea's fans did not take the disrespectful comments too kindly; some even had colorful language for Foota in replies to his statement.
Tarrus Riley also asked Foota to work on his activism from his own page and leave the drama from his page. "flogs/blogs Youtube an all u want nuh badda wid it ova ya suh…ya disrespect me and my page an rasta brawling we neva have no issue n will not anuh my style!" Tarrus wrote.
Foota Hype also said Tarrus was not unaware of the disrespect fans had meted out to him.
"I never disrespect you inna life yet unu just nuh like the truth mi nuh trace mi want a discussion publicly to enlighten mi as to how as a rasta u a embrace homosexuality, that is all," Foota wrote.
Tarrus also replied to Foota's statement saying, "you always a Try push a narrative on me an a disrespect that! N knww mi n nuh inna IT."
Tarrus added in all caps, "Link shenseea bout her n sex life it concerns u big nig big time…maybe u even have a crush. Wtf u get sex argument n batti talk from da pac ya….U medz look [a] way. Fisherman talk bout fish…low mi and my page with certain talk."
Tarrus also accused Foota of trying to engage him in "bangarang" because he failed to approach him respectfully.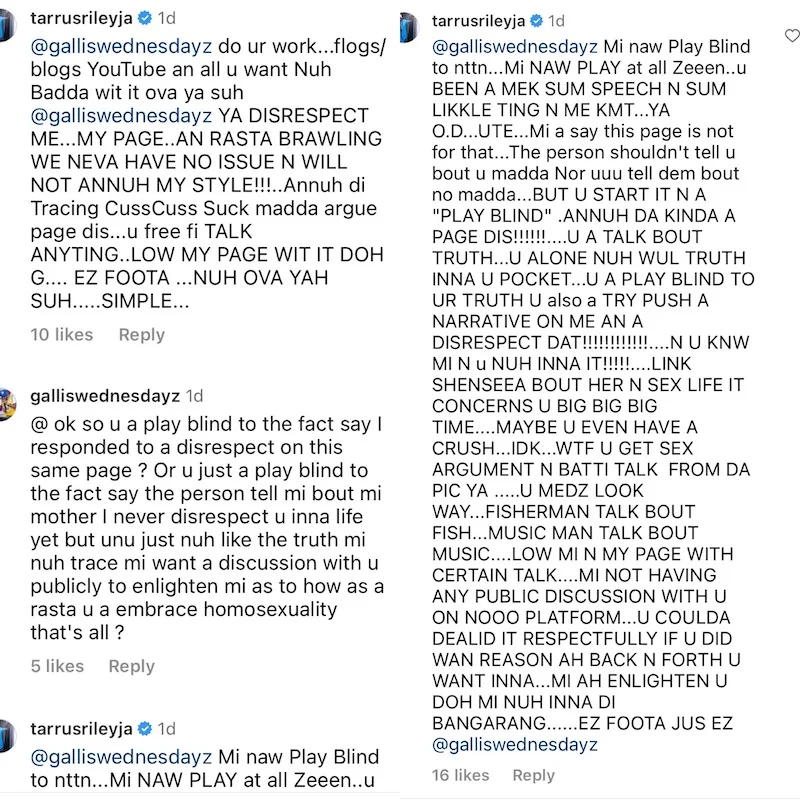 Tarrus further shot down Foota's attempts at engaging him in further argument, writing, "Me sey weh mi sey n mi done now….Ez Foota."
Foota Hype did not give up there as he lamented on his Instagram account that the music fraternity was being bombarded by the LGBTQ community.
"It look like mi soon nuh have no friend inna music everybody shaky, but oh well the fire have to burn!!!" he wrote.
Shenseaa has not responded to the comments.