Chris Brown and Kiely Williams were on a tracing match on Friday after she shaded the artist over his Chloe Bailey collaboration.
Brown and Bailey on Wednesday shared that they were collaborating on a song, "How Does It Feel," to be the second track on her upcoming debut album, but her fans appeared to be outraged that she was collaborating with Brown. Many felt that Brown, who pleaded guilty to assaulting Rihanna more than a decade ago, is not the best person for Bailey to align herself with.
Among those who strongly felt that Bailey was harming her career by collaborating with Brown was Kiely Williams, who called the R&B singer's music "garbage."
"Let him come out with his own record—so genius, so captivating that it makes us all forget HE BEATS WOMEN," the "Cheetah" singer wrote on Twitter. "He can't so he wont. So what does he do? He slowly creeps back into the mainstream by getting small nods for features on Black women's merit. Black women who are more talented, more worthy, but give him the okay. I am swatting the f**king air [right now]. Garbage [vomiting emojis]," she added.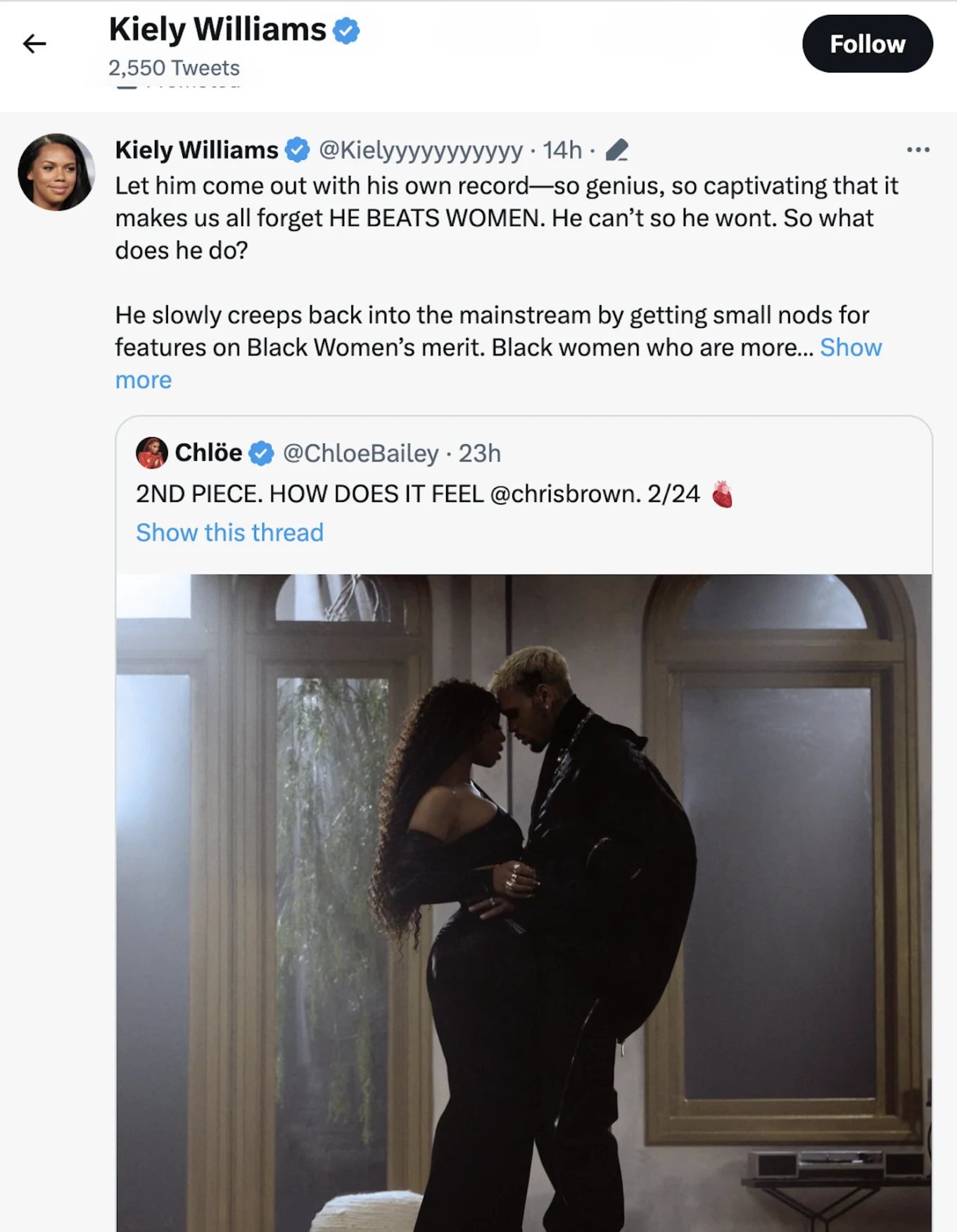 Chris Brown also caught wind of the comment and immediately began to troll Williams as he defended himself from critics who held the Rihanna incident over his head.
"Thop it," a meme of Kiely read that was shared by Breezy on his Instagram Stories.
"I'm getting kinda tired of ya broken PROMITHIS PROMITHIS," he wrote in another Instagram Story.
Brown also shared another post with the soundtrack of "Deuces."
"If they all hate me. I want them hate me because they can't beat me," he said in the video.
Breezy also came back with a series of posts as he called out social media users who were bashing him but supporting the likes of Blueface and Chrisean Rock who have a show based on them beating each other up.
"If yall still hate me for a mistake I made as a 17 year old please kiss my whole entire a$$," he wrote on Instagram Stories.
He continued, "Im f**king 33! Im so tired of running wit this narrative… you weird a$$ n***as are the same ones that tune in every week to see Blueface and Chrisean beat the f**k out of eacho other in front the world."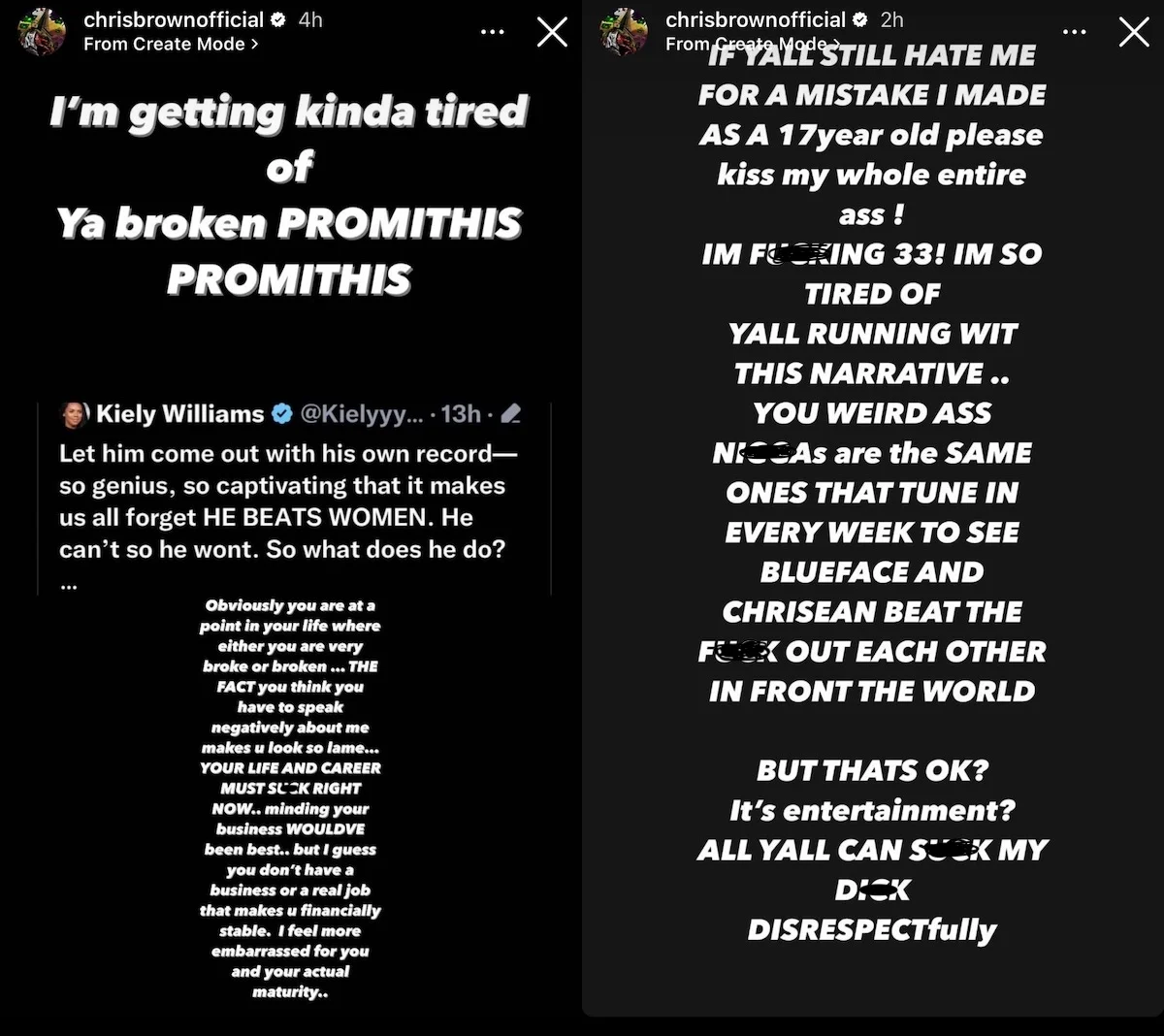 "But that's ok It's entertainment? Yall can suck my d**k DISRESPECTfully," Brown added.
Chris Brown's fiery responses did not end there. He added more Stories as he called out "cancel culture" for not targeting other races of people that violate women.
"Where are the cancel culture these white artists that date underage women, BEAT THE F**K OUT THEIR WIVES, GIVING B***ES AIDS, OH. That's right. THEY ARE YOUR BUDDIES. NO MORE FAKE LOVE FROM ME. STAY OUT MY WAY OR GET RAN OVER SIMPLE AS THAT," Brown said.
He added, "None of you and I mean none of you can f**k wit me."
Williams has not responded to Breezy, but she is clearly watching and even retweeted laughing emojis to a fan sharing that Brown was "eating" her up on social media.