Jahshii gets praised for his performance at last night's Rebel Salute.
The Spanish Town deejay was in fine form when he made his debut performance at Plantation Cove on Friday night. Not only did he perform some of his conscious hits, but the deejay also called for an end to violence amid a steep rise in crime across Jamaica. His gesture was well received by the audience as well as co-host of the event, Mutabaruka.
"A the first me a meet you enuh Jahshii and mek me tell you something, in front of the thousands of people wah deh right yasso," Mutabaruka told Jahshii on stage. "Mi know seh Rebel kinda tell yuh seh do a different kind of show than what you usually do, but yuh see wah yuh just do, a while ago, I don't want you tek it lightly enuh. You can perform enuh, but you see wah yuh do a while a guh is more than [a] performance, and I would hope that is not because Rebel seh don't do what you usually do."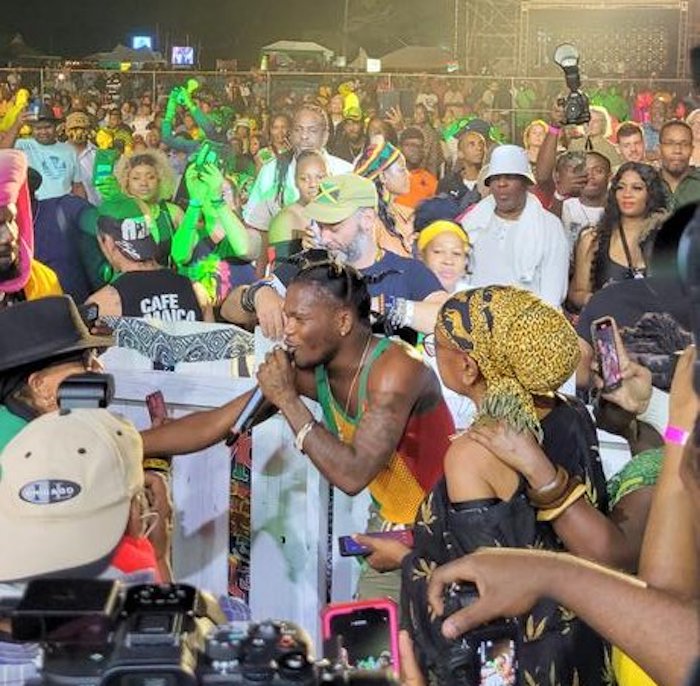 "Me see say a from yuh heart and me glad say a from yuh heart but I doh want yuh lef yuh hear right yasso," the poet and author continue. "I want you to carry yuh heart go which part yuh come from because a serious thing yuh just do a while a guh fi even come pon the show and yuh never deh here long."
Jahshii performed an emotional rendition of his popular single "Born Fighter" as he roamed through the audience. He also encouraged young youths like himself to dream big and work hard while lamenting that it took him a lot of hard work to reach the heights of dancehall music.
Mutabaruka also used the opportunity to state that music is the biggest influence on the youths and should be used as a tool to connect with them and help shape their minds. "Music a the most influential thing right now," Muta said.
While this is Jahshii's first performance at Rebel Salute, it's very likely that he will grace the stage of the conscious music festival again for future shows. Among the other artists who performed on Friday night were Bounty Killer, Lady G, Nation Boss, Yaksta, Rytikal, and Kabaka Pyramid.