This could be the first sign that Chrisean Rock and Blueface are looking towards better days.
The couple are once again at loggerheads over their relationship as she threatens to hurt him. The Crazy in Love cast members had another blow-up on Wednesday night, with Chrisean Rock calling out Blueface for being with his baby mother, Jaidyn Alexis.
Their argument comes just a day after Blueface calls out Chrisean for constantly encouraging him to fight his family but refusing to do the same. In a recent episode of Crazy in Love, Rock and Blueface sit down to talk to his family to discuss the fight last year in which Rock reportedly beat up his mother and sister.
In the show, Blueface and his brother almost fought after being prodded by Rock.
"Food for thought: rock didn't fight or attempt to fight anyone in her family for me her explanation "I don't agree with fighting my family," but volunteer me to fight mine when put in the same uncomfortable position that's crazy work stand on yo principles or be held accountable," he wrote on Twitter.
The couple also argued about Blueface's baby's mother. "I'm so glad I got 1 BM an she a good one thank you Jesus," Blueface tweeted.
Rock also responded by tweeting, "Yeah me to ion gotta be stuck with a ni*** for one dum ass reason cuz of da baby if u don't get out ya feeling let's continue to get money or what's da going back n forth for."
In another tweet, she added, "Throwing the next female up in my face is like telling Jesus he ain't the son of God."
Rock also shared throwback tweets from Blueface where he said he was paying his "ungrateful" baby 7k a month, and she is "lucky" to be his BM.
Rock also threw shots at Jaidyn.
"Wen you mad at me you know U want ya bm it's so sad cuz u know she wan be me," she wrote.
Jaidyn also responded on Twitter, writing, "Now why the f**k would I ever want to be [an ] insecure little girl who can't cook or clean or maintain mental stability. In my own lane and idgaf. Next storyline please [bored yawn emoji]."
Chrisean later apologized for her outbursts on Twitter which also included a threat to beat him up less than a week after she smashed a glass in his head back.
"I just need everyone to pray for me. I ran to social media for this cuz honestly I appreciate my fans n love to be very transparent. Hopefully, my darkness [is ] someone's light," she began.
She continued that she has had suicidal thoughts and depression for a long time.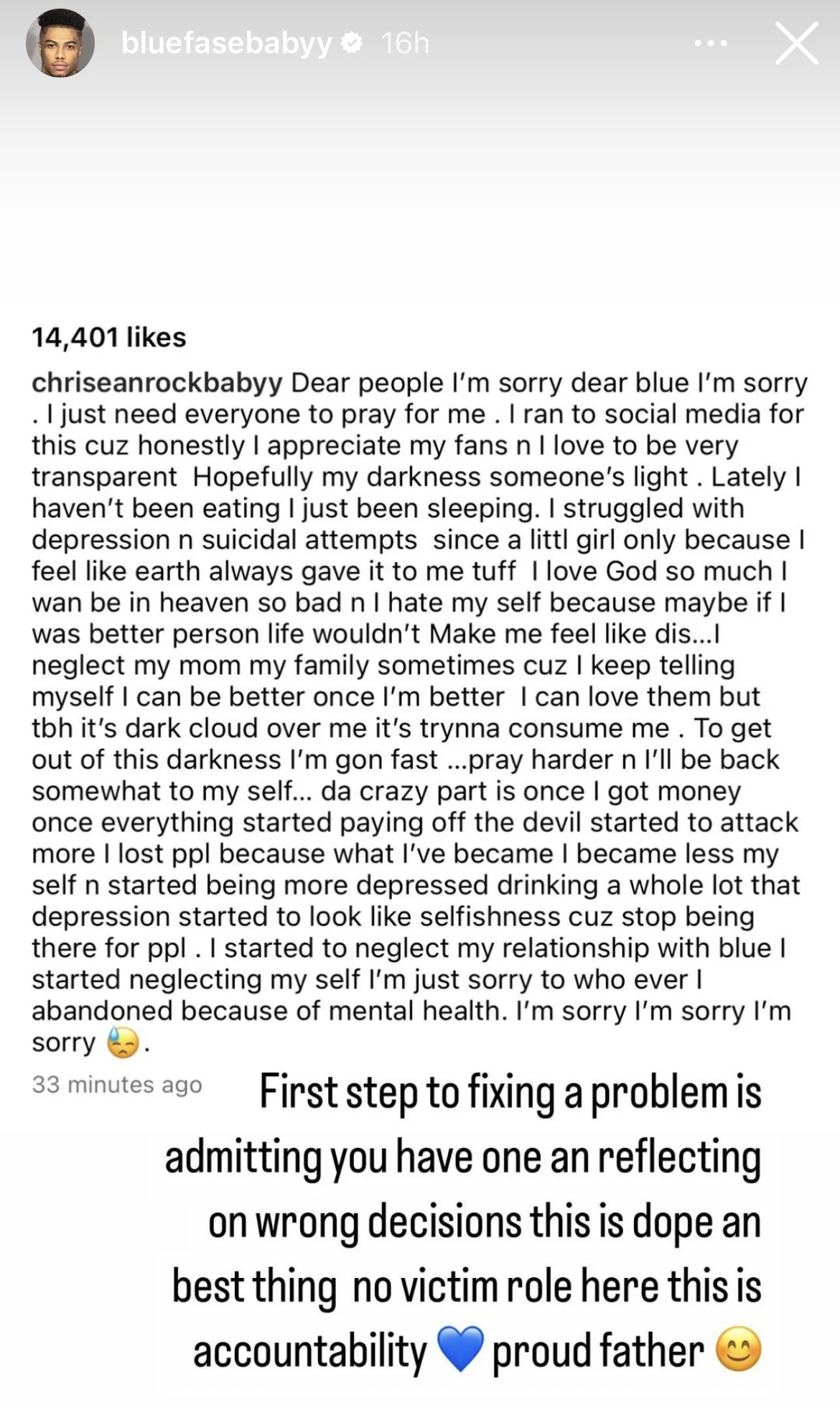 "I love God so much, I want [to] be in heaven so bad [and] I hate myself because maybe if I was better person, life wouldn't Make me feel like dis. I neglect my mom my family sometimes cuz I keep telling myself I can be better. Once I'm better, I can love them but tbh it's dark cloud over me it's trynna consume me."
She also acknowledged that she was "depressed" drinking and was alienated from her family and friends the more she had money and apologized for abandoning them.
Meanwhile, Blueface proudly accepted her apology, noting he was a "proud father," after she acknowledged responsibility for her behavior.
"First step to fixing a problem is admitting you have one and reflecting on wrong decisions," he wrote. "This is dope and best thing, no victim role here. This is accountability."