Beenie Man is among four Jamaican artists have been booked to perform at one of Los Angeles' biggest music festivals, Lovers & Friends, this year.
Lovers & Friends Festival is all about 2000s nostalgia as it brings on some of the hottest acts within the hip-hop, R&B, and mainstream music scenes. The festival is being held this year at the Las Vegas festival grounds on May 6 and usually sees more than two million people attending.
This year, festival organizers shared the lineup, which includes Shaggy, Beenie Man, Sean Paul, and Wayne Wonder. Among the other notable names on the roster include Mariah Carey, Missy Elliot, Pitbull, Usher, Christina Aguilera, 50 Cent, Chris Brown, Busta Rhymes, T.I., and Eve.
Shaggy re-shared the poster to his Instagram account. He is usually a regular at the festival. Shaggy is also performing live at the California Roots festival, being held on May 25-28, 2023.
"Counting down the days to play California Roots Music & Arts Festival," he wrote on Instagram.
Beenie Man is set to perform at the Lovers & Friends concert, marking his first performance in the United States in years, as he previously was unable to travel and work in the United States. The artist had lost his visa after the American embassy had stripped several Jamaican artists of that privilege in 2010. Last year, his visa appeared to have been restored as he traveled to the United States and performed at New Orleans' Essence Festival in June and Lets Get Fr.ee festival in New York, which was held in August 2022.
Beenie Man, whose real name is Moses Davis, shared on Thursday that he had also received a special commendation from the United States House of Representatives on behalf of the City of New York (Brooklyn Borough).
The citation, dated February 24, 2021, was signed by New York City mayor Eric Adams and noted that Beenie Man was being recognized for outstanding contributions to the youth and those in need. The citation said that Beenie Man had made outstanding contributions as part of the African American and Caribbean communities in New York.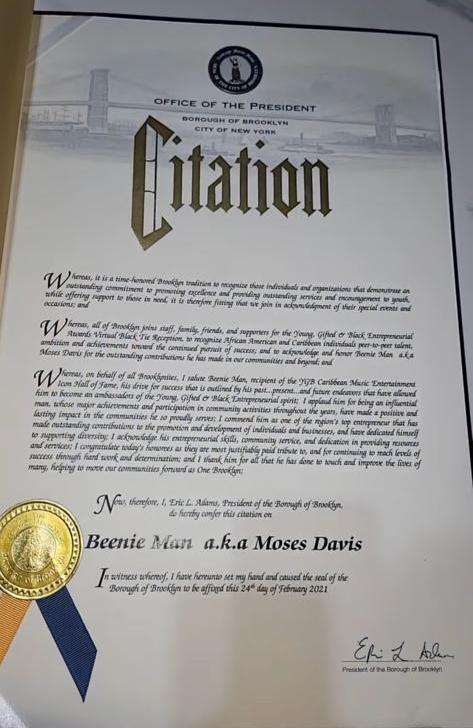 In the meantime, Sean Paul is set to perform at the Solar Festival in Medellin, Colombia, on February 11, 2023.