Etana says that her lawsuit against VP Records has not been dismissed but that her claim must be amended and refiled. The reggae artist blasted her legal opponents and media houses for falsely reporting that a New York judge dismissed her lawsuit this week.
On Wednesday (January 4), it was reported by Bloomberg Law that the artist's breach of contract and unjust enrichment lawsuit against VP Music Group Inc. and Greensleeves failed to advance. Etana first filed a claim in the U.S District Court for the Southern District of New York last year claiming that VP Records and Greensleeves had committed fraudulent misrepresentation and a third company owned by VP masquerading as independent has been collecting her royalties and not paying over to her since 2014.
According to court documents obtained by Urban Islandz, on Wednesday, US District Judge Gregory H. Woods allowed the defendant's motion to dismiss in part but noted that, taking into consideration all of the pleadings of the plaintiff, she would be allowed leave to file an amended claim.
This means that nine of 10 different claims asserted by the 'Pamoja' artist are to be amended, and a second amended claim form must be filed within 14 days. The fraud cause of action against VP Records is the only one clearly stated the judge said that stands as of now.
In a 26-page explanation, judge Woods noted that VP Records and Greensleeves moved to dismiss the complaint in part in December as the claim had not clearly outlined the cause of actions she was claiming for.
Etana's 14-count lawsuit claims contract breach, damage, fraud, and misrepresentation. She also wanted damages for copyright infringement, unjust enrichment, and unpaid royalties.
Outlining the facts as stated by Etana's claim, the reggae artist said she worked with VP Records (which acquired Greensleeves Recording in 2014) from 2007–2014.
Initially, she signed an exclusive recording agreement with VP Records for the delivery of four albums which she satisfied. That agreement required that VP Records account for and pay royalties to Etana for sales of the albums delivered under the contract.
Royalties became payable in excess of (1) what VP Records initially provided the reggae artist as an advance on royalties and (2) any other costs or expenses incurred by VP Records in connection with the albums.
By her fourth and most successful album, "I Rise," the artist had fulfilled her agreement with VP, which had also recouped its advance and any expenses associated with the albums. Etana claims that VP Records failed to pay royalties in connection with the albums since March 31, 2020.
Etana has also alleged fraudulent misrepresentation of a company owned by VP- GPL whereby VP's EVP Olivier Chastan had denied any association with VP despite the company being owned by that label.
According to her, she had entered a short form "deal memo" with GPL for a "GPL Songwriter Agreement which gave the company rights and interests in musical compositions that she had previously written or that she wrote during the five-year term of the agreement.
Under the agreement, GPL was also to account for and pay royalties to Etana, but according to her, the company tricked her into a deal and has not paid her any royalties despite collecting on her work for years. According to her, GPL recouped the advance on royalties and money for expenses incurred in executing the agreement but has not paid her royalties it continued to collect on her behalf without her knowledge and permission.
For this contract, Etana alleges that when she negotiated this deal with GPL, she was not told that GPL had been acquired by VP Records and that Chastan—then the Executive Vice President of VP Records in an email said that "VP Records did not administer [GPL] in the USA."
Etana said she relied on the fraudulent misrepresentation and that if she had known GPL was owned by VP, she wouldn't have signed the deal. Additionally, she alleges that GPL was not an incorporated entity and so the contract wasn't valid to begin with.
The reggae songstress claims that she fully performed her obligations under the GPL contract, and GPL has recouped its advance and any expenses but failed to pay her royalties under that agreement signed in 2008.
There is also a 2014 agreement Etana claims she signed with VP, but she later terminated it in 2017 (with their acknowledgement) after VP failed to pay her an advance. However, the artist said VP Records, even after that date continued to license and exploit income from her records and failed to pay over the full royalties it held on trust for her.
Etana, whose real name is Shauna McKenzie-Morris, received two Grammy award nominations over the course of her label deal with VP.
On Wednesday, she aired her displeasure at the news spread in the media about the case's progression.
"These people are spreading rumors that my case on vp was dismissed! It is not dismissed. The judge told my attorneys to fix the claim and have given them to time to do so," she wrote on Twitter.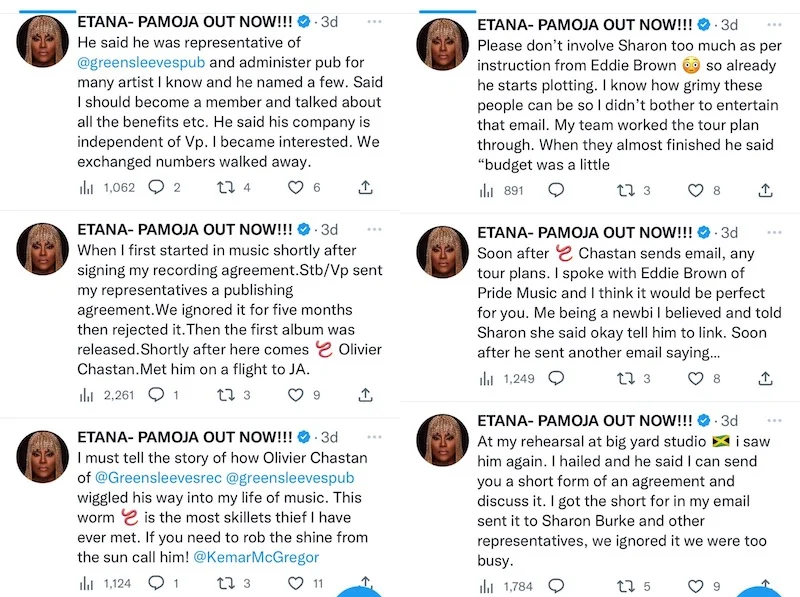 While blasting Chastan, Etana also shared that from the onset, the former EVP was already handling her music as if a deal existed.
"This [worm] was so desperate for my publishing because unknown to me thymey already were distributing Song titles and had already registered the works with the copyright office as work for hire! Before there was ever any agreements with the companies!"
In several other tweets, Etana also said she was assured several times that GPL was not a part of VP, and she relied on Chastan's statements.
She also cautioned other artists to be wary.
"I gotta video state this S**t because people think all new comers need are lawyers and managers and believe me when you deal with companies like this you need divine intervention and high surveillance," she said in another tweet.
These people are spreading rumors that my case on vp was dismissed! It is not dismissed. The judge told my attorneys to fix the claim and have given them to time to do so.

— ETANA- PAMOJA OUT NOW!!! (@EtanaStrongOne) January 4, 2023
I gotta video state this SHit because people think all new comers need are lawyers and managers and believe me when you deal with companies like this you need divine intervention and high surveillance. "Stay tuned for video".

— ETANA- PAMOJA OUT NOW!!! (@EtanaStrongOne) January 3, 2023