Dancehall veterans Mr. Lexx and Tanya Stephens gets into a heated debate over why dancehall declining and Afrobeats making big gains.
Mr. Lexx says that Afrobeats is winning because African artists are more focused on feel good music, while dancehall artists are focused on music centered around violence, scamming, and lewdness. While this debate is not new, the two deejays who rose to fame in the 90s dancehall golden era, are getting attention on their opposing views on the subject. Both artists agreed that dancehall has declined and Afrobeats has gained traction over the years, but what they disagree on is the reason for the change.
"Dear Jamaican music industry," Mr. Lexx tweeted on Wednesday. "Afro beats genre is winning because 90% of their music is about feel good and partying while 90% of our current output is about violence, scamming and lewd uncensored sex."
The "Full Hundred" deejay shared a screenshot of his tweet on Instagram which immediately earned a lengthy response from Tanya Stephens.
"[Mr Lexx] let's have an honest conversation instead of this them vs us foolishness," the dancehall lyricist wrote. "And for goodness sake please stop positioning afrobeats as our winning nemesis! We didn't all make feel good music. In fact, I made an entire career from 80% heartbreak and painful social commentary plus 20% tek ppl man. The word respectfully nuh mek noten weh u say correct! The reason the current artistes don't sell more is because their current audience doesn't BUY while the Africans subscribe to what they like. Hence Afrobeats artistes start out the gate with numbers in their favor, hence investors are less hesitant, hence better quality shows, hence better positioning. We used to have this same stupid competition with Reggaeton."
Mr. Lexx responded to Tanya Stephens by asking for more clarification on her statement regarding dancehall fans not buying music as oppose to Afrobeats fans who spend money on streaming subscriptions and other means of consuming their music. This she said gives investors more confidence to come on board to support the genre.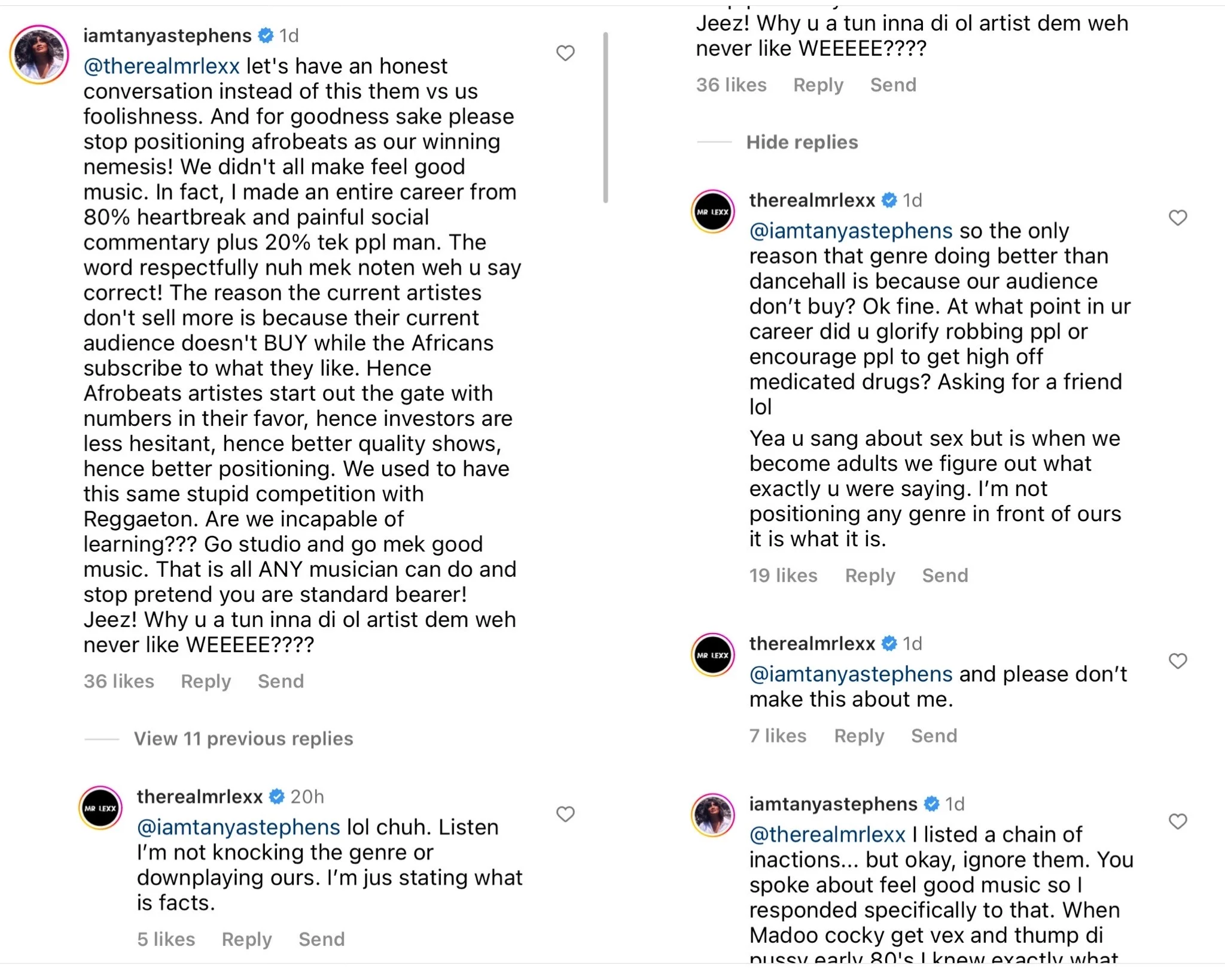 "[Tanya Stephens] so the only reason that genre doing better than dancehall is because our audience don't buy?" Lexx laments. "Ok fine. At what point in ur career did u glorify robbing ppl or encourage ppl to get high off medicated drugs? Asking for a friend lol. Yea u sang about sex but is when we become adults we figure out what exactly u were saying. I'm not positioning any genre in front of ours it is what it is."
"I listed a chain of inactions," Stephens quickly responded. "But okay, ignore them. You spoke about feel good music so I responded specifically to that. When Madoo cocky get vex and thump di pu**y early 80's I knew exactly what he meant, and rap glorify drugs more than these kids but that hasn't hindered them. Jay-Z glorified drug dealing and black ppl glorify his net worth as if that nullifies it. The 80's dj dem did glorify bad man and murder all dog under cellar. Right now we have a culture of silence created by the old people and cemented by older artistes. Snitches get stitches. A young artiste breed that or are they the products of that?"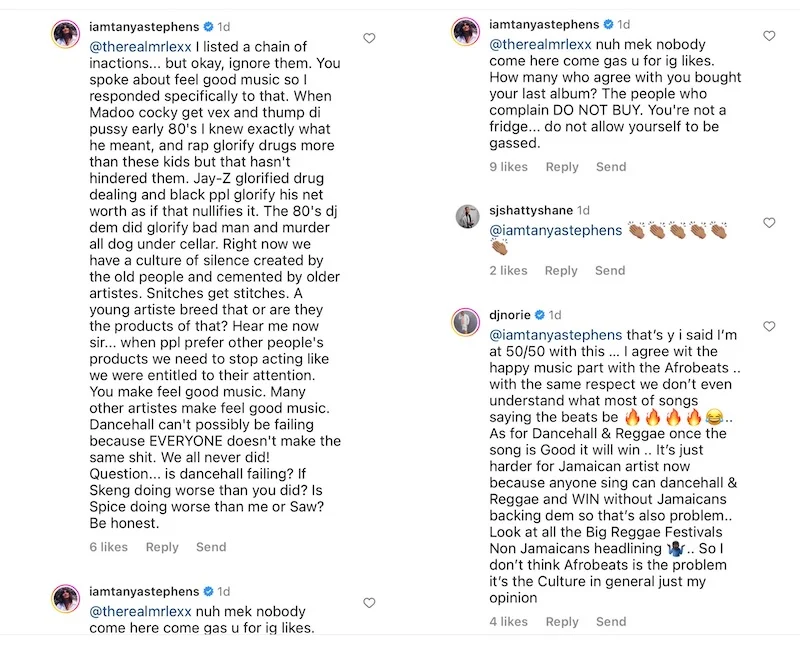 Although she is not actively releasing new music, Tanya Stephens has been consistently vocal on her stance on the current state of dancehall. Other artists like Bounty Killer, have chided young artists for their lyrical content in light of one of the biggest songs last year, "Dunce Cheque" by dancehall newcomer Valiant.
Several other commenters also shared their views with equally amount on both sides of the argument. Reggae singer Gramps Morgan dropped a brain emoji in the comment that seemingly cosigned what Mr. Lexx said. In the end Lexx was confused about what he said wrong to earn such strong response from Stephens, who is arguably one of the greatest female dancehall lyricists of all time.