50 Cent don't want to see his girlfriend Cuban Link wearing a high priced Chanel sneaker in the gym.
The Chanel sneakers that Cuban wore to the gym recently retails for around $950, but 50 Cent can more than afford them. There used to be a time when you went to the gym in your old yoga pants that had slightly too much stretch in them, and the T-shirt that looked like it came straight out of an Eminem song with a stain from mom's spaghetti. But those days are not these days. Working out in old sneakers that have more holes than Ray J's family Vegas drama? Please, nobody got time for that. From catwalks to sidewalks, fashion has upgraded to activewear, and Cuban Link knows all about that.
The stylish model, whose real name is Jamira Haines, runs a fitness website and personal training company called Cuban Fit while she studies for her law degree.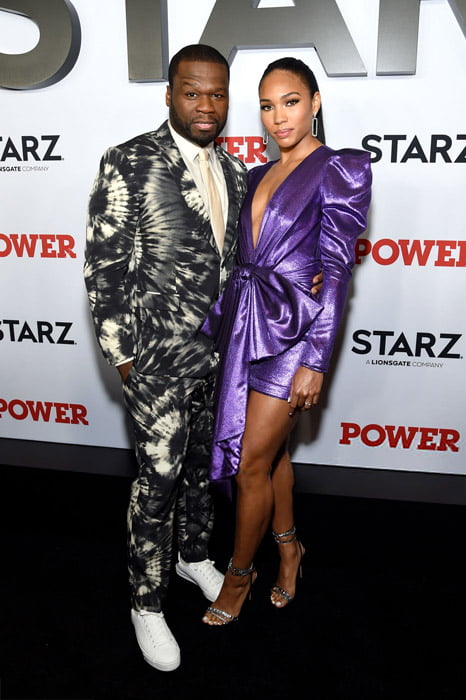 She recently performed some leg pulls that were filmed by her boyfriend, 50 Cent, who posted the clip to his Instagram page. You could easily view it as the act of a doting partner who was proud to show off his baby's impressive skills and hard-fought dedication. But that would require you confusing him for the "Candy Shop" rapper who loves trolling his lady.
"Who told her azz to work out in Chanel sneakers," he joked in reference to Cuban's super stylish black lace-ups. "What's wrong with Nike's [Cuban Link] they come in every color."
This is hardly the first time Fiddy has posted on social media at his boo's expense. He previously shared a picture of his gorgeous girlfriend and teased that she was the reason he would need to change his number.
"This is why my phone # changed," he joked. "Got Damn, that's not ya phone [Cuban Link] Look if she call you b**ch, I don't know you. Matter fact who da f**k are you."
So far, Cuban is playing nice by letting the Power actor have his jokes, but we can't wait for the day she claps back with a comeback. Or gifts him his own pair of Chanel sneakers — they come in every color, after all.