Chris Brown shares this flawless photo of his baby mama Ammika Harris with her glowing baby bump.
Weeks after giving birth, we have our first photo of Ammika Harris as a pregnant woman. The model remained pretty silent throughout her pregnancy, meaning we didn't get a single snap of her preggy belly. In fact, throughout the 9-month duration, it was never confirmed that she was indeed with child. Fans picked up on the clues — like Chris Brown referring time Ammika as "BM" [Baby Mama] in his social media posts — but both expecting parents remained tight-lipped on whether they'd be adding to their brood.
This would be the first child for Ammika, but the second for the "Out of Your Mind" singer who already has a 5-year-old daughter, Royalty, with Nia Guzman.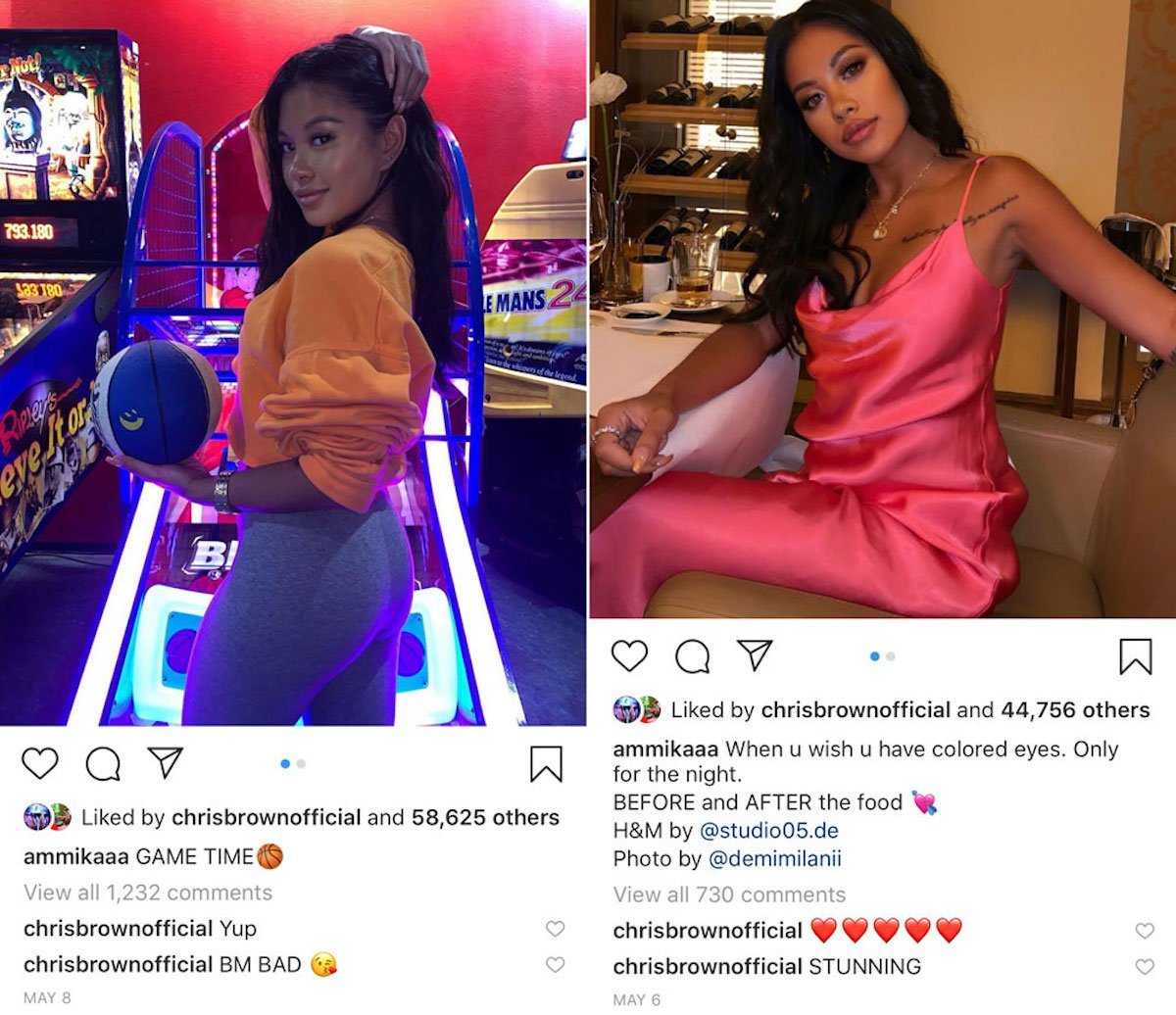 It is not uncommon for expecting mothers to undergo photoshoots, and Chris has now shared a photo of his Baby Mama in all her pregnancy glory. If they say that expectant women glow, then Ammika is doing just that as she stands sideways in a pair of black underwear that comes halfway up around her fully-grown stomach. The leather theme is continued in long gloves adorned with jeweled bracelets, and she covers her bare chest. Above her belly, the mom-to-be wears a light blue lace veil symbolizing the fact that she is carrying a boy.
Breezy captioned the pic with emojis of a loved-up face, one that is smiling, and a camera, but turned off the comments feature.
The picture follows one he posted two days ago, which marked the first official photograph of his son.
The adorable black-and-white image shows the 30-year-old gently touching the newborn's foot.
Below was the baby's name: Aeko Catori Brown. Pronounced "echo," Aeko is of Japanese origin and means "rare." Catori is Native American (Ammika is part Cherokee) and means "spirit."
The new mother shared the same photo, with the caption, "Aeko Catori Brown, Forever won't be enough with you."
Well, it seems we got a "rare" picture of his pregnant mom.