Blueface wants smoke from the Dreamchasers.
Blueface took a few shots at Meek Mill artist Yung Ro who went viral this week after posting a video explaining why he hasn't bought any chain since signing his Dreamchasers record deal. The rising Philly rapper was responding to critics who trolled him on social media for not buying any chain after signing with Meek's label. Some record labels would give their artistes chains, and maybe that's why some fans think that the young rapper should've been wearing a DC chain.
Blueface has now pounced on the subject but says that he wasn't being disrespectful towards the rapper. Instead, he claims that he is dropping some knowledge about the game.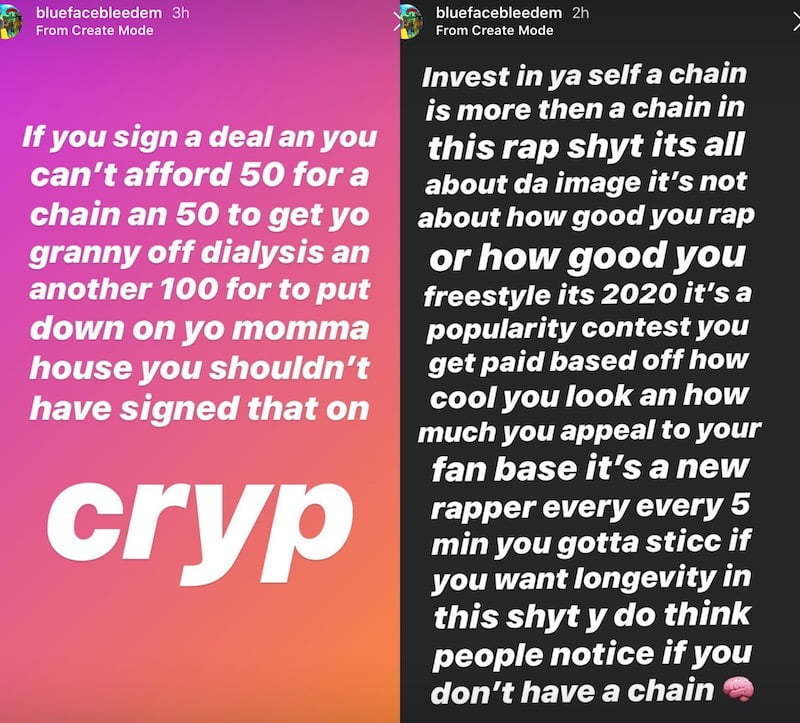 "If you sign a deal an you can't afford 50 for a chain an 50 to get yo granny off dialysis an another 100 for to put down on yo momma house you shouldn't have signed that on Cryp," the Los Angeles rapper wrote on IG Story.
Since making the statement, Blueface has been getting some pushbacks from Meek Mill and Yung Ro fans who criticized him for dipping in other artistes' businesses that don't concern him. The "Thotiana" rapper has since responded to the criticisms. His argument is that a chain is an investment in yourself and as artistes, fans pay more attention to your image that your music. Some fans beg to differ.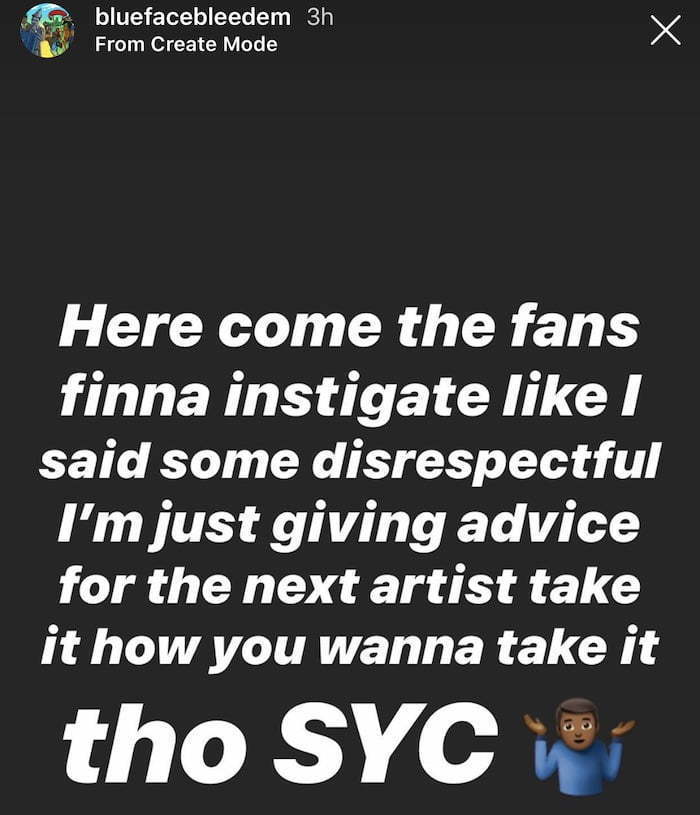 "Invest in ya self a chain is more then a chain in this rap shyt its all about da image it's not about how good you rap or how good you freestyle its 2020 it's a popularity contest you get paid based off how cool you look an how much you appeal to your fan base it's a new rapper every every 5 min you gotta sticc if you want longevity in this shyt y do think people notice if you don't have a chain," Blueface wrote.
Perhaps Blueface is correct, but for Yung Ro, he is more concern about helping his loved ones first. Should Meek Mill respond?