Anderson .Paak is calling ut GoldLink for this highly disrespectful letter about the late Mac Miller.
Mac Miller left this world almost 15 months ago, which makes this letter all the more disrespectful. The sudden passing of the Pittsburgh rapper was the result of a drug overdose, with Miller previously speaking openly about his struggle with substance abuse and depression. Though it's often said you should never speak ill of the dead, not everyone abides by that philosophy — including GoldLink. On Tuesday, the "U Say" rapper decided to put his mouth where his Instagram account and wrote a post directed at the late rapper.
"I always thought you drove yourself insane about your own music. So much that, you would adopt styles as homage to those around you that you loved. That's where our problem started," GoldLink wrote to his deceased former touring partner.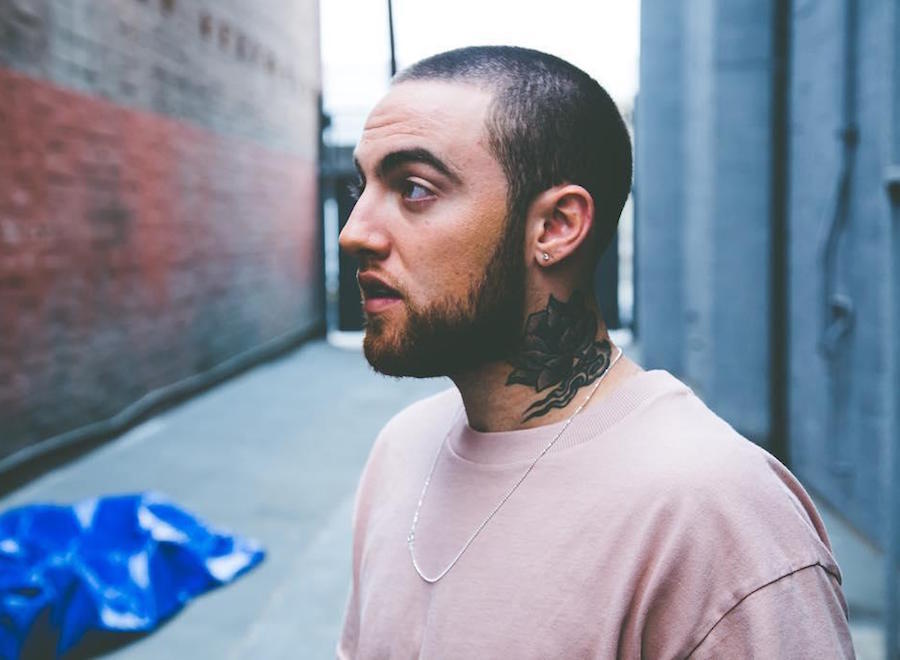 The 26-year-old then alleged that the "What's the Use?" rapper had copied GoldLink's And After That, We Didn't Talk mixtape for his Divine Feminine album.
"Divine Feminine was an actual blueprint of 'and after that we didn't talk.' Your single was called 'Dang!' Ft. Anderson Paak… you had Souelction support you on the Divine Feminine tour and when I tried to contact you, about anything at all… you never hit me," he continued.
It's a big accusation to make of a man who is not here to defend himself. So Miller's fans decided to do it for him. Several Twitter users brought up claims that GoldLink himself was not so clean when it came to plagiarizing material. But Mac Miller was not the only one who GoldLink decided to bring into the fold, with Anderson .Paak also mentioned in the lengthy post. Paak, too, decided to respond.
"You ain't the first to make an album inspired by a relationship, you ain't the first to make a song featuring Anderson .Paak but you are the first to disrespect my friend who is no longer here for absolutely no reason and I can't stand for that," the "Bubblin" rapper wrote before continuing, "Whatever issues you had with Mac should have been addressed in person and ended there. what's the point of bringing this up after his passing and disrespecting his name? You really woke up feeling like that was the move?"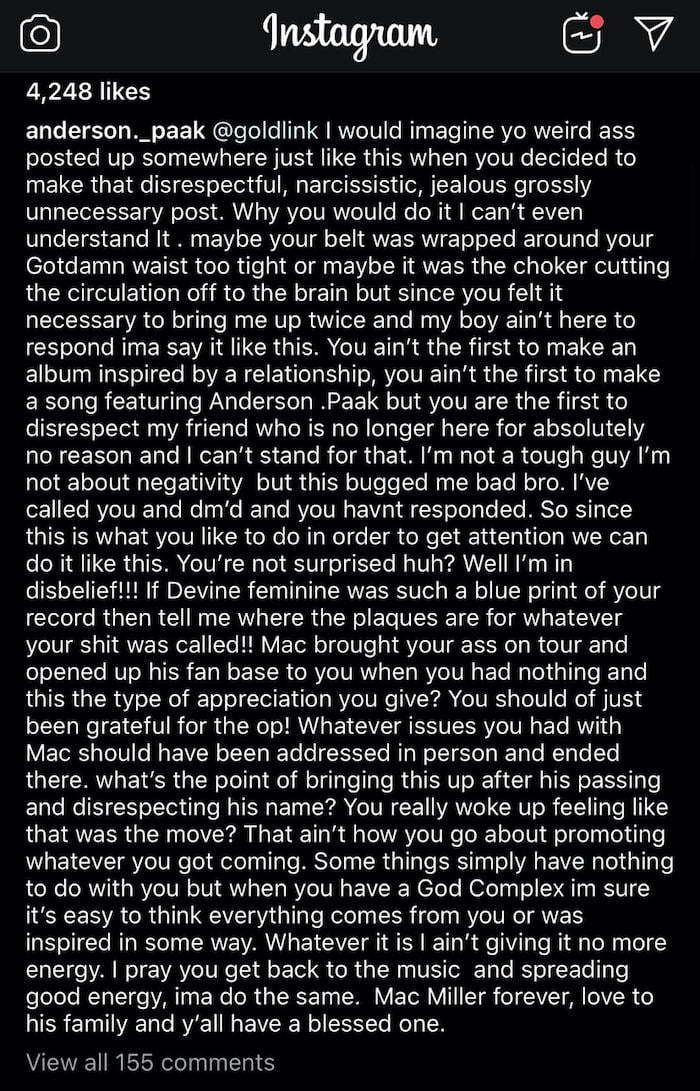 We're Team Mac and Paak on this one.
ill never forget when goldlink stole an unreleased smino song bar for bar. he should never ever speak on biting.

— billy (@BillBeige) November 27, 2019
Goldlink disabled the comments on his IG post even he knows he's a fucking clown

— Blake Ragsdale (@BlakeOnCusseta) November 27, 2019
@GoldLink claims Mac Miller stole the concept of 'The Divine Feminine'…

Let's not forget…

1.) Goldlink directly stole lyrics from @smino
2.) Goldlink stole the album title, 'Diaspora' from @JoyPostell, who he asked to sing backup on his own album

— ctrl (@cntrolnet) November 27, 2019