NBA YoungBoy burns all ties to Yaya Mayweather literally.
In this day and age, the official sign for a salty relationship is the deleting of pictures from social media accounts. Back in the day, pictures were usually burnt to signal that chapter of your life is now closed. It seems someone wanted to be super old school, choosing to burn a portrait of rapper NBA Youngboy and Floyd Mayweather's daughter Yaya Mayweather. The person setting the portrait ablaze had a little issue getting the lighter's flint to catch the gas, but once he was successful, it was like fire from a dragon's mouth.
Sadly, the firestarter was also dressed in a black hood, making it super hard to actually see who was carrying out the act. Many questions do come to mind in relation to the lighting of the portrait. Did NBA YoungBoy order the hit on the portrait, or did Yaya finally decide it was time to erase all memories of Youngboy? It could also be a case of someone else merely creating a portrait and choosing to burn it to stir something up.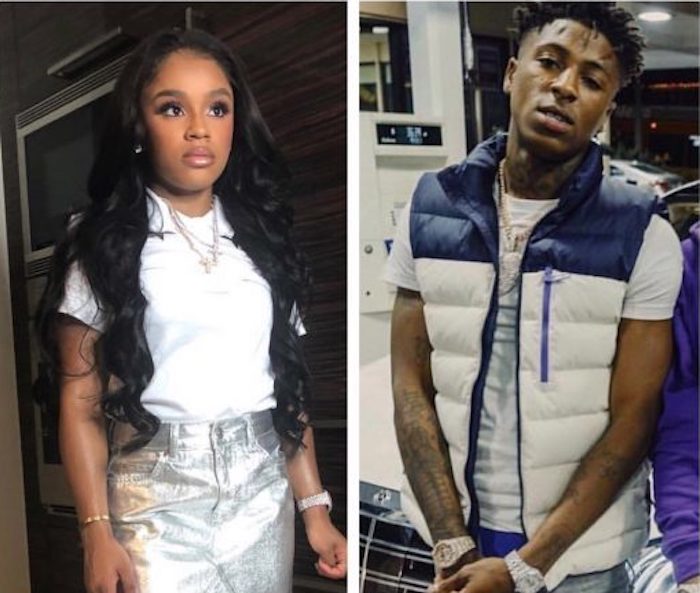 The two were dating for a couple of months earlier this year however called it quits in April. The relationship was quite serious to the point where rumors that Yaya looked a bit pregnant began to make the rounds after the two broke up.
Fans think NBA YoungBoy is the salty one who has ordered the destruction of the portrait. One Instagram commenter wrote, "damn yaya you officially cut from the line up baby." Another wrote, "lmaoo youngboy paid that mane to do that. duuuh"
Someone else seemed genuinely concerned about the rapper's feelings, "Smh. He would regret that if something happened to her and all he had was memories. People don't think about that when they're hurt and being petty."
It seems his feelings are no longer centered on young Mayweather, and he doesn't want to be smoking on any cherry pie or be with your favorite athlete's daughter.