Tongues were left wagging for more than one reason on the weekend, after Dancehall Diva Spice, posted video clips of Jada Kingdom partying at her "Spicey Fridays" event at the Abar Restaurant and Lounge in Kingston.
Many of the comments were centered on the pink wig Spice sported, which fans all said looked marvelous on her and complimented her dark-brown complexion, while others called for an alliance between the two. "Big up Jada Kingdom she came through "Spicey Fridays" last night, so I introduced her to my selfie moments with my fans and she decided to give them a little free concert. #womanpower #spiceyfridays," the artiste posted beneath three clips of Jada's appearance at the event.
In the first video clip, Spice introduces Jada Kingdom, whom she said she realized was a shy person, and coaxed her to engage with the fans in the building.
"Mi want di people si seh a nuh mi alone have di shape an di fluffiness, so yeh. At 2am and 1am we do selfie videos for the ladies. Suh dis is what it is all about; mi know a yuh first time an yuh shy an everything, but yuh haffi mek some selfie video. Suh flip roun di camera…," Spice said to Jada before handing back the microphone to the selector.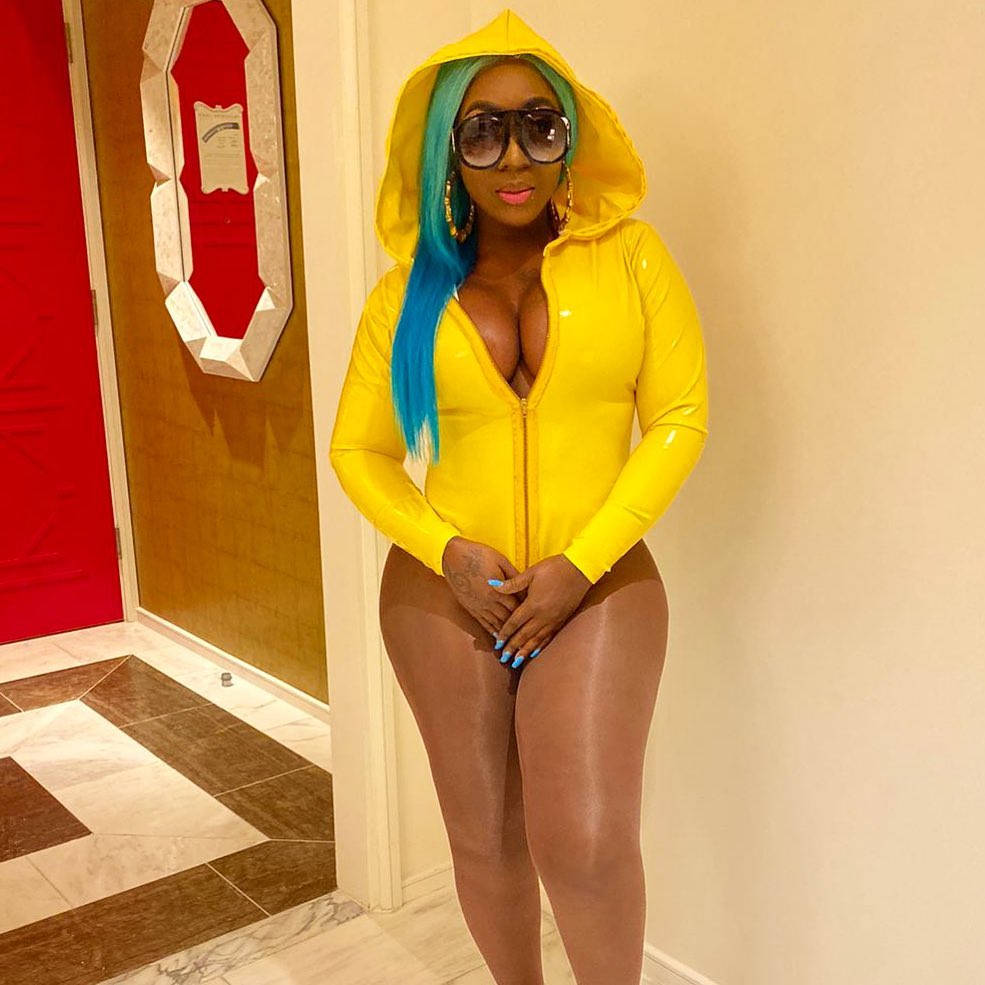 Several seconds later, the microphone was handed to Jada, who was apparently asked to sing one of her songs. "Yeah, yeah. Mi waa sing a tune fi oonu; mek mi hear oonu seh 'mad an bad,'" Jada said as that clip ended.
In the second clip, Jada is singing lyrics from her raunchy song "One Time" as a bunch of women sing along, while Spice stood in silence, observing what was happening.
But it was the third clip that stirred up a ruckus. In that clip, the videographer shows Spice gyrating to Jada's song "Banana." She directs the videographer to focus on Jada, who is at a table wining with a man who is standing behind her. Seconds later, the selector screams "di good p**sy gyal dem; oonu ready" and then plays Shenseea's Bless," the clip ending as the first five lines of the song which goes: "First thing in the morning" were played.
Spice's Instagram page was ignited with comments about the Shenseea song being played immediately after Jada's while Jada herself was still present, as the two have been beefing for a while. Some claimed that the selector was a troublemaker, while others responded with glee arguing that the video should not have ended until they got to see Jada's reaction.
"Jada Kingdom, lol… wah yo say wen the Shenseea play?" one woman quipped, while another fan lamented: "I don't know why the camera man neva put it back pon Jada so we could a see har face."
There was at least one fan of Shenseea on the post who seemed very happy with the actions of the selector.
"Hahahahah yessss play Shenseea music after; I bet Jada go stop wining and start crying," spicexshenyeng said.
But one fan was not impressed by Jada's showing at the Magnum-sponsored event, claiming she was only seeking to capitalize on Spice's fame.
"Jada Kingdom did just want some of the spotlight. She never seems to amaze me. Thanks to the diss track more people officially know who you are. Not the little girl on ER with the annoying voice anymore. She just turn up there because she know Spice carry nuff people," she said.