Did 50 Cent just compared Power star Naturi Naughton to Mortal Kombat character Goro?
50 Cent is under fire for trolling Naturi Naughton again after apologizing the first time. How is it that no one has come up with a trolling nickname for Fif yet? The former rapper turns social media hazard has been relentless in his pursuit to entertain with slights. It was not that long ago that Fifty posted a photo of Power star Naturi Naughton with her hair in a ponytail and her hairline with it. When the actress caught wind of this, she disappointedly asked Fifty if it was any way to treat someone who makes him "look good every Sunday" by commenting on the public post. The Power producer did acknowledge that it was insensitive and even apologized.
Somehow Fifty got it in his head that there is no such thing as "too soon". This time he took to Twitter to post the same photo of Naturi alongside an image of Guru, a character from Mortal Combat with some rather unappealing features. The character's tight ponytail encompasses a negligible circumference neatly fixed atop his head, which I am reluctant to say is not far off from the image on the left. In the caption, 50 Cent played it off like an innocent bystander calling foul on injustice. "Who the f**k did this, POWER is #1," Fifty wrote.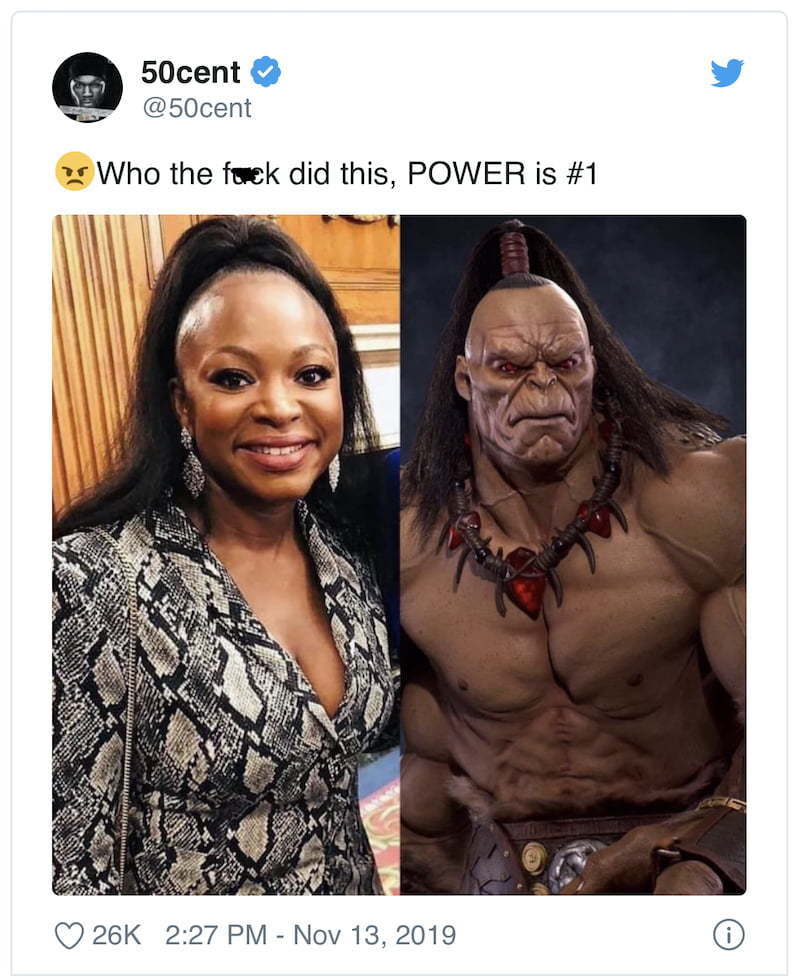 Fans are furious with the TV producer for pulling this stunt again, and this time they are flocking to Naturi's defense with God speed. "Why even post it? I guess his apology didn't mean anything," one fan responded. Other fans started dragging the "Magic Stick" rapper. "I'm almost certain his IQ is under 100," someone tweeted. Another member of the Twitter family admitted, "starting to understand why you got shot nine times," while another much darker user said, "All that was necessary was just that 1 last shot! The 10th one and we wouldn't be here." Wow, so they are definitely not taking it easy on Fifty this time.
I have to agree that 50 Cent is definitely reaching with this contradicting move. I mean, come on man, you already apologized. Pick a side. Then again, maybe he did just that when he said, "Power is number 1." Perhaps the show and its ratings come first.
Wow, you must really hate yourself, to show that much meaness to someone who was always respectful of you. I know now why your son HATES YOU, You don't know how to Love!!!Naturi don't be hurt by this, Pray for him, He is a lost soul.

— Deborah Bulls (@debbulls03) November 14, 2019
The way 50 cent doing Naturi is really messed up…I know he is a troll but once she showed that it hurt her it should have stopped then….Not everyone has that kind of humor to be able to laugh at themselves especially if they may have insecurities….

— Louise Belcher (@BunniBrickhouse) November 14, 2019
50 Cent is a perfect example of don't apologise if you're gonna do it again. He literally just apologised to Naturi (dk how to spell her name?) a week ago and now he's making jokes again?

— baby g (YouTube: Kay Shantel)?? (@kayshantel15) November 14, 2019
I said this awhile back but 50 Cent Legit don't go after white people the way he goes after black folks. The dude is terrible. Naturi Naugton or most of y'all know her as Tasha, said she didn't like that he was making fun of hair style.Yet that man still doing it.He lame

— Jamaican King ?? (@_KarateChris) November 14, 2019