Blueface has responded to Killa Twan's threats over Wack 100's recent comments about Nipsey Hussle's killing.
Killer Twan, Nipsey Hussle's protegé, recently came out swinging at California rapper Blueface and his manager Wack 100. Twan's attack came after Wack made some pretty interesting comments about the "Double Up" rapper on the No Jumper podcast interview. Instead of Blueface putting a stop to his manager's comments, he simply laughed. You could feel the anger in Killa Twan's tweet as he addressed Wack 100 and Blueface. "On NicKersons I'll f**k over @bluefacebleedem in a head up squabble. LiL ni**a betta watch his muhhf**kin mouf… him & wack!!" Twan wrote.
Blueface, who has ties to the School Yard Crips street gang, shot back with a now-deleted tweet, "You ain't f**c over the n**ga that shot cuz tho." This was a clear mocking of Killer Twan, outright questioning why he did not actually wage an attack on Nipsey's shooter Eric Holder. We are unsure if Blueface simply had a change of heart to the situation or if he simply deleted the comment out of respect for someone a little bit higher on the hip hop foodchain. Wack 100 did apologize for his comments after he was contacted by Nipsey's manager and longtime supporter, "Big U."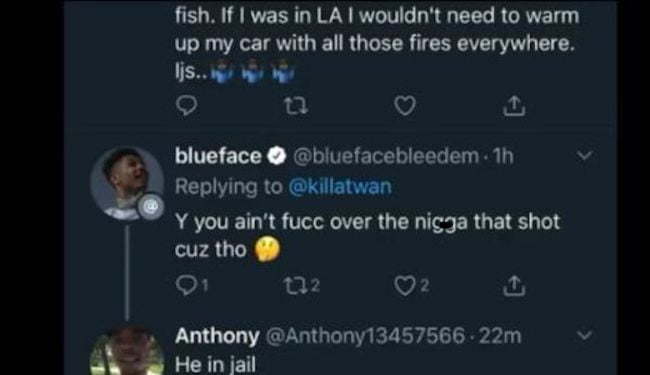 You can peek some of the comments Wack 100 made on the podcast below to see if he was really out of line and if Killer Twan has any grounds on which to wage an attack against Blue and his manager.
Wack also stated that Nipsey's fans are all pretty much fake, and his death is only a fad. His argument is that the Crenshaw rapper was not getting this much attention when he was alive, which is often the case with artistes who passed on.
"Nipsey's never been on a world tour. "Why? He did not die n A-list artist."