The whole Angela Yee and Gucci Mane drama just keep heating up as she now takes her anger out on her fellow co-host Charlemagne Tha God.
Angela Yee has been quick to respond to all and any backlash following her unfortunate run-in with rapper Gucci Mane. This all began when Gucci made claims during a 2016 interview on The Breakfast Club, that Yee attempted to get with him back in the day. She outright denied the allegations. However, Gucci pulled out his receipts and posted the 2010 interview that confirmed Angela's sexual interest in him. Gucci informed his fans that he was banned from The Breakfast Club following the situation, but Yee, DJ Envy, and Charlamagne have all stated that that information is false.
Throughout the entirety of the time, Gucci has not held back with his assault on Yee, calling her many names and boldly stating that she is a liar. Then during an interview with Charlemagne Tha God, the rapper unleashed his thoughts about Angela calling her a "punk a** b**ch." Gucci also threatened to physically assault their co-host DJ Envy. While Gucci was having his say, Charlemagne made no attempts to silence him, nor did he come to Angela's defense and allowed Gucci to call her out of her name. After watching the interview, Angela has taken issue with Charlemagne's stance, and she detailed her reaction in a recent sit down with Say What's In Live TV.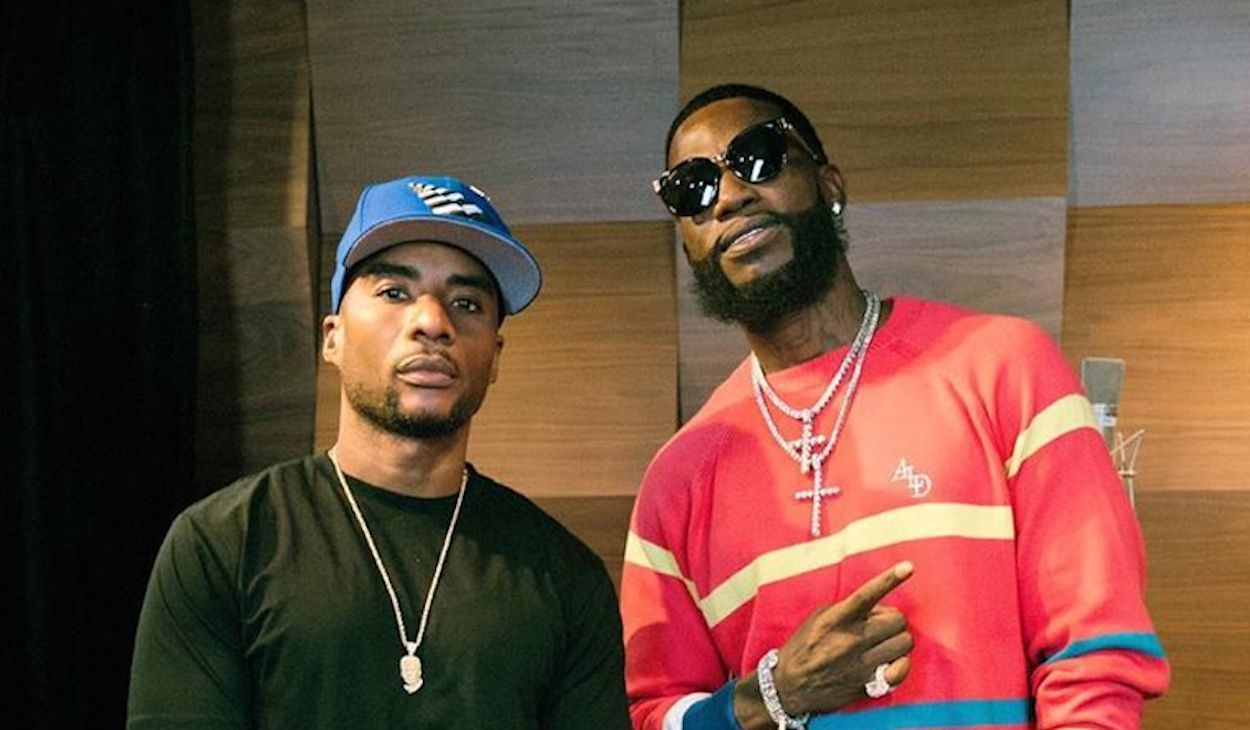 After the dilemma is brought up during the show, Yee asks the host," Would you do that?" to which the host responded, "There would have been a discussion first. Was there even a discussion?" Angela states, "No," however, she did make it clear that she knew of the interview. She went on to say, "I just think that in general if you work with somebody and someone's saying things like nasty things you can't even say on the radio in a really derogatory way whether or not you work with that person. You know talking about a woman like that because I have never called anybody out of their name. I think that's the real issue."
She continues, "You can't just sit there and laugh and [let] something like that happen. So I would hope that even with you guys, if someone was like she's a B, she tried to S my… you would say chill don't talk about a woman like that."
Many persons have been quick to point out that Charlemagne and Angela are not friends, they are merely coworkers, and he is simply doing his job by remaining unbiased. Charlemagne agrees with those statements as he promptly liked a fan's comment mirroring those sentiments. This has also reportedly led to Angela unfollowing Charlemagne on social media.
One fan speaking on the drama stated, "It's called being an unbiased journalist beloved! Which is exactly what all journalists, vj's, dj's, radio personalities & bloggers are supposed to be love!" Another added, "She's confusing the difference between a coworker and a friend."
Charlemagne is not known for holding his tongue, so fans are extremely anxious to see his reaction to Angela's statements. This definitely will put some strain on the working relationship amongst the hosts on The Breakfast Club.