Vybz Kartel may have reignited his beef with Alkaline in a single post on IG this weekend.
Dancehall's number one hitter Vybz Kartel is a man of different moods and attitudes. He is always changing his flow and style and reinventing himself to give his fans something new, and did precisely that in his latest release "Super Hero Love," where he effectively unlocks his 'singing voice.' One thing is sure, Vybz Kartel loves his fans, and his fans love him, and he always entertains them. In a post on his Instagram promoting the new song, the Worl'Boss took a swipe at his old foe, Alkaline.
The caption may just be the least interesting part of the post as the contents showed a small clip from the animated video for the song along with a few interesting comments from his loyal fans. The second slide of the post actually showcases the savage nature of the Gazanation and the teacher himself, for including it in his post. It reads, "8 ba**ywash man hate the tune already, dem reach early, but bad mind caan stop we #gaza #4eva!"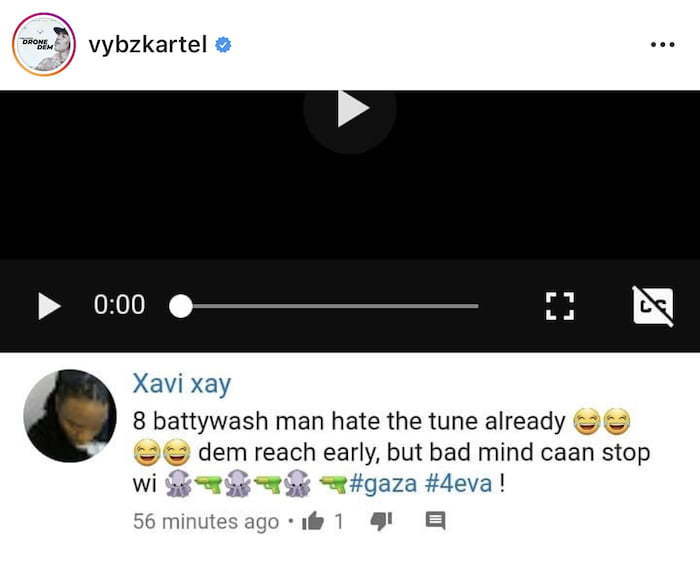 If one takes a scroll through the comments below the Youtube video, you should be able to see other comments such as, "anybody dislike this song is a part of the B***yWASH club," or "48 b***ywash fans+8 gully germz. Dem cyaaaaaa stop Gaza, no other Jamaican artiste cuda b so mentally strong…. racking up hits with bars behind bars."
Since bursting onto the dancehall scene, the Worlboss has gotten into his fair share of disputes with various dancehall artistes. There was the highly publicized beef with Cassava piece legend Mavado, which resulted in a huge showdown at the 2010s staging of Sting. However, it seems the majority of attacks are taking shape at public enemy number 1, Alkaline.
The Vendetta camp and the Gazanation have been at odd since 2014, with many citing the fact that Alkaline was not giving proper credit to Kartel as the reason for the beef. According to fans, the Vendetta boss bore a similar look to Vybz Kartel, with the addition of tattoos and the bleaching of his skin.
Alkaline has been at the heart of many different disputed and controversies since his debut. The dancehall community bashed him for his lyrics in his 2016 song "F**k You," when he sings, "Good s*ck, b***y wash, what a brawta / Open your leg, mek me leggo some more water."
Many have interpreted the lyrics and have made references to it being too much of an open sexual practice, which many Jamaicans do not support.
It seems Vybz Kartel has no chill when it comes on to "The Man Himself," and is hellbent on waging an attack or ridicule whenever the opportunity presents itself.