50 Cent drops a stack on an iced-out chain for his son Sire's 7th birthday.
50 Cent's son, Sire celebrated his 7th birthday on September 2nd. 50 along with Sire's mother Daphne Joy, threw a Roblox themed party which boasted celebrity kids such as Chris Brown's daughter Royalty Brown and her mom Nia Guzman. In addition to his party 50 recently dropped a bag on a diamond-encrusted chain that spells out his son's name Sire. 50 shared the chain on his Instagram page yesterday, with the caption, "SIRE Little BOSS DRIP."
According to The Blast, the chain goes for around $50,000, however, it is unconfirmed if the rapper paid that specific amount as he could have paid a lot more or less due to modifications or his personal jeweler.
This isn't the first time 50 Cent is making a big gesture through the means of diamond-encrusted jewelry. Back in October of 2018 Fifty gave rapper Tekashi a diamond-encrusted inhaler. That was back when 50 considered Tekashi as his son.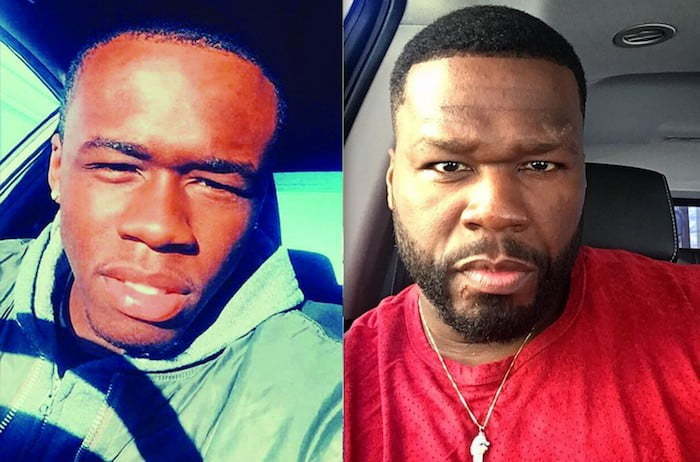 Both rappers posted videos showcasing the piece on their Instagram pages. In the video, 50 and 6ix9ine play the role of father and son respectively. The entire video goes down like a movie, Tekashi sits at a table with 50 with stacks of money on the table. 50 then goes through the motions of asking Tekashi how he's doing in school.
Tekashi then claims he's doing well although he makes mention that teachers keep messing with him. To which 50 responded, "You know I need you to be doing good, how are you doing in gym?" Tekashi then states he's getting good grades, however, he is struggling with P.E. because of his asthma.
"I'm the fastest kid in the world, but the asthma is kicking in," 6ix9ine says. 50 then states, "I got you." That's when he has this huge glossy chain brought in and placed around Tekashi's neck. "So don't come here talking about you failed gym motherf**ker," 50 cent says. He then goes on to say that he always knew Tekashi was special.
Tekashi had captioned that post, "Fastest kid alive = asthma new jewelry @jimmyxboi @50cent thank you for the new piece pops."
That video is now plagued with comments surrounding Tekashi's snitching. Looking back 50 cent probably regrets making that big purchase for Tekashi. Sire will hopefully make better use of 50's gift and he is definitely going to be blinged out in his new icy chain.