J Prince regards Tekashi as a rat, also claiming he lied when testifying about the Nine Trey Gangsta Bloods' attempted April 2018 robbery of Prince's associates while on the witness stand this past week.
As Urban Islandz previously reported, Tekashi 6ix9ine took the witness stand at the Nine Trey trial this week, and he did not hold anything back. Tekashi testified against his former gang members of the Nine Trey Gangsta Bloods and gave extensive detail on the gang's organizational structure such as the rankings of various members and illegal activities the gang participated in. He was extremely cooperative volunteering information that implicated him in the attempted murder of rappers Trippie Redd, Casanova, and Chief Keef. Tekashi also confirmed that rappers Jim Jones and Cardi B were known gang members.
During his riveting testimony this week, Tekashi stated that Rap-A-Lot reps barred him and other Nine Trey Bloods associates from entering the venue for a Houston show back in March 2018 because they hadn't "checked in." Tekashi told the court that, as a means of retaliation, himself along with manager and Nine Trey member Kifano "Shotti" Jordan as well as other Nine Trey members robbed Rap-A-Lot affiliates in New York City on April 3, 2018.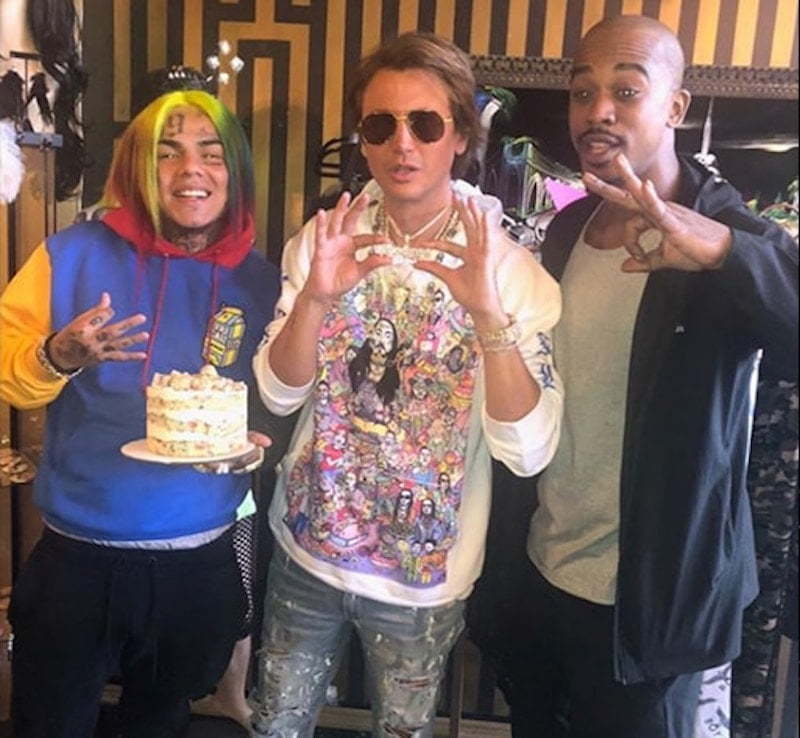 The tables have turned since then and Tekashi69 is now testifying against his former associates Aljermiah "Nuke" Mack and Anthony "Harv" Ellison as part of his plea agreement with the feds in a racketeering case. The rapper struct the deal in January this year to get his possible 47-year sentence reduced to time served which could see him being released as early as 2020.
J Prince then took it upon himself to shed some much-needed light on the situation. The Rap-A-Lot founder posted a video on his Instagram page of his 2018 interview with Power 105.1's The Breakfast Club.
The post was captioned, "I told y'all about this clown #takashi69 that if he keeps campaigning with dumb sh*t that he was gonna get elected! Election Day has come and now I'm hearing lies he's telling under oath about robbing me or representatives of #Rapalot Let me just make myself clear, if him or any of those clowns were to try to rob me or anyone from the #Rapalot family bad news would've beat them home."
Fans have sounded off on the post calling J Prince old and a liar. One person commented, "Rapalot more like capalot," while another added, "Tekashi putting a hit on grandpa as soon as he gets out."
It seems more and more persons are backing Tekashi for his decision to snitch with #free6ix9ine becoming increasingly popular over the past few days. The trial is set to last for another two weeks, however, it is unclear if the rapper will again be taking the stand when the trial resumes on Monday, September 23.