The 6ix camp leader Squash has finally delivered his response to Alkaline's gritty diss track "Death Announcement."
Five days after Alkaline delivered his latest addition to the ongoing lyrical war, Squash delivered his response with a track titled "Funeral Program." The Optimus Production-produced diss track has been getting mixed reviews among dancehall fans. However, the artwork stole the spotlight with the 6ix Boss printing out an actual funeral program for his enemy with some clever wordplay on the spelling of Alkaline's real name, Girland Bartley. The Vendetta boss' government name is Earland Bartley.
The artwork also has Alkaline mother, sister, father, and his close friend and go-to producer Jahvy Ambassador.
"Pu**yhole me no fraid a screwface / Chop up your body fine put you in a suitcase / Send yo back a foreign right where yo locate," Squash deejay. In another line, he spits, "Put the clip them in a the glock and watch me buss them head / 7.62 tall like KFC chicken leg."
Here are some of the comments left from fans on Squash's IG page.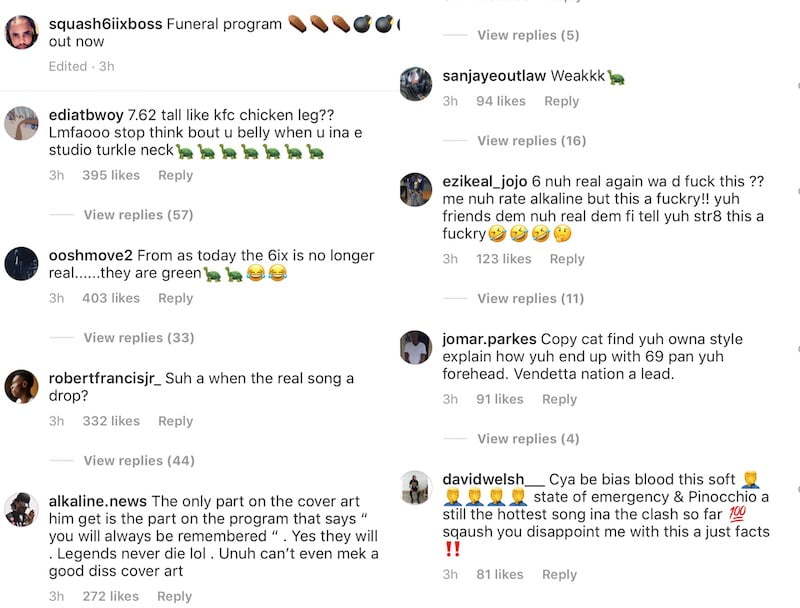 The Mobay deejay has been getting a lot of response from fans about his KFC line with some folks suggesting that he was thinking about his belly while in the studio recording the song. The big question now is this track "Funeral Program," a strong enough response to Alkaline's dark and gritty single "Death Announcement?"
The Vendetta vs. 6ix beef is the hottest topic in dancehall currently. While we're also talking about cops and the government shutting down parties too early, we also can't take our eyes off this feud which is shaping up to be the biggest dancehall clash of this decade.